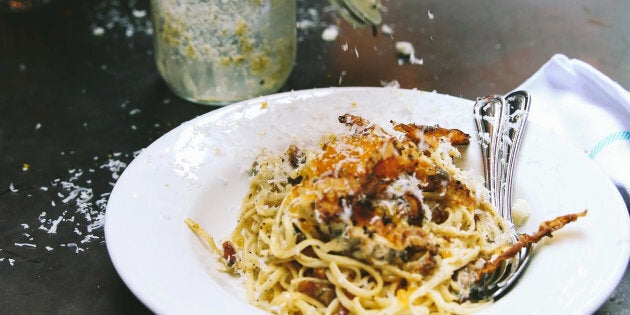 If you're a big fan of all things pork and seafood, and you're culinarily open-minded, you've probably tried the two together in the same dish, and loved it.
If you're thinking right now, 'Why? How? Gross', your mind is about to be blown in the best way possible.
Pork -- particularly bacon in all its salty, smoky, fatty glory -- pairs perfectly with fresh seafood.
To help get you inspired, and to share unexpected, delicious pork and seafood combos, The Huffington Post Australia spoke to Sean Connolly, celebrity chef and culinary director of the Bacon and Seafood pop up menu at The Morrison.
"Bacon has such an identifiable taste and flavour, and it goes so well with so many things," Connolly told HuffPost Australia. "I personally think it is the sweet and salty flavour of the cured pork and the rich, clean taste of the fat.
"Seafood also has an identifiable taste and flavor. It can be served fresh and raw, or cooked and mixed with sauces and dressings. Using bacon in collaboration with either fresh or cooked seafood is a simple concept."
If you're feeling sceptical, Connolly recommends looking back to traditional pork and seafood dishes. In fact, chances are you've already tried (and enjoyed) a surf and turf dish many a time.
"Mixing pork and seafood has been going on for centuries in European and Asian countries," Connolly said. "If we think about Spanish influence with paella -- a mix of chorizo, prawns and mussels.
"If we think about French influence, with their green prawns wrapped in caul fat and delicate pork membrane. Even the Chinese with our beloved pork and prawn dumplings.
"Its texture, taste and flavour adds an extra dimension to a dish -- it gives it more depth and another layer. Give it a go, it's not scary or new. It's just not as common, yet, in Australia."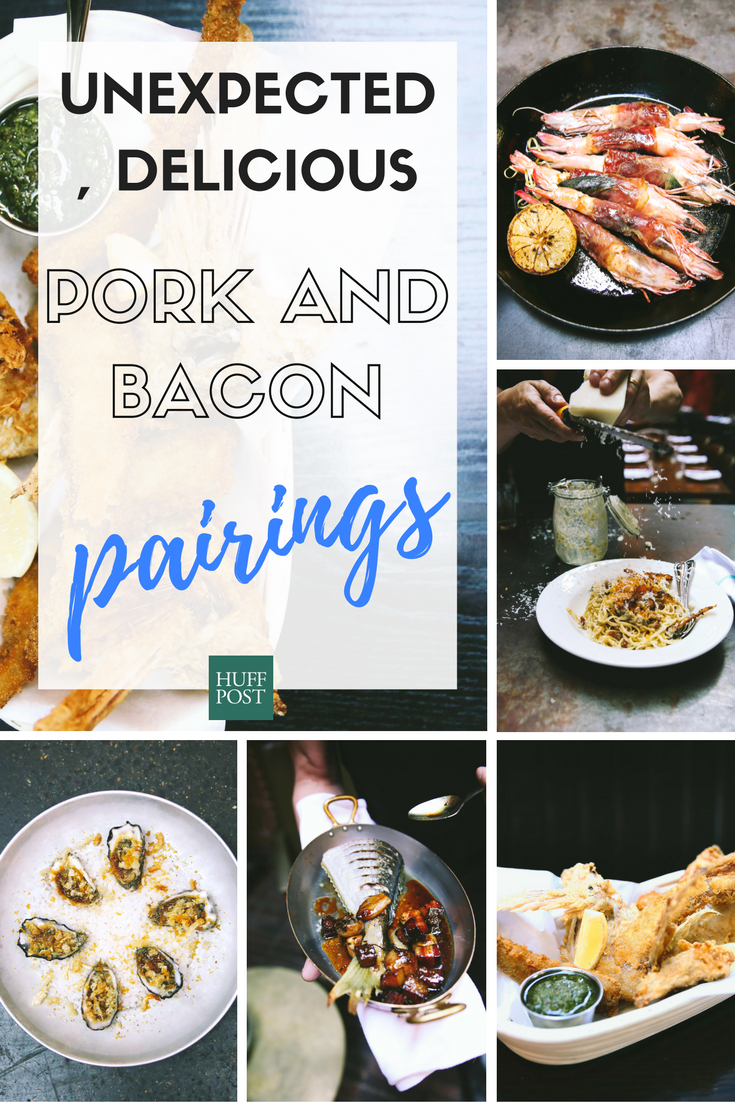 Keen to give pork and seafood a go? Connolly recommends trying these tasty combos.
1. Fish with bacon bourguignon sauce
"It's not that you'll have a few strips of bacon wrapped around your kingfish. We've done it in a subtle way," Connolly said.
"The kingfish tail is oven cooked on the bone with extra virgin olive oil, swimming in a bourguignon sauce. This sauce is made up of bacon, onion, garlic, mushroom and red wine jus. It's heaven."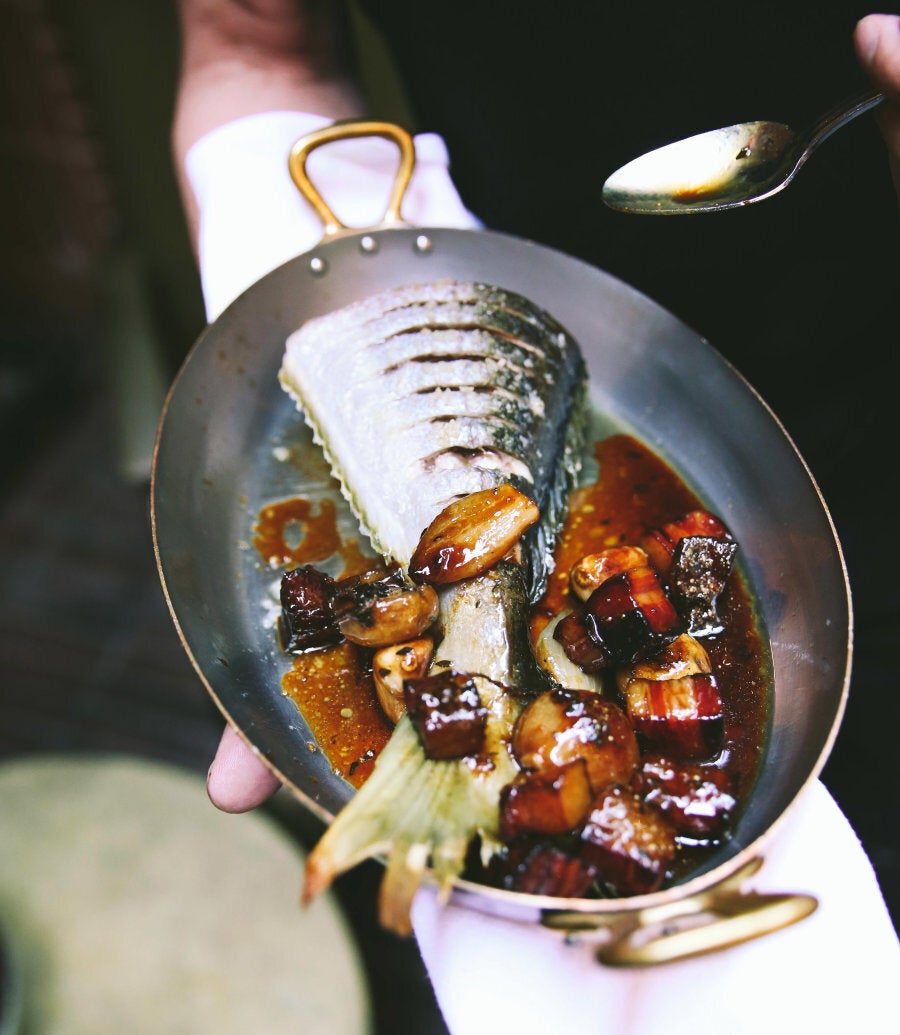 2. Crumbed fish with pork tail
The next time you make fish and chips at home, think about adding some bacon or, if you can get your hands on it, pork tail.
"The 'wings and tails basket' is a clever extension of the fish and chips. Crumbed and deep fried fish wings and pigs' tails," Connolly said.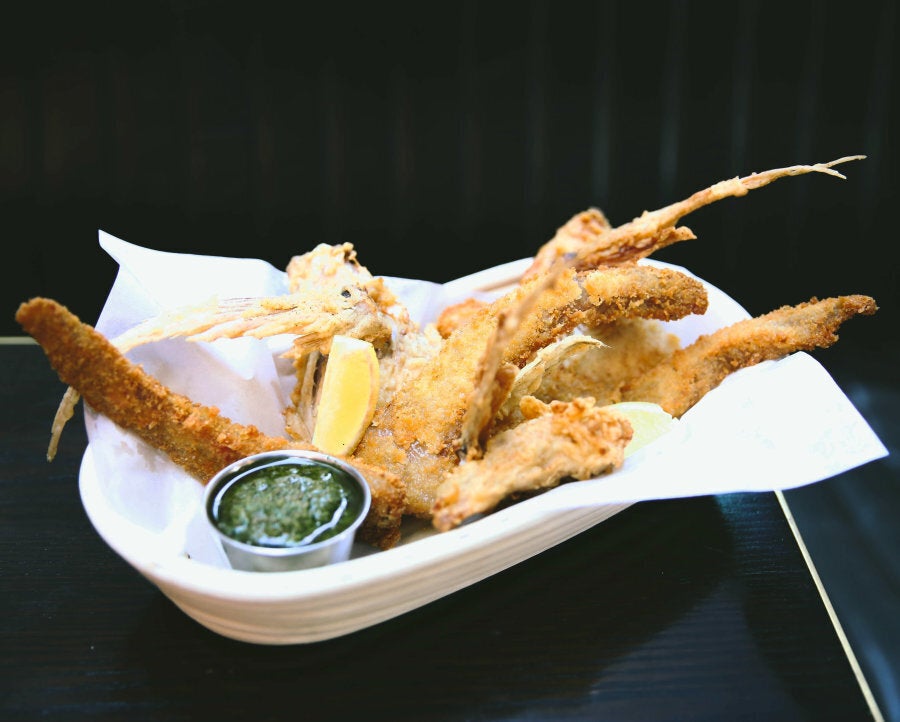 3. Oysters with pork scratching
If you love Oysters Kilpatrick, the classic English dish of oysters topped with crispy chopped bacon, this modern twist is for you.
"Taking a creative spin on the standard Oysters Kilpatrick, the fresh Pacific oysters are cooked in their shell with Yorkshire relish, topped with pork scratching and bottarga dried mullet roe garnish," Connolly said.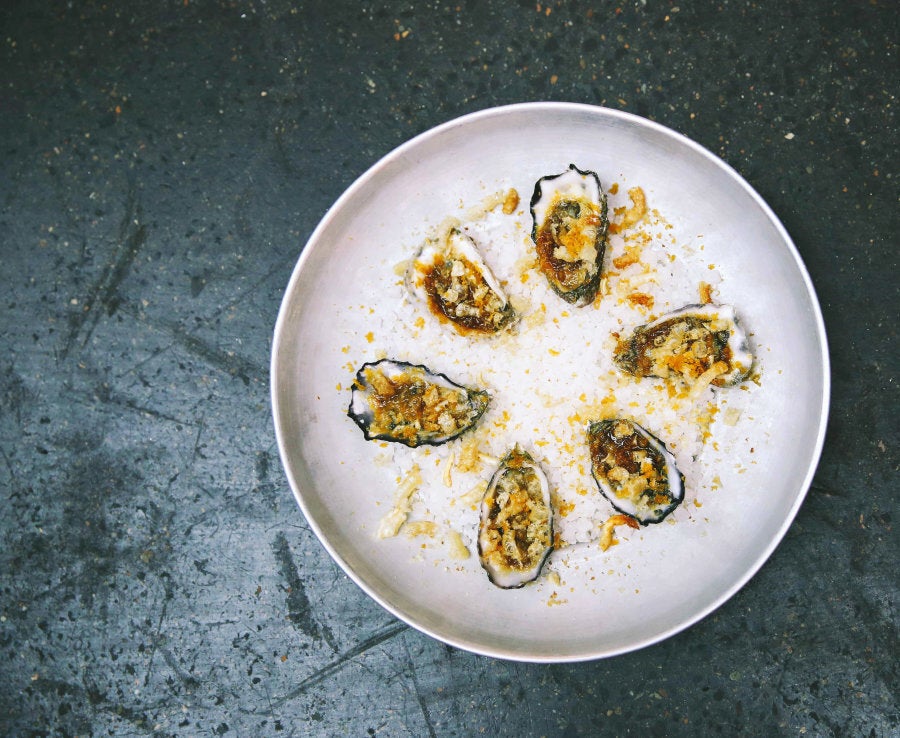 4. Saltimbocca prawns
"As delicious as it would be to wrap strips of bacon around your tuna, we're doing things with a little flair at The Morrison this month," Connolly said.
Instead, they're wrapping prosciutto and sage around king prawns.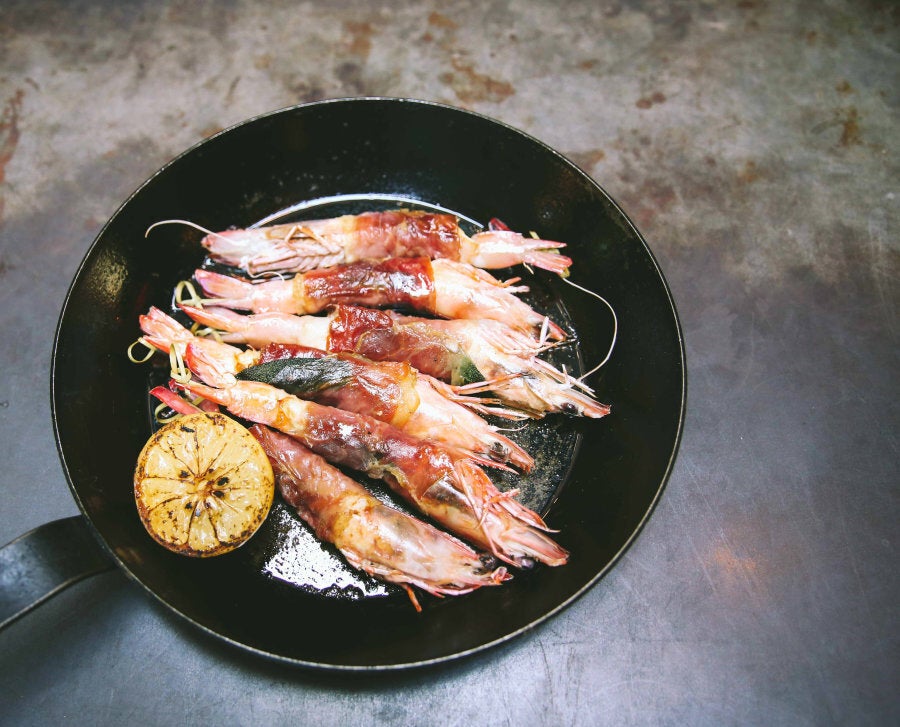 5. Pancetta carbonara with trout roe
This dish combines classic pancetta carbonara with a seafood surprise: trout roe, also known as caviar.
The briny, slightly nutty and buttery flavour of the roe is a perfect pairing to the smoky, salty pancetta.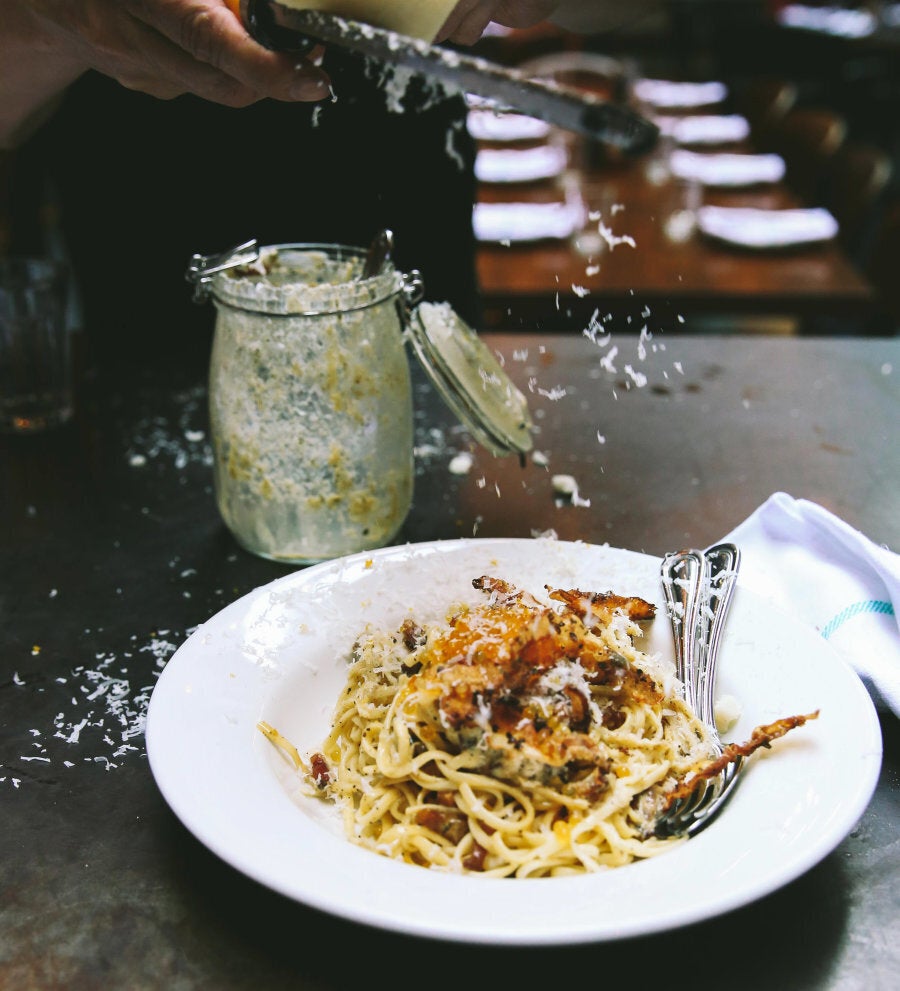 Click below to follow HuffPost Australia on Snapchat!