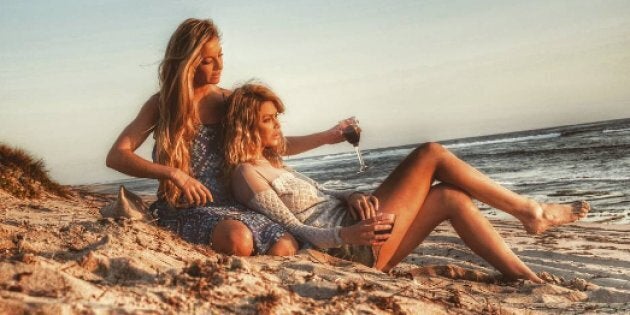 Most of us have heard speculation that the Bachelor's Megan Marx and Tiffany Scanlon's friendship may have blossomed into a relationship, and their latest display of Insta-affection appears to all but confirm it.
There have been loving words, couple shots, even racy half-naked photos but a post by Megan for Tiffany's 30th birthday has suggested there's been a change in their relationship.
"Friendship ripened into something bolder, trust in a very strange situation was formed, and now every adventure we have rivals the other," Marx said on Instagram.
"She's helped me to disintegrate many of the ideals I've had that were harmful (about relationships, about career and 'stability') and for that I feel set free.
"Happy Birthday Tiffany. I love you."
Last month in an interview with OK Magazine, Marx didn't deny the possibility of a romantic relationship and claimed they're both open to dating the same sex.
"I think that you can probably tell from the pictures that we don't have the most conventional relationship," Megan said to OK!.
"I'm traditionally attracted to men but I don't rule anything out... I would say that Tiff's in the same boat."
While the birthday post is not a 100 percent confirmation, things are looking pretty promising between the pair and if these other photos are anything to go by they look very, VERY happy either way.