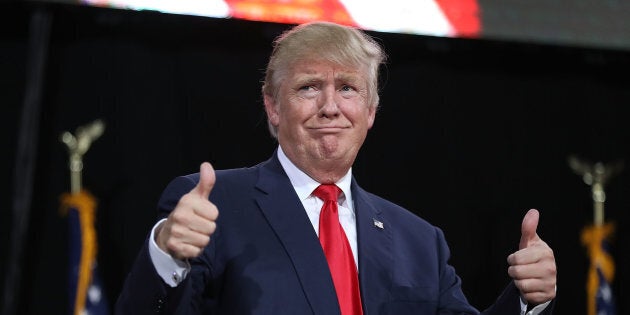 WASHINGTON ― You would think that Obamacare had enough real problems that Republican presidential nominee Donald Trump would be able to stick to discussing them when taking a swing at the health care law. But you'd be wrong.
During a campaign event promotion for his hotels at the Trump National Doral Miami resort Tuesday, the GOP nominee seized on the news that health insurance premiums on the Affordable Care Act's exchange marketplaces are going up by a lot for some people next year.
But naturally, instead of just using this information to criticize the law and propose something better (or "something terrific," as he's fond of saying), Trump opted to go a little nuts.
Politico reporter Eli Stokols was on the scene in Florida. (Read his dispatch here.) Let's start with this:
Here they are: The Department of Health and Human Services announced Monday that the premiums for "benchmark" plans on the exchanges ― those used to set the size of subsidies that most exchange customers receive ― would rise an average of 25 percent next year in the 39 states that use the federal exchange system on HealthCare.gov.
That's a lot! And while that average obscures even higher average increases in some states ― including those on the order of what Trump claims here ― that doesn't make 25 percent "phony." It's how averages work.