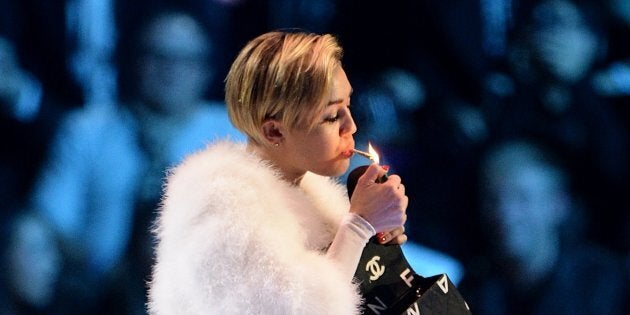 Miley Cyrus reached peak Miley on Sunday night when she got "too stoned" before her performance at the Kennedy Center tribute to comedy legend Bill Murray.
Murray, who was awarded the Mark Twain Prize for American Humor at the celebrity-filled event in Washington, D.C., on Sunday night, watched as many of his former co-stars, including Sigourney Weaver and Steve Martin, sang his praises.
But it was Cyrus, who performed a Murray-themed rendition of "My Way," that raised some eyebrows.
"I f**ked it up ... Sorry guys," she told the crowd mid-performance after flubbing a lyric. "I got too stoned."
"I smoked too much and forgot," she continued.
The honoree was quick to comfort Miley with a joke, yelling from the audience, "This is happening right now in Washington, D.C., the 51st state in the union," according to ABC News.
If you had told us 10 years ago that Miley Cyrus would be paying tribute to Bill Murray at the Kennedy Center, we'd have thought you were "too stoned" as well, but apparently the two bonded while filming Netflix's "A Very Murray Christmas."
There's nothing like a "Let It Snow" duet to bring random celebrities together: