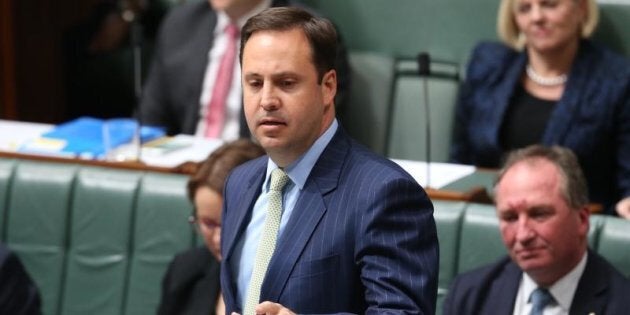 CANBERRA -- The Turnbull Government is trying to hose down revelations there have been tens of thousands of outrageous edits to Wikipedia pages from government computers, including a Holocaust denial edit originating from Defence, one from Health saying Tony Abbott has "chimp ears" and another from Foreign Affairs accusing the Iranian President of flatulence.
An urgent all of government review of IT policy is underway after the revelations in Fairfax Media, with the Department of Prime Minister and Cabinet ordering the department heads of Defence, Foreign Affairs and Trade, Health, Agriculture and Parliamentary Services to report back in a week.
Using the WikiWatchdog website, the Fairfax analysis found 8790 pages had been altered by government staff using anonymous Wikipedia logins over the past decade.
Some appeared serious and diplomatically embarrassing, others were obsessive edits to fix formatting and grammar.
It is understood many of the edits scrubbed unfavourable information about politicians that were factually accurate.
Trade Minister Steve Ciobo, whose Wiki page had been edited on parliamentary computers 43 times -- more than any other MP -- attempted Wednesday to dismiss the controversy.
"I understand a review are being undertaken by departments, but I don't think this is the biggest issue that people in the western suburbs of Sydney or indeed any part of Australia are that focused on," he told reporters in Sydney.
On February 15, 2016, Ciobo's page was changed to remove this sentence: "Prior to this appointment [as minister] he gained notoriety for implying that serving Prime Minister Julia Gillard's throat should be slit."
Ciobo was not asked if he knew who was editing his page, but said this is not a matter for "ordinary Aussies".
"I speak to thousands of people ... over the many, many years I have been involved in politics and I can tell you not a single person has ever raised Wikipedia with me," he said.
In one change, a user on the Defence Department network edited the Schutzstaffel (Nazi SS) Wikipedia page to remove the word "genocide" and state the organisation was "justified" in killing Jews. The number of Jews killed was also reduced from 6 million to as few as 30.
Over on the Department of Foreign Affairs and Trade (DFAT) network, someone with a base level humour edited the Hassan Rouhani page to state the Iranian President had "Acute Flatulence Disorder (AFD), was born "to a family of pumpkin farmers" and that his surname meant "flatulent" or "farty".
The Trade Minister said he was confident that the current review of government IT policy will get to the bottom of the matter.
"We don't want people of course goofing off at work. We want them focused on the task at hand," he said.
"I am certainly very confident that after a review is undertaken we will have a much better picture of where it is at."