Guess what, everyone? It's nearly Halloween -- the best day of the year to dress up and scare the living daylights out of everyone you love most.
Halloween is a growing trend here in Australia, and along with all the dripping fake blood, vampires and enormous amounts of lollies are scary carved pumpkins.
If you don't know how to carve a pumpkin -- let alone a terrifying one -- don't worry. The Huffington Post Australia enlisted the expertise of Woolworths' carver, Charlie Yan, who has 20 years' experience carving fruits and vegetables to create works of art.
The first step for pumpkin carving is to choose the best pumpkin. You want to buy a 'Jacko' pumpkin, not your regular butternut or Kent. According to Yan, there's a simple nail test to find out whether the pumpkin is ripe enough to be carved carefully and easily.
"Choose a good quality pumpkin. You want it to be soft on the outside," Yan told HuffPost Australia. "Scrape your nail on the outside to check it's soft enough."
A brief history of jack-o'-lanterns

Jack-o'-lanterns (carved pumpkins) originated in Ireland and were carved from turnips (they didn't have pumpkins) to ward off unwanted visitors.

According to Irish folklore, a man called Jack O'Lantern was sentenced to roam the earth for eternity. A ghostly figure of the night, O'Lantern walked with burning coal inside of a carved turnip to light his way.

However, the practice of making lanterns made from gourds (large fruit with hard skin) dates even further back when Maori people carved them into lampshades 700 years ago.

In north America, when the Irish and Scots immigrated, they brought the jack-o'-lantern tradition with them, using pumpkins instead of turnips. Jack-o'-lanterns have been a core part of Halloween since.

It's also suggested that the jack-o'-lantern was adapted to depict the 'Headless Horseman' from Washington Irving's short story The Legend of Sleepy Hollow.

From IrishCentral.com.
Then, once you've got your pumpkin, come up with an idea for what you want to carve. If you love a super scary jack-o'-lantern, follow the video above.
Here are the general steps for pumpkin carving:
1. Use a sharp, small knife, and cut around the top of the pumpkin on an angle. Remove the top and cut off the excess flesh so you have a clean lid for the jack-o'-lantern.
2. Using a large metal mixing spoon, scoop out the pumpkin flesh and seeds so you have a clean, hollow pumpkin ready for carving.
3. Now you're ready to start carving. Use the small knife to carefully cut out pieces of the pumpkin to create a spooky face or Halloween scene. You can draw on a stencil first to guide you.
4. Once the pumpkin has been carved, carefully place a lit tealight in the pumpkin.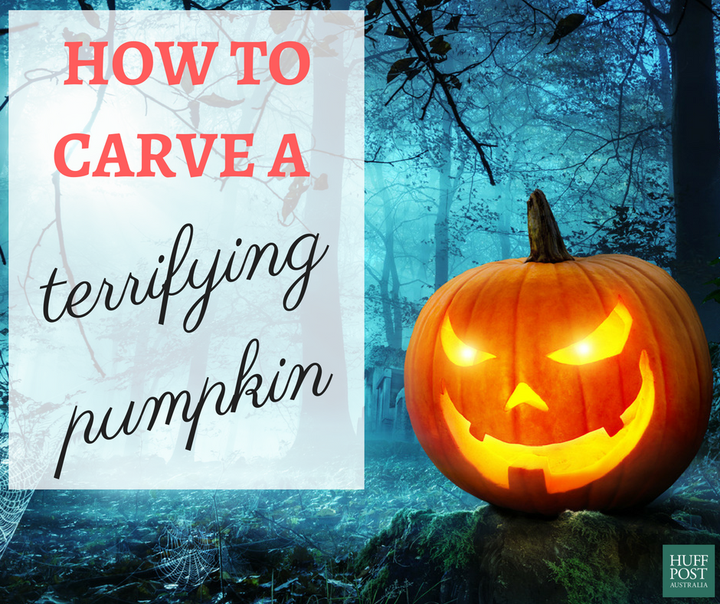 To give your jack-o'-lantern a long and happy life, and prevent it from rotting, Yan recommends placing it in the fridge or freezer.
"Keep it in the fridge for a few weeks, or in the freezer for up to three months," Yan said.
Click below to follow HuffPost Australia on Snapchat!