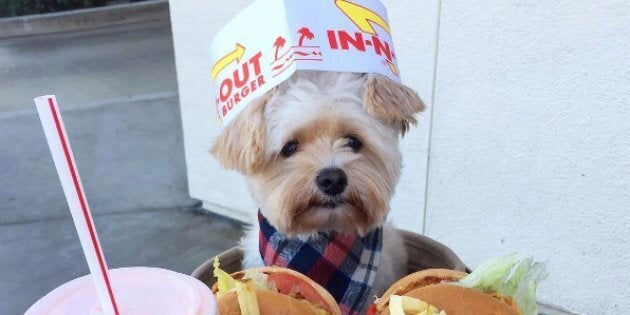 When it comes to food, most dogs are like vacuum cleaners: They inhale anything you put in front of them.
Los Angeles-based rescue pup Popeye takes a different approach. He poses patiently with countless mouthwatering dishes that even we couldn't keep our hands off of for long. Clearly, Popeye understands the value of a good Instagram shot.
We all know that food Instagrams are good, but pet Instagrams are better. Put them both together? You've just struck gold.
Popeye wasn't born the Instagram foodie he is today. When owner Ivy Diep found Popeye, he was a skinny stray pup with long, matted hair ― badly in need of some TLC. Though Diep and her husband weren't looking to add a new dog to their brood, they were quickly taken with Popeye's charms.
"Didn't take long for him to make himself comfortable at our home with our other pups and for us to fall in love," Diep told The Huffington Post.
Diep soon began taking Popeye along on "Instagram dates" with her friend Jen.
"Jen and I liked to go on what we call 'Instagram dates' and take pics of our food," Diep explained to BoredPanda. "I'd bring Popeye any time I can, and we realized he was really good around food. He doesn't lunge for food or really even care for it. He just liked to be out."
Popeye has visited tons of tasty L.A. haunts like In-N-Out, ROC and The Halal Guys. His foodie shots have amassed over 100,000 followers on Instagram. But his favorite snacks are a bit less gourmet: True Chews and Pet-N-Shape dog treats.
"If we have McDonald's chicken nuggets, that'll keep his attention as well," Diep said.
Check out Popeye's foodie adventures below!