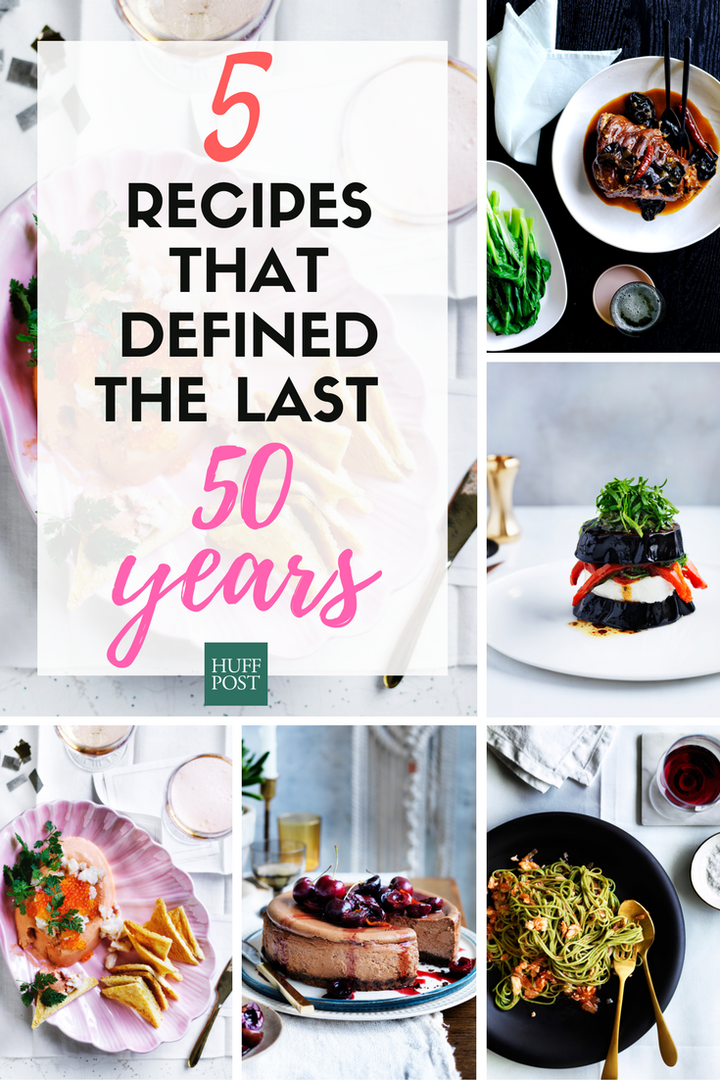 If you think of Australian food, the main things which spring to mind are Vegemite, smashed avo, Caramello Koalas, toasted sangas and pavlova (let us have this, New Zealand).
What we don't know, though, is that there are a huge range of dishes that top Australians chefs have helped make iconic over the last 50 years.
From 70s black forest cake and 60s lobster mousse, to cheddar pie from 2010s and 2000s green noodles with blue swimmer crab, these recipes from the 50th anniversary issue of Gourmet Traveller are pure perfection.
1. Lobster mousse -- the 1960s
Was the '60s the high-watermark of the savoury mousse? If it could be poached, sieved and set, we were up for it. This example is set with relatively little gelatine, so be sure to cool the lobster briefly before spooning it on top. Start this recipe a day ahead to set the mousse.Gourmet Traveller 50th Anniversary Edition
Cook time: 45 minutes (plus chilling, setting).
INGREDIENTS
1 live lobster (about 900gm)
2 golden shallots, coarsely chopped
2 thyme sprigs
150g butter, coarsely chopped
20g plain flour
1 tablespoon tomato paste
1 tablespoon Cognac
500ml (2 cups) chicken or fish stock
3 titanium-strength gelatine leaves, softened in cold water for 3-5 minutes
120ml pouring cream
8 slices soft white sandwich bread
Chervil sprigs, to serve
Trout or salmon roe, to serve
METHOD
1. Kill lobster humanely, then remove tail meat by running your finger along the connective tissue between the shell and meat. Refrigerate meat until required. Chop or crush shells, then place in a large saucepan over medium heat with shallot, thyme and 100gm butter, and stir and pound shells with the end of a rolling pin to break up until shells are fragrant and deep red (20-30 minutes). Add flour and stir until well combined and toasted (3-4 minutes). Add tomato paste and stir continuously until it loses its raw flavour (1-2 minutes), then deglaze pan with Cognac and gradually add stock, stirring until smooth. Increase heat to high and stir until liquid comes to the boil, then stir occasionally until well flavoured (two minutes). Remove from heat and strain through a sieve, pressing to extract the most liquid, then strain again through a fine sieve -- you should have 300ml. Return to pan and bring to a simmer. Squeeze excess water from gelatine and stir into sauce to dissolve. Season to taste, transfer to a bowl and set aside, stirring occasionally, until cool (30-35 minutes). Whisk cream to soft peaks, fold into sauce a third at a time, then divide among two 350ml moulds, or one 700ml mould and refrigerate overnight to set.
2. To make Melba toasts, preheat oven to 175°C. Cut crusts off bread with a serrated knife, cut slices diagonally in half and bake on trays, turning once, until light golden and crisp (8-10 minutes). Halve toasts again, brush lightly with oil, then return to oven and bake, turning once, until golden (5-7 minutes).
3. Dice reserved lobster meat. Heat remaining butter in a frying pan over high heat, add lobster and stir until just cooked (3-4 minutes). Season to taste and set aside to cool briefly (5-6 minutes).
4. Meanwhile, dip bases of mousse moulds briefly in hot water to loosen, then invert onto serving plates. Spoon lobster meat on each mousse, top with roe and chervil and serve with Melba toasts.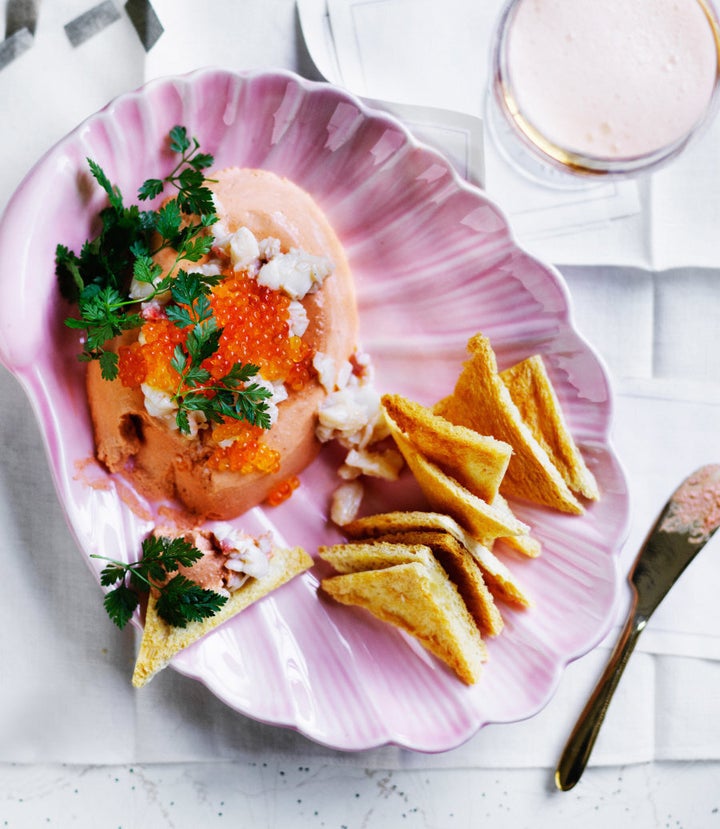 2. Black Forest cheesecake -- the 1970s
Desserts in the 70s were all about Black Forest cake and cheesecakes. We figured a combination of the two could only be a good thing. Instead of the cornflour-thickened fruit topping of earlier eras, we've opted for lush roast cherries. This can be made well in advance, so it's the entertainer's friend. Gourmet Traveller 50th Anniversary Edition
Preparation time: 40 minutes.
Cooking time: 1½ hrs (plus cooling)
INGREDIENTS
500g cream cheese, at room temperature
250g (1¼ cup) firm ricotta
250g (1 cup) mascarpone
150g caster sugar
150g dark chocolate (53-58 percent cocoa solids), melted
3 eggs
Finely grated rind of ½ orange
Cherries, to serve
100g caster sugar
220g softened butter
240g plain flour
75g Dutch processed cocoa, sieved
300g cherries, halved and pitted
110g (½ cup) caster sugar
Thinly peeled rind and juice of
½ orange and ½ lemon
20ml brandy
Scraped seeds of 1 vanilla bean
METHOD
1. For chocolate crumb, preheat oven to 180°C. Butter a 23cm springform cake tin and line the base with baking paper. Beat sugar and 170gm butter in an electric mixer until pale and creamy (1-2 minutes), then scrape down sides of bowl, add flour, cocoa and a pinch of salt and beat to combine. Roll out between two sheets of baking paper to 3mm thick, place on a baking tray, remove top piece of baking paper and bake until crisp (8-10 minutes). Cool, then break into rough pieces and process in a food processor to fine crumbs. Melt remaining butter, add to crumbs along with a pinch of salt and process to combine. Press evenly into base of prepared tin and bake until crisp (12-15 minutes). Remove from oven.
2. Process cream cheese, ricotta, mascarpone, sugar, chocolate, eggs and orange rind in a food processor until smooth, pour onto crumb base and bake until set with a slight wobble in the centre (50 minutes to one hour). Allow to cool for one hour, then refrigerate until chilled (3-4 hours).
3. Meanwhile, for roast cherries, preheat oven to 150°C, combine ingredients in a roasting pan large enough to hold cherries snugly in a single layer, toss to combine and spread out evenly. Roast until syrupy and cherries are tender (6-8 minutes). Set aside to cool completely.
4. Serve cheesecake topped with roast cherries, syrup and fresh cherries.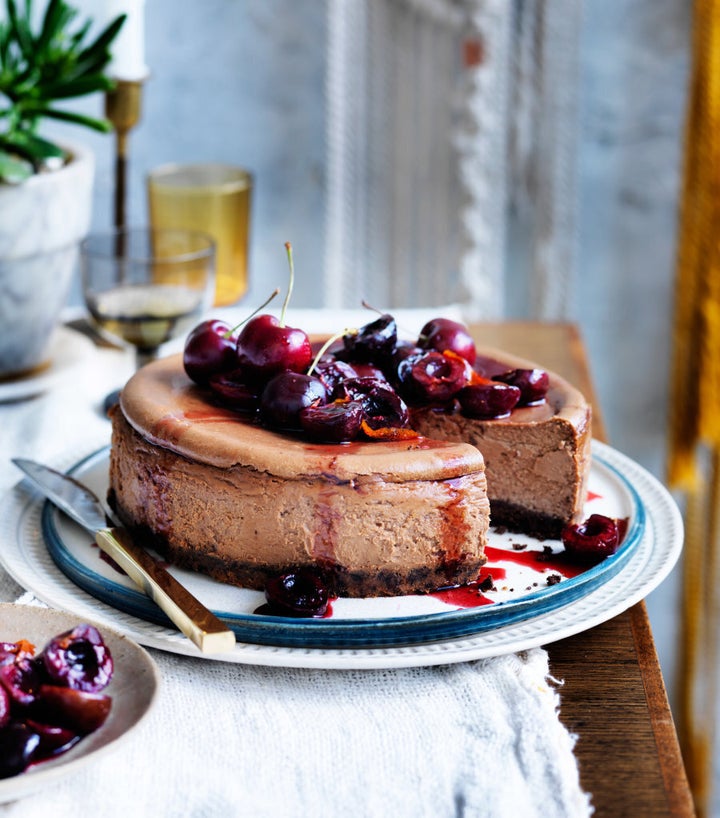 3. Pork hock and wood fungus -- 1980s
"This was one of the most popular meat dishes at Neddy's in the 80s -- most guests would have liked a huge pork hock with the wood fungus in spicy sauce all to themselves," Adelaide's Cheong Liew, dean of East-West cooking in Australia, said. "It was so popular, Max Schubert, the father of Penfolds Grange, requested this dish to match with one of his vintage launches at Neddy's around the time.
"This is an ancient Chinese method of braising joints or game meat, with the gelatinous skin and velvety meat in a rich, spicy, dark, sweet sauce. After marinating, the meat is deep fried until the skin is crisp, then braised in several sauces. Paradoxically, the deep-frying process further reduces the fattiness of the meat because the fat is released into the oil.
"The rich sauce and light meat make this a tantalising meal. Wood fungus is added to absorb all the rich flavours of the sauce and meat, giving another texture to the dish. This Chinese hunter-style recipe could be applied to any game meat. I like to serve it with Chinese greens and shallow fried potatoes."
Preparation time: 30 minutes.
Cooking time: two hours (plus standing, cooling).
INGREDIENTS
Vegetable oil, for deep-frying
100g wood-ear fungus, soaked if dried, or trimmed if fresh
60g rock sugar, crushed (see note)
1 tablespoon oyster sauce
Blanched Asian greens, to serve
2 pork hocks (about 1kg each)
2 spring onions
4 thick slices ginger
2 tablespoons rice wine
2 tablespoon dark soy sauce
1 tablespoon fresh ginger juice (see note)
1 tablespoon olive oil
1 tablespoon sesame oil
2 large dried red chillies
3 garlic cloves, finely chopped
2 golden shallots, finely chopped
1 tablespoon finely chopped ginger
3 star anise
1 tablespoon fermented brown beans, finely chopped (see note)
1 tablespoon white sugar
1 tablespoon Korean sweet chilli paste (see note)
1 tablespoon light soy sauce
2 teaspoons dark soy sauce
3 litres chicken stock
100g hoisin sauce
4 cubes red fermented beancurd (see note)
3 cubes white fermented beancurd (see note)
2 tablespoons tahini
1 tablespoon rice wine
METHOD
1. For marinated pork hock, sprinkle hocks with salt and stand at room temperature for two hours. Place hocks in a large saucepan, cover with cold water, add spring onions and ginger and bring to the boil, then reduce heat and simmer until skin softens (30 minutes). Place hocks in a bowl, add rice wine, soy sauce and ginger juice and rub into hocks. Set aside to cool.
2. Heat oil in a deep saucepan or large wok to 170°C. Pat hocks dry with paper towels and deep fry one at a time (careful, hot oil will spit) until browned (8-10 minutes). Remove from oil, plunge into a large bowl of iced water and stand until completely cool (30 minutes). Drain well.
3. For beancurd sauce, heat oils in a wok over medium heat, add chillies, garlic, shallot, ginger, star anise and fermented brown beans, and stir fry to combine. Add sugar and stir until caramelised (1-2 minutes), then add sweet chilli paste and soy sauces and stir to combine. Add chicken stock, hoisin, beancurds, tahini and rice wine and bring to the boil.
4. Add hocks to beancurd sauce and simmer uncovered until meat is tender (1-1½ hours). Add fungus, rock sugar and oyster sauce, and simmer until meat is starting to fall from the bone (30-40 minutes). Serve meat, fungus and sauce with blanched Asian greens.
Note: Rock sugar and all Asian ingredients can be found at Asian supermarkets and select Chinese grocers. For ginger juice, finely grate ginger, then squeeze out juice. You'll need about 60g of ginger for one tablespoon juice.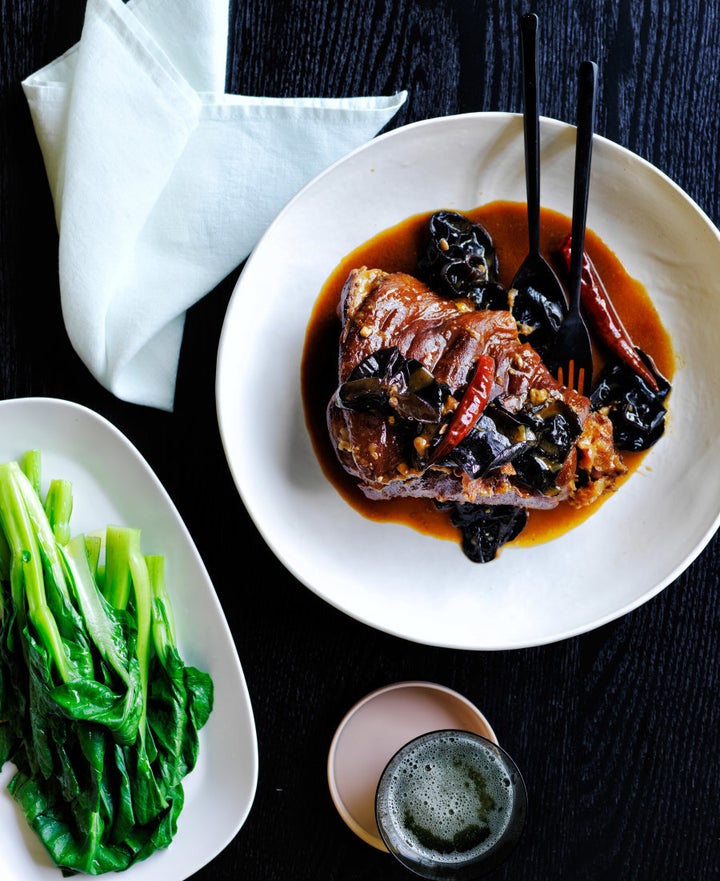 4. Eggplant sandwich -- the 1990s
"This dish was born in the early days of the Paragon kitchen, circa 1990, when we were new kids on the block," chef Christine Manfield said. "It marked the beginning of the trend for stacking ingredients and its success lay in the combination of flavours and its last minute cooking and assembly.
"Its construction took the concept of a sandwich, the eggplant taking on the role of bread, and transformed it with a slightly more theatrical presentation. The intention is that when you slice through the sandwich from top to bottom, you capture all the flavours and textures in one bite.
"The star ingredients are the goat's cheese (choose one of the artisanal brands made in Australia like Holy Goat, Woodside or Tongola) and the homemade pesto. Use your own favourite pesto recipe here."
Preparation time: 30 minutes.
Cooking time: 15 minutes (plus standing).
INGREDIENTS
3 small eggplant, cut into twelve 2cm-thick slices
2 red capsicum
Vegetable oil, for deep-frying
6 thick slices goat's cheese, at room temperature
2½ tablespoons basil pesto
½ cup thinly sliced rocket
90ml extra-virgin olive oil, plus extra for drizzling
1½ tablespoons aged balsamic vinegar
METHOD
1. Sprinkle eggplant slices with sea salt, place on a tray and stand for one hour to sweat. Pat dry with paper towels.
2. Meanwhile, roast capsicum over a direct flame until skins blister and blacken (6-8 minutes). Remove skins by washing the capsicum under cold running water, remove stalks, then open out flat. Remove pith and seeds with a knife, being careful not to cut the flesh. Cut the capsicum into strips lengthways and drizzle with a little olive oil if not using immediately.
3. Heat vegetable oil in a deep fryer or large saucepan to 180°C. Deep fry eggplant in batches, turning occasionally, until golden brown on both sides (4-5 minutes -- be careful, hot oil will spit). Drain and pat dry with paper towels.
4. For balsamic vinaigrette, whisk ingredients in a bowl to combine and season to taste.
5. To assemble, place a slice of eggplant on each plate and top with a slice of goat's cheese, a few strips of roast capsicum and one teaspoon of pesto. Drizzle with a little vinaigrette, scatter with a little rocket, sandwich with another slice of eggplant and serve topped with extra pesto, vinaigrette and rocket.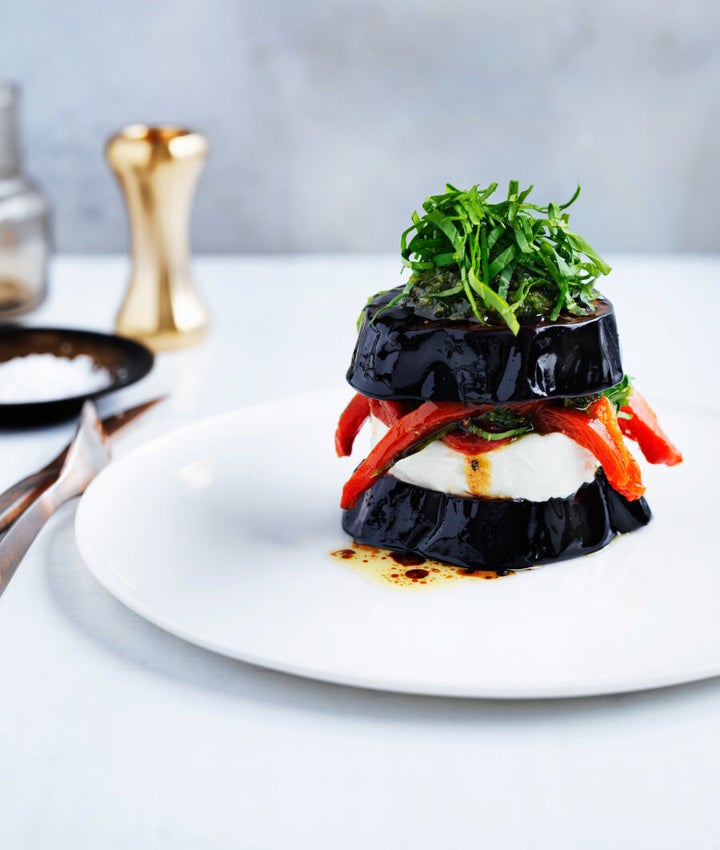 5. Tagliolini alla granseola (fine green noodles with blue swimmer crab) -- the 2000s
"As I am Ligurian it was only natural to make this pasta with silverbeet, following our tradition of combining ingredients of the land and the sea," chef Lucio Galletto said.
As essential as Liguria is to the DNA of Lucio's, the art-laden Sydney landmark Galletto opened in Paddington in 1983, it's always been as much about front-of-house style and culture as it has the kitchen -- Storrier, Olsen and Blackman are as important a part of Lucio's history as Artusi, Boni and Apicius. Gourmet Traveller 50th Anniversary Edition
"Italian has come a long way in Australia," Galletto said. "All that anyone used to eat was spaghetti Bolognese."
Preparation time: one hour.
Cooking time: 40 minutes (plus resting).
INGREDIENTS
3 large (400g each) uncooked blue swimmer crabs
80ml (⅓ cup) extra virgin olive oil
1 garlic clove, finely chopped
10g softened butter
200g silverbeet (3 medium stems), stalks discarded
2 eggs, at room temperature
260g plain flour, plus extra for dusting
400g canned peeled Italian tomatoes
60ml (¼ cup) extra-virgin olive oil
1 garlic clove, minced
½ Spanish onion, finely chopped
2 basil stalks
10g softened butter
METHOD
1. For green pasta, wash silverbeet leaves, roll up and thinly slice, then blanch until tender but still bright green (3-4 minutes). Drain and refresh in iced water, squeeze out excess water (you should have about 35gm silverbeet once squeezed firmly), then purée in a blender and combine with eggs. Sieve flour into a heap on a board or bench and make a shallow well in the centre. Pour silverbeet mixture into well, add a pinch of salt and, using a fork, incorporate flour into silverbeet a little at a time until it's no longer runny. Draw the pile in towards you and work the mixture with your palms pushing outwards. Continue drawing in with the fingers and pushing out with the palms until a dough forms that's not too dry and crumbly or too sticky (if dough seems too dry add a little warm water -- if it's sticky, dust with flour). Press dough down and away from you with the heel of your hand, forming an oval shape. Fold in half with the other hand, and give it half a turn. Repeat pressing, folding and turning in the same direction until dough is smooth and elastic and springs back when pressed (about eight minutes). Wrap in plastic wrap and rest in a draught-free place for 20 minutes.
2. Divide dough into 3-4 pieces and, working with a piece at a time, flatten then roll through a pasta machine, starting at the widest setting and dusting with flour as needed. Fold in half and repeat until pasta is smooth and silky, then continue rolling and folding, reducing settings notch by notch each time, until dough reaches a thickness of 1.5mm. Pass pasta sheets through the tagliolini cutters (2.5mm wide), spread on lightly floured trays and set aside while you make the sauce.
3. For tomato sauce, pass tomatoes through a mouli or crush them with your hands, and heat olive oil in a large frying pan over medium heat. Add garlic and stir until it just starts to colour (1-2 minutes), then add onion and sauté gently until soft and translucent (5-7 minutes). Add tomatoes, basil and a pinch of salt, or to taste, and simmer until sauce thickens (20 minutes). Discard basil and add butter.
4. Remove top shell of each crab and discard the yellow-brown tomalley. Detach and break claws and remove the meat. Remove head and discard dead man's fingers (gills). Break or cut bodies in half lengthways and squeeze meat from leg area towards the cut. Remove pieces of shell from meat and drain meat in a colander (10 minutes).
5. Combine olive oil and drained crabmeat in a large frying pan deep enough to hold the pasta over low-medium heat, and stir gently until half-cooked without colouring (2-3 minutes). Add garlic and stir until fragrant (two minutes), then add tomato sauce, bring to the boil, then reduce heat to low-medium and simmer until flavours combine (two minutes).
6. Meanwhile, cook tagliolini in a large saucepan with plenty of boiling salted water until just al dente (1½-2½ minutes). Drain then add to crab sauce along with butter, toss gently and serve immediately.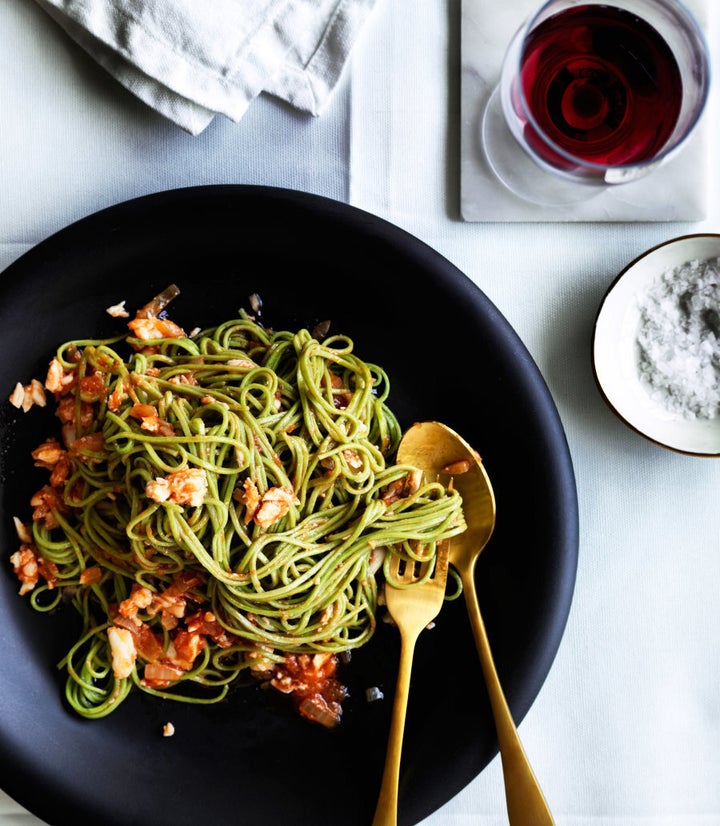 6. Cheddar pie -- 2010s
Mat Lindsay likes to let the oven do the talking. His cooking at Sydney's Ester is all about walking a line between care and consistency in the cooking and letting the caprices of the wood fire and the natural variety in the tastes and texture of his ingredients come to the fore. It's food with both guts and glory.Gourmet Traveller 50th Anniversary Edition
"At Ester, I use a wood-fired oven to cook most things," chef Mat Lindsay said. "It requires a certain level of intuition in that you need to understand the wood and how fire reacts. Cooking with an open flame has a kind of romance to it. I like this pie to have a punch and it tastes best when there are a few burnt bits here and there -- the bitterness stops it being too rich. If you don't have access to a wood-fired oven, have your oven as hot as it will possibly go. We like to serve the pie with a chilli sauce we ferment ourselves, but a bit of Tabasco, which is also fermented, works well, too."
Though he likes the pie as it is, Lindsay says it's quite forgiving of experimentation with toppings.
"We've even gone extravagant at times and thrown a bit of fresh truffle on, but anything that tastes good with cheese is good -- make it your own."
This recipe can make either one large (40cm), two medium (25cm) or four small pies (18cm). Start this recipe a day ahead to pickle the onion.
Preparation time: 20 minutes.
Cooking time: 30 minutes (plus pickling, resting, cooling).
INGREDIENTS
16 garlic cloves
125ml olive oil, plus extra for greasing, brushing
280g Pyengana cheddar, coarsely grated (see note)
Dehydrated tomato powder (optional: see note), to season
Nasturtium and peppery baby leaves, such as mustard or upland cress, and hot sauce, to serve (optional)
200ml white wine vinegar
1¾ tablespoons caster sugar
4 golden shallots, or 1 white onion, thinly sliced
600g (4 cups) baker's flour
125ml (½ cup) olive oil, plus extra for brushing
METHOD
1. For pickled onion, combine vinegar, sugar, ¾ teaspoon sea salt flakes and 130ml water in a saucepan and bring to a simmer, stirring to dissolve sugar. Place shallot or onion in a heatproof bowl, pour in vinegar mixture, set aside to cool, then refrigerate overnight. Drain before serving.
2. For pie dough, place flour in an electric mixer fitted with a dough hook. Add oil, 290ml warm water and two teaspoons salt, and knead until very smooth and elastic (5-7 minutes). Wrap tightly in plastic wrap and set aside for one hour to rest.
3. Combine garlic and olive oil in a small saucepan over very low heat until garlic is light golden (25-35 minutes). Strain (reserve oil for another use) and set garlic aside to cool.
4. Preheat oven as hot as it will go (250C-275°C fan-forced). Lightly grease two 25cm tart tins with removable bases with a little oil, or garlic oil if you like. Divide dough into four then, on an unfloured surface, roll two pieces to rounds the same size as the pie tins. Gently stretch dough on the work surface with your hands until almost see-through and large enough to cover tins, with dough overhanging. Place stretched dough into tins, pressing into the sides.
5. Divide cheddar and confit garlic between pie tins, making large clumps of cheese here and there -- the differences in texture is what this pie is about -- then season generously with ground black pepper and tomato powder. Roll and stretch remaining dough in the same manner as before and place over pie tins to make top crusts. Trim excess dough and pinch around edges to seal. Make a few small slits in the tops of the pies to allow steam to escape, brush olive oil over tops, season with sea salt and bake in centre of oven, swapping pies halfway, until golden, crisp and starting to blacken in spots (20-30 minutes, depending on how hot your oven will go).
6. Serve straight out of the oven topped with green leaves, with pickled onion and hot sauce served alongside.
Note: Pyengana cheddar is available from select cheese shops. If unavailable, use another aged cheddar. Dehydrated tomato powder is available from Herbie's Spices.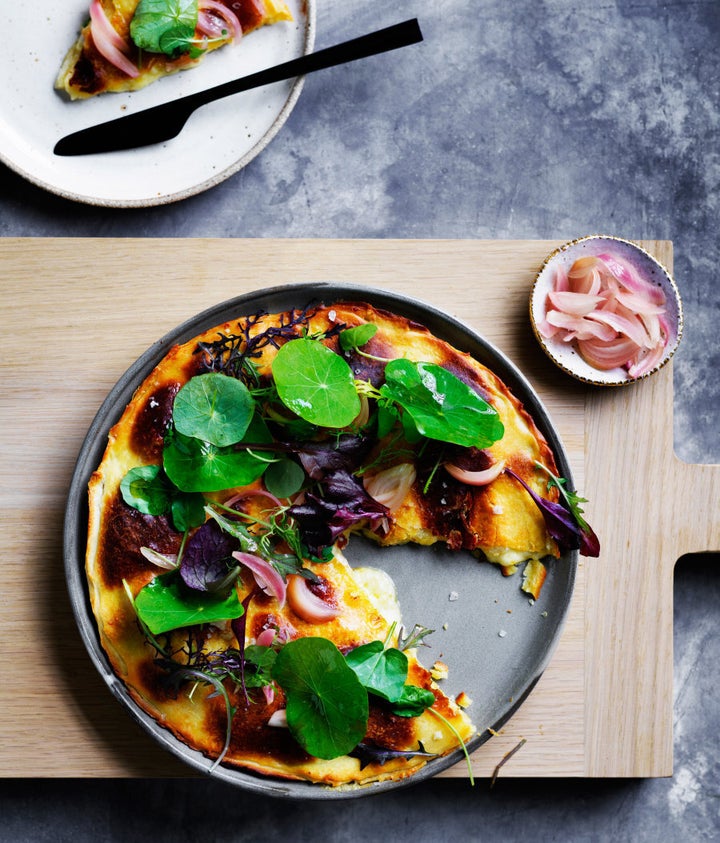 Recipes and images courtesy of the 50th anniversary issue of Gourmet Traveller, on sale from Monday 24th October 2016.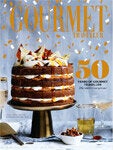 Click below to follow HuffPost Australia on Snapchat!