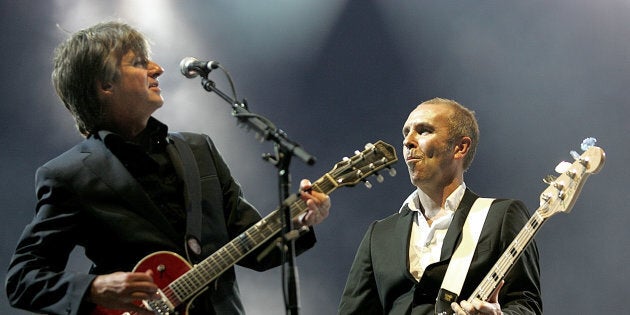 Don't worry if you missed out on tickets to Crowded House's return to the Sydney Opera House. As it's now been announced that you'll be able to watch the concert from pretty much anywhere in the world.
The show will be aired live on both the ABC and Facebook, making sure everyone gets to feel the same magic as the original farewell concert that captivated the nation 20 years ago.
The ABC has announced that the fourth and final show will be simulcast live on ABC TV, Double J radio and online streaming platform iView, as well as Facebook on November 28.
Crowded House's original 'Farewell to the World' concert took place on the Opera House steps on November 24, 1996.
It was their final concert after announcing they were calling it quits months before and aired for all Australia to see, going down in history as one of the most iconic shows in the nation's history.
The concert will also be an opportunity for the band and fans to remember former drummer Paul Hester who died in 2005.
The performance marks the end of ABC/Triple J's Aus Music month, that celebrates Australian music and will also be a celebration of Crowded House's induction into the Aria Hall Of Fame.
"Ausmusic Month is about all Australian music – not just bands and songwriters, but orchestras, composers, ensembles and choirs, producers, technicians, managers, students," ABC Managing Director Michelle Guthrie said.
"From the seasoned professionals to the absolute beginners, we aim to celebrate Australia's rich musical landscape in full."
The concert is sure to go down in history and it's hard to pick which one of their epic, generation-defining hits to be more excited for.