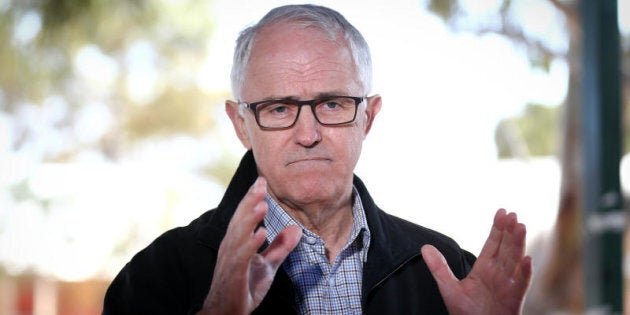 CANBERRA – Prime Minister Malcolm Turnbull has refused to detail how moves to apply a lifetime ban to refugees don't breach Australia's international obligations, only to say, "I am assuring you that it doesn't".
"We have taken legal advice and we are satisfied it is within power and consistent with our international obligations," the Prime Minister told reporters in Yalata.
The move, which is being fast-tracked into parliament next week and which Labor is being pressured to support as a "very reasonable measure", has prompted renewed expectations of a cross-Tasman deal to allow New Zealand to resettle 150 refugees, but it has also been condemned as "punitive," "barbaric" and in breach of the 1951 UN refugee convention.
Article 31 of the Convention states signatory nations "shall not impose penalties on account of their illegal entry or presence".
"The announcement is absolutely consistent with our international obligations," Turnbull repeated.
The Turnbull Government's proposed ban applies to refugees, who attempted asylum by boat, even if they attempt to come to Australia later as tourists, for business or for a funeral.
There would be exemptions for children and the Minister would have discretion.
When asked how the proposed measure does not contravene the UN refugee convention the Prime Minister responded, "I am assuring you that it doesn't".
Meantime, it appears Australia is edging closer to a deal with a third country of settlement for refugees, as this proposed lifetime refugee ban could be a way to accept a longstanding offer from New Zealand to take detained people off Australia's hands.
"I am very keen to get people off Manus and Nauru, but I will not do it in a way that when we create vacancies they are just filled by new arrivals," Dutton told RN Breakfast.
"That would be a disaster."
The Immigration Minister said he'd received advice from the international division of the Attorney-General's Department and the Australian Government Solicitor.
"There are no Constitutional issues here," he said. "We have tested the legislation."
The United Nations children's agency UNICEF said the lifetime ban, which would apply to all adults detained at the Manus Island or Nauru detention centres from July 19, 2013 -- including those who have chosen to return home, is "not a reasonable, necessary or proportionate measure".
It also said it was "entirely unnecessary" and "squarely punishes refugees more than it creates a credible warning to people smugglers".
The Government is expecting Labor to support the legislation with Dutton insisting it fits in with the Opposition's policy of not allowing boat arrivals to settle in Australia.
Crucial crossbench senator Nick Xenophon, who has previously supported the Government on tough immigration policies, wants to see the legislation.
"It is one thing to be tough to stop the people smuggling trade. It is another thing to be unnecessarily cruel," he told Sky News.
"Let's see where this proposal actually ends up."
The Turnbull Government has been negotiating with other nations to resettle the refugees being held on Manus Island and Nauru, but is keeping quiet on how the negotiations are going.
New Zealand has long offered to take 150 of the refugees and it is thought this new lifetime ban plan will pre-emptively shut down a new backdoor to Australia.
"When we do have a third country resettlement arrangement in place we are not going to have a situation where people then come to Australia through a different visa class," Dutton said.
"That gaming (of) the system would send a clear message to the people smugglers that the government's policy was ineffective."