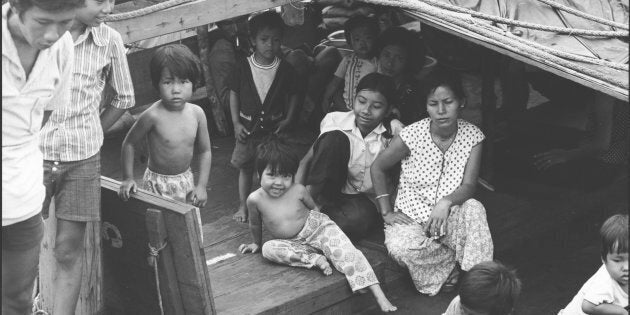 "We can't assume every refugee or asylum seeker will be a burden to society. We need an immigration program that will welcome and support these people to give them the best start here."
Ngan Noir and her mother came to Australia on a refugee boat from Vietnam in the early 1980s. Ngan was just three months old at the time. It was her mother's third attempt at the dangerous ocean crossing. There were 50 people filling the small boat, who were picked up by Australian immigration officials and taken to Christmas Island for processing. She now runs her own property development company in Perth.
"We would 100 percent be classed as illegal arrivals... [but] Australia embraced us the second we landed. We were assisted every step of the way from support families, government workers," Ngan told The Huffington Post Australia.
"I believe I contribute to Australia daily. If I wasn't given the opportunity to be here, who knows how my life would have turned out? I've embraced every opportunity and have never taken my life here in Australia for granted."
Legislation announced by Prime Minister Malcolm Turnbull and Immigration Minister Peter Dutton would mean asylum seekers who arrive in Australia by boat -- even those who are found to be genuine refugees -- would never be allowed to live in Australia, or even visit for holiday or business.
While many people currently in the Manus Island and Nauru processing centres are from Middle Eastern backgrounds -- Iran, Syria, Iraq -- Australia has a long history of people from other cultures arriving by boat to seek refuge, particularly from south-east Asia. More than 2000 arrived on boats from Vietnam during the 1970s and early 1980s. Many of these refugees have gone on to make hugely positive contributions to this country.
Beloved comedian Anh Do's boat trip to Australia has been immortalised in his stand-up routines and his stage show 'The Happiest Refugee'. I interviewed him for the Illawarra Mercury in 2013; he talked about a leaky fishing boat being beset by pirates who dangled his brother over the edge, after his family fled following the Vietnam war.
Tan Le, 1998 Young Australian of the Year and co-founder of bio-informatics company Emotiv, came to Australia on a boat in 1982. Her mother carried a bottle of poison in case their boat was boarded by pirates.
This idea was the subject of a popular campaign, 'I Came By Boat', that sought to highlight the contributions of refugees to Australia. World-leading surgeons, world-class musicians, entrepreneurs, lifesavers and community leaders are among the stories of boat arrivals that have been collected on the website.
Suzanne Nguyen's parents came to Australia as refugees on a boat from Vietnam in the early 1980s. The Sydney woman told HuffPost Australia the new laws made her fear for the direction of the country.
"I've always thought Australia is based on immigration. This is like the White Australia policy over again, just named something else," she said.
"It's sad. If my parents came now, I wouldn't have been given this opportunity I have now. If anything, Australia is losing its future by not allowing these people to help Australia."
Nguyen said refugees have a contribution to make.
"My parents have driven me to succeed. I'm a consultant, I run my own business. My parents are refugees, technically I'm a refugee. Immigrants and refugees have run away from something, it doesn't mean they're not educated," she said.
"I feel like we're going backwards, not forwards. When Vietnamese people came over, we helped them integrate to society faster."
Others are also sharing their stories about refugee parents on social media.
While some have pointed out that, in a way, most Australians can trace their heritage to "boat people"...