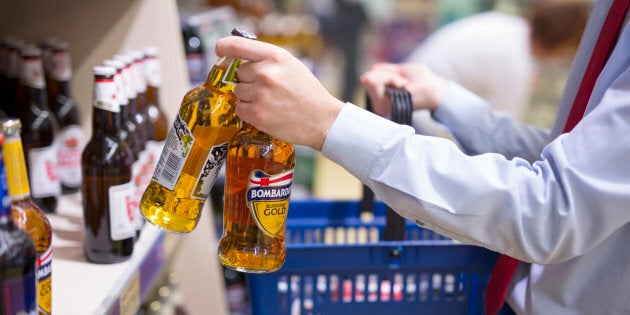 A few decades ago, the only wines you could buy under $10 were Passion Pop and discount Spumante.
Today, Aldi spruiks an award-winning rose for $4.99, Woolworths-owned Dan Murphy's sells a shiraz for $2.99 and now Coles' newcomer Liquor Market is going with the slogan "low cost and so much more".
What's changed to allow an influx of cheap barn-style bottle shops?
McCusker Centre for Action on Alcohol and Youth Executive Officer Julia Stafford told The Huffington Post Australia these barn-style discount liquor stores have had a profound effect on what we drink and how much.
"A few decades ago, people would go to the pub to have a few beers and that's how the majority of alcohol was sold," Stafford told HuffPost Australia.
"Today, 80 percent of alcohol is sold in the form of packaged liquor from a store. Of those stores, Coles and Woolworths combined have a 60 percent market share."
The trend of selling alcohol within or directly next to supermarkets came about via individual state and territory liquor licence approvals as opposed to any federal decision.
"The way alcohol is sold through liquor retailers makes a big impact on the community and I think often the liquor retailers fly under the radar a bit," Stafford said.
"We focus much more on pubs and clubs and on the street in night time entertainment districts, but we should recognise the role of liquor retailers and the huge volume of alcohol being sold through them."
Australia's bottle shop franchises

Coles owns: Liquorland, Vintage Cellars, 1st Choice Liquor Superstore and Liquor Market

Woolworths owns: Beer Wine Spirits (BWS), Cellarmasters, Dan Murphy's, Woolworths Liquor

Aldi has in-house liquor stores.

IGA has in-house liquor stores.

Independently owned bottle shops include: Thirsty Camel, Bottle-O, Cellarbrations, Camperdown Cellars
Cheap alcohol might be desired by some consumers but Stafford said a year-long review of alcohol advertising found the cheapest advertised alcohol was cask wine at 19 cents per standard drink.
"The link between cheap alcohol and increased consumption and harm is well established," she said.
"Especially when it comes to wine, it's taxed based on its price, not its alcohol content."
Centre For Alcohol Policy Research research fellow Michael Livingston said there were policy options to curb super cheap alcohol.
"The first option is to fix the wine tax so it's taxed on its alcohol basis, not its cost," Livingston said.
"The other promising policy option that's worked in Canada is for the government to implement a set minimum price for a standard drink.
"Both these options have pretty good evidence that they'll lead to health improvements in Australia."