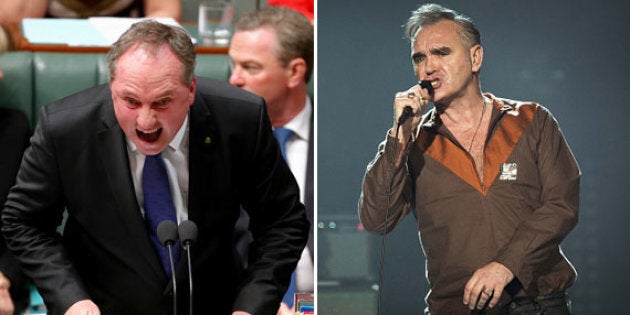 The deputy prime minister Barnaby Joyce is publicly feuding with Morrissey, the legendary frontman of The Smiths, over live cattle exports.
Let that wash over you for a moment.
Morrissey is in Australia for a run of big concert dates around the country. He's one of the world's most famous animal rights campaigners, and famously asks his concert venues to not sell meat on the nights he is performing.
The Smiths' leader penned an open letter to Joyce, the deputy PM and agriculture minister, over Australia's live export trade. Published on the PETA website, Morrissey said Joyce was on "the wrong side of history" and called live export "the slow boat to hell".
"The horrific cruelty in the live-export industry is heavy enough to sink a ship, yet you insist on condemning millions of animals to this fate every year," he wrote.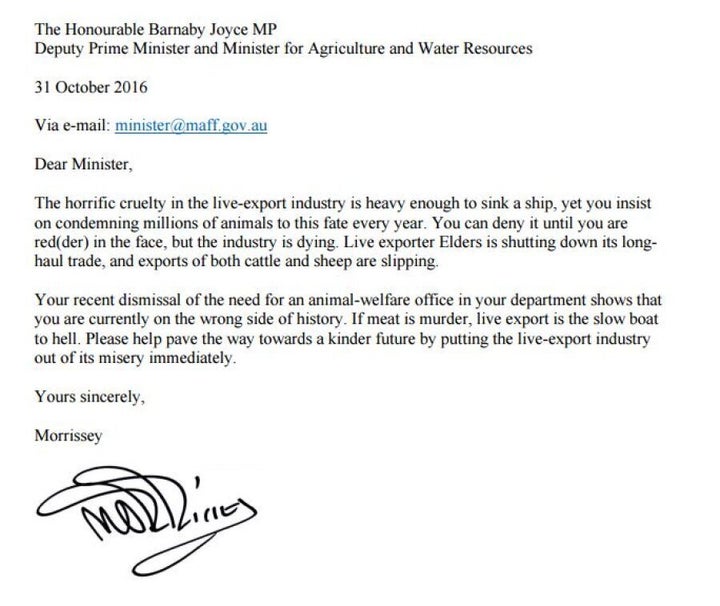 Joyce responded on Twitter on Monday afternoon, saying he "mightn't be a big fan of The Smiths" but backed the live export trade, and also took a dig at music festival Splendour In The Grass (a festival which, as far as we can tell, Morrissey has never played).
It brings the deputy PM's list of celebrity feuds in 2016 to at least two, after his globally-reported stoush with Johnny Depp and Amber Heard over their dogs. After months of court fighting, the pair made a hilarious, bizarre apology video in return for a very light sentence.
Morrissey's line that Joyce could "deny it until you are red(der) in the face" might be a dig at the jibes Depp made, where the actor said the agriculture minister looked "inbred with a tomato".
Judging from his previous form, Joyce probably won't be too worried.