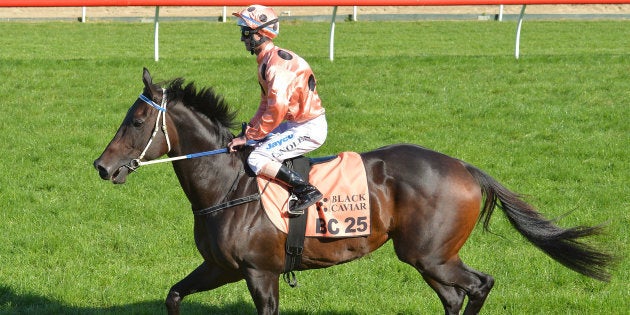 On the eve of the Melbourne Cup, a former Cup winning thoroughbred and record holder is making headlines again.
Well, her offspring are anyway.
Black Caviar -- who was undefeated in 25 races and remains one of Australia's greatest racehorses -- has three foals and one of them, Oscietra, is being trained to race by Easter next year. Yes, 2017.
So here's what you need to know about the Caviar's possible prodigy, who was featured on Australian Story on Monday night.
Oscietra is currently in her third week of training with David Hayes. He's the youngest trainer ever to be inducted into the Racing Hall of Fame, following in the footsteps of his father.
So Oscietra is in pretty good hands as she trains in the foothills of the Strathbogie Ranges in north-east Victoria. Hayes took over as Caviar's trainer, Peter Moody, retired in December 2015 following a controversy over allegedly treating a horse with cobalt (which he was later cleared of and found guilty of a lesser charge).
One of the owners, Pam Hawkes, told the program on Monday night that Oscietra already has racing silks for the filly when she hits the track.
"We've retired Black Caviar's colours so Oscietra and her siblings won't be burdened by the salmon and black that's just so recognisable as Black Caviar's colours," Hawkes told Australian Story.
The silks are green, with the five black circles which are on Black Caviar's silks (and represent the five families who own the horse).
It's a delightful play on words to Black Caviar, of course.
"Black Caviar is pretty expensive to get but this particular caviar [Oscietra] evidently is priceless -- so I hope she is," Hayes said on Monday night.
But she goes by another name, too.
"We know her as 'Black Caviar's daughter' and her nickname is Gerty, so we'd rather just keep her as Gerty."
Black Caviar is owned by five families who have not sold any of the three foals, so they've all remained together.
Along with Pam Hawkes is Neil Werrett, Jill and David Taylor, Kerrin and Gary Wilkie and Colin and Jannene Madden.
"Oscietra is a compact horse, perfect in conformation, not as big as her mother," Hawkes said on Monday night.
"We're hoping she's got the mother's big heart and the mother's will to win."