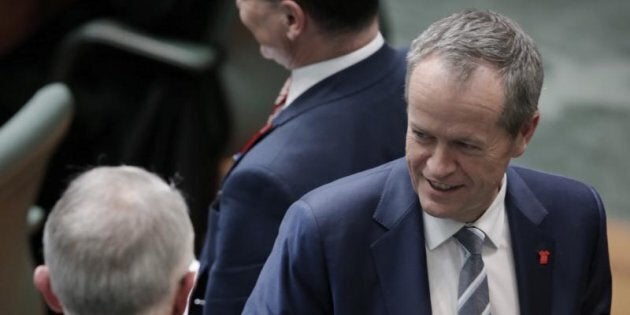 CANBERRA -- It's not looking good for the Turnbull Government's proposed lifetime visa ban for boat refugees. The latest Labor view is that the proposal "has got more holes in it than Swiss cheese" and the Prime Minister is being "weak" and "jelly-backed."
With the proposed measure renewing expectations of a third country deal to resettle the refugees in limbo on Australia's offshore processing centres on Manus Island and Nauru, Federal Labor is under pressure to support the measure.
Labor has a firm policy which does not allow boat arrivals to settle in Australia, but Labor types, like Senator Helen Polley will find it hard to back pedal from this:
Deputy Labor Leader Tanya Plibersek is also clear.
Senator Dough Cameron has labeled Turnbull "to weak" and "too jelly-backed" to stand up to the right wing of his own party.
"This is a problem not for Bill Shorten, not for Labor, but for Malcolm Turnbull," he told reporters in Canberra.
There are no firm details on the policy -- or the government legal advice supporting it -- and the Opposition is citing apparent government confusion over exactly who would be banned under the change to Australia's Migration Act.
Immigration Minister Peter Dutton has revealed a small number of refugees currently living in Australia will be affected, but on the ABC's Q&A program, fellow Cabinet member Health Minister Sussan Ley had a different explanation.
The confusion is over the status of the visa holder, whether the refugee is on a bridging visa, a temporary protection visa (TPV) or in Australia from Manus or Nauru to receive medical treatment.
"My understanding is that this legislation applies to those in offshore processing centres, including those who may have sought for example, medical treatment in Australia sometimes, but who are part of the cohort whose claims for asylum is being processed in a regional offshore processing centre," Bishop told ABC radio.
"And my understanding is also, that claims for asylum that are being processed in Australia, as was done under Labor, are not affected, so their TPV, their temporary protection visa, or their bridging visas will continue to operate."
Labor's Matt Thistlethwaite, who has unfavourably compared the plan to Swiss cheese, has told Sky News it's hard to support a government move in this environment.
"The government clearly need to work out who it will operate this legislation," he said.
The fast tracked plan has been praised by One Nation Senator Pauline Hanson and condemned by the UN refugee agency, UNHCR.
But all eyes are on Opposition Leader Bill Shorten to see if he will advise the Labor Caucus to support or block the legislation.
He has labelled it as "ridiculous" and "absurd," however he has not stated a position to take to parliament as the opposition has not seen the legislation.
The leaves Shorten ridiculing the Prime Minister.
"If it's not Tony Abbott pulling Malcolm Turnbull's strings, its One Nation telling him what to do," he told reporters in Melbourne.
Meantime Labor opposition is mounting. Tasmanian Senator Lisa Singh has declared the lifetime ban proposal a "new low".
And Josh Wilson, the new member for Fremantle, has accused the government of "reaching for the dog whistle".
The ban would be backdated to July 19, 2013 and children would be exempt, while the minister would have the power to lift the ban on a case-by-case basis.