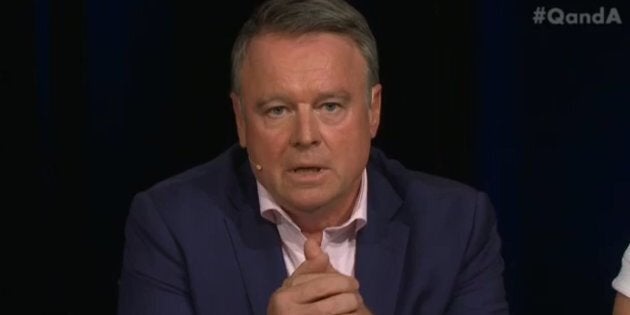 As the furore remains bubbling over tough new immigration laws proposed by the Turnbull Government over the weekend, it was not absent from the Q&A panel on Monday night.
"The worst aspect of this is it's in response to nothing. There's no build-up here. There was not a problem to fix," Fitzgibbon told the ABC audience.
"Have a think about the proposition -- what they are now saying is if you have the audacity to flee persecution and make your way after paying people smugglers onto a boat, you will get a life sentence."
Ley argued the policy was intended to remain harsh and to send a clear message to people smugglers that no asylum seeker travelling by boat will ever be resettled in Australia.
The proposed legislation will apply to any asylum seeker dispatched to Nauru or Manus Island since July 2013. Aussies who would have been banned under the new proposed laws if they entered Australia now have spoken out.
On Monday night panellists Stefanode Pieri and Emma Germano, who are both in the food industry, lashed out at the proposed legislation and the federal government's handling of refugees and asylum seekers generally.
Pieri, a chef and author, said the proposed new laws sound "like fable".
"You're telling us an amazing story to hide your cruelty. You're cruel. You've kept people in limbo for years and years, having deprived them of their freedom after they've crossed the ocean and have been very brave," Pieri said on the panel.
"You haven't got the heart to accommodate them in Australia. And if you're finding a third place other than Australia, you're going to deny, forever, their ability to perhaps join with friends and family in Australia?
"I mean, who invents this cruelty?"
Asylum seekers on Nauru and Manus Island will be resettled in a third country or sent back to their home country, if willing.
On Monday night, Foreign Minister Julie Bishop told The Project that the Coalition were in discussions with a number of possible third countries to resettle asylum seekers arriving by boat.
The humanitarian refugee intake -- for asylum seekers arriving into the country through official channels -- has been increased to 18,750 with 12,000 more Syrian refugees impacted by the Syrian and Iraqi conflict allowed to enter the country this year.
Food producer and panellist Emma Germano said the federal government's handling of asylum seekers has harmed Australia's reputation on the global stage.
"It also sends a message to the other nations of what our attitude towards refugees and asylum seekers and people who are seeking to come to Australia is," Germano said.
"And I don't know whether that's what 'Brand Australia' should look like."