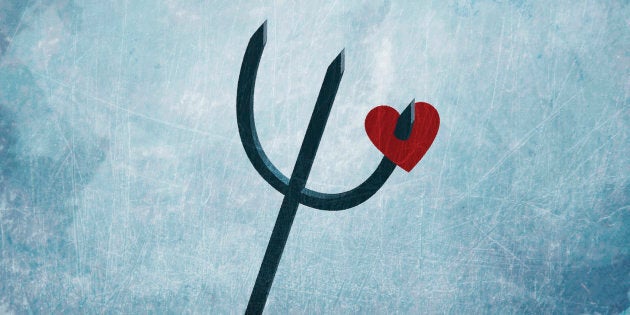 There are no two ways about it: breakups are torturous.
From the moment you call it quits, your life immediately changes. And before you've even had time to break the news to your loved ones you've had to deal with major things like moving out, figuring out finances and in some cases, shared custody of the kids (or pets).
Everything becomes a struggle and curling into the fetal position while slowly rocking to Adele feels like the only possible thing you can handle right now.
So how long does this emotional turmoil last?
"Nobody likes feeling pain, it's not pleasant but if you are willing to face the situation and the pain that comes with that rather than just distracting yourself, you're setting yourself up in the best possible way to heal," Manning told The Huffington Post Australia.
Manning said, realistically, a good rule of thumb for this healing process is a few months.
"Some people process feelings quite quickly. However, most of us like to run away from our feelings which obviously prolongs the healing process," Manning said.
Here, Manning provides realistic tips for getting through this not-so-fun period.
Feel the loss
"If you're feeling emotional, perhaps you can write down your feelings, cry or make a list of things that you want in your relationship next time," Manning said.
Basically, it's about accepting the feelings of sadness, processing them and eventually, letting them go.
Reach out for support
"With any grief the first 12 months is the hardest," Manning said.
You'll have milestones like birthdays, anniversaries and Valentine's Day that you haven't yet experienced on your own.
"Often what happens is that we overestimate how bad it's going to be and underestimate our resources to cope with it," Manning said.
Plan ahead
Instead of pre-empting how bad the milestone will be, Manning advises to plan ahead to do something for yourself, like meeting up with a friend to see a movie or go to the beach.
"But also, if you do find yourself feeling sad on that day, that's OK. You have to expect that feelings of sadness will come and go even after the initial few months have passed," Manning said.
Be open to reflection
Even if it was your choice to leave the relationship, giving yourself time to accept that it's over is still important.
"When you break up with somebody, it's very difficult to envisage being attracted to somebody else again. That's a very real feeling and it's important to give ourselves space to reflect on that, but also know that it won't last forever," Manning said.
Talk it out
Manning explains that women are generally better at talking about their feelings following a breakup whereas with men, while they still turn to their friends, the conversations don't really delve into how they are feeling emotionally.
"Men are in a tough place, especially if they're coming out of a long-term relationship, because often their partner was the person they would open up to and vent to," Manning said.
Both men and women have the same feelings. It's just about finding a healthy way to process them.
Click below to follow HuffPost Australia on Snapchat!