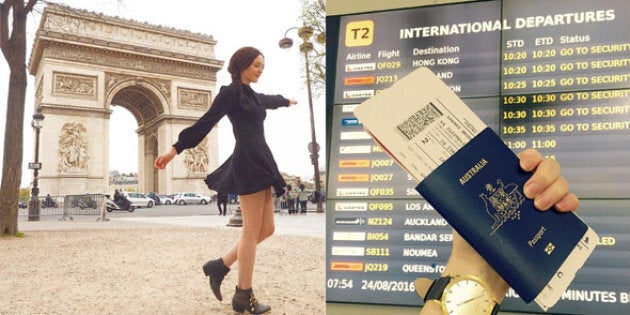 If there's a job to envy it's that of a travel blogger -- a content creator who travels the world to capture tales and pictures of places visited. Sounds like a tough gig, right? Well it's Brooke Saward's day job and the 24 year old Tasmanian stumbled across the career by chance.
"I started my blog to write about past travels as a way to tell all of my family and friends about the places I would recommend and things to do once there," Saward told The Huffington Post Australia.
"Lots of friends and family were asking me for travel tips as many of them had not travelled before, nor did they know anyone who had. Travel blogs weren't nearly as widely read back then when I started, so it was a great time to start building an audience as more and more travellers were turning to blogs for travel info as they offered free tips and advice on where to travel, when, why, and so on."
Though it wasn't just friends and family who enjoyed Saward's stories.
"My blog began to build an audience the more I travelled and it really took off when I spent a year abroad solo after university. Most of my readers are young females who either aspire to travel, plan to travel, or are travelling and looking to do so in an inspirational way."
Following the success of her site, Saward decided to pen her recommendations into a printed book. World of Wanderlust is a collection of her bucket list locations, tips for learning a new language and even recipes from her favourite countries.
"Being a travel blogger comes with so many fun perks! My favourite trip was to Europe earlier this year with my boyfriend as I got to show him one of my favourite regions in the world and to do so with the perks as a travel blogger was really cool. One day we were riding a Vespa along the Amalfi Coast and the next day we were eating French pastries. It was a crazy whirlwind and such a fun trip to take someone else on," Saward said.
Thankfully Saward admits there are some not-so-glamourous aspects to her job, too.
"My job is to inspire others to travel more often and to more places, but there are still some pitfalls that come with travelling 24/7. Obviously living out of a suitcase gets a little grotty after a while and you'll go days without a shower if you have to (and trust me, you have to!) but these aren't considered 'Instagram moments' so a lot of people don't read or hear about them."
"There are also lots of unknowns when you travel alone, but once you've found your feet it is addictive to explore the world solo."
"I have a policy (in life generally) to always see the brighter side of any situation, so whenever things go wrong you have to take it on your chin and put it down to experience. Life through the lens of Instagram is all pretty pictures and beautiful sunsets, but those who do travel know there are plenty of overnight eight hours (plus!) bus rides to get there," Saward said.
As for when she's not travelling, Saward still calls Tassie home.
"I'm based in Tasmania currently and while it will always be home, I still have a dream to live in Paris or New York one day. If I'm not travelling I spend time at home with family and friends doing anything "normal"! When you travel all the time you miss the simple things -- a home cooked meal, a BBQ with friends, or even just making your own bed in the morning instead of sleeping in a new one each night."
Finally, her best packing tip?
"Pack your suitcase, then empty out half before you leave."
Click below to follow HuffPost Australia on Snapchat!