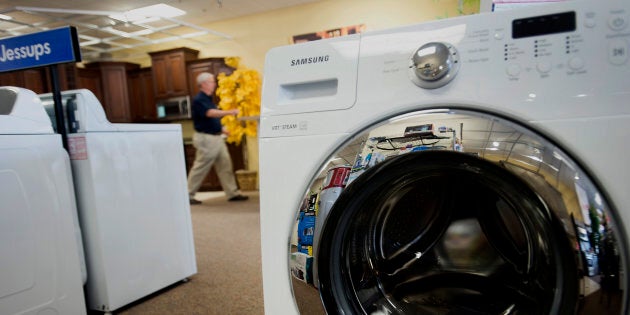 Embattled tech giant Samsung has suffered another big blow, with the company to recall almost 3 million washing machines following reports of injuries.
The US Consumer Product Safety Commission (CPSC) said there had been 733 reports to Samsung of washing machines "experiencing excessive vibration or the top detaching form the washing machine chassis".
"There are nine related reports of injuries, including a broken jaw, injured shoulder, and other impact or fall-related injuries," it said on its site Friday.
"We're talking about ... a very serious hazard of the tops of these washing machines completely blowing off," Elliot Kaye, the chairman of the CPSC, is quoted as telling US media. Other outlets have described the machines as "exploding".
The Guardian reports that the recall will impact 34 models of washing machines, totalling about 2.8 million machines in total, sold from 2011, which contain the dangerous manufacturing fault.
The dodgy machines were manufactured in South Korea, China and Thailand, the CPSC said.
Samsung Australia said the faulty top loader washing machines were not available in Australia.
"Samsung Electronics Australia is not aware of any confirmed cases of this issue involving top loader models sold or supplied in Australia," a Samsung spokesman said on Saturday.
"As the safety of our customers remains our number one priority, Samsung Electronics Australia will continue to undertake due diligence with regard to this issue but reiterates that the top loader models sold in North America are not available in Australia."
The washing machine warning is the latest woe for Samsung after the global recall of its Galaxy Note 7 device.
Samsung recently recalled 2.5 million Galaxy Note 7s globally just a couple of weeks after the phone was launched due to concerns about the device erupting into flames.
The world's largest smartphone maker has been scrambling to get the devices powered down and returned following reports of the phones catching fire.