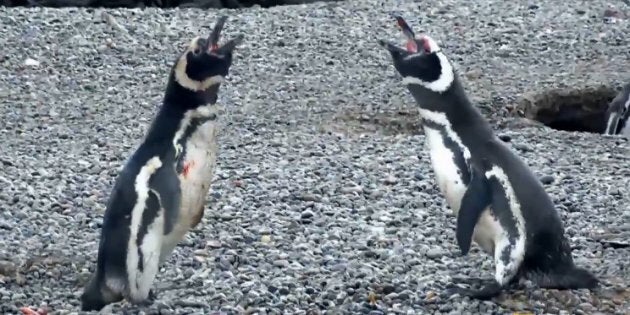 Romance. Jealousy. Violence. Heartbreak. Penguins.
It's not hard to see why "Homewrecking Penguin," a short video clip the Nat Geo Channel tweeted on Thursday, is captivating internet users around the world. The graphic clip features a penguin who returns to his nest to find that a male rival has shacked up with his mate. A vicious battle ensues.
The video's narration is almost as brutal as the fight itself. You really have to watch for yourself, but let's just say it includes the cruel line, "She has no time for losers."
Also, NatGeo, what's up with calling these penguins "husband" and "wife?" As much as we'd love to witness a little penguin wedding (they're already wearing tuxes!) we're like, 99.9 percent sure these birds aren't legally married.
Anyway, Twitter users couldn't get enough of the penguin drama.
The clip comes from the NatGeo Wild show "Animal Fight Night." The series came under fire in 2014, when a filmmaker hoping to get hired for the program made a Facebook post that suggested he was considering staging fights between animals, noted Chris Palmer and Shannon Lawrence in an article about wildlife documentaries and ethics.
Though there's no evidence that the filmmaker ever actually shot footage for National Geographic, the authors cite the debacle as evidence that filmmakers could feel pressure to behave unethically to obtain the kind of footage that producers seek for these kinds of shows.