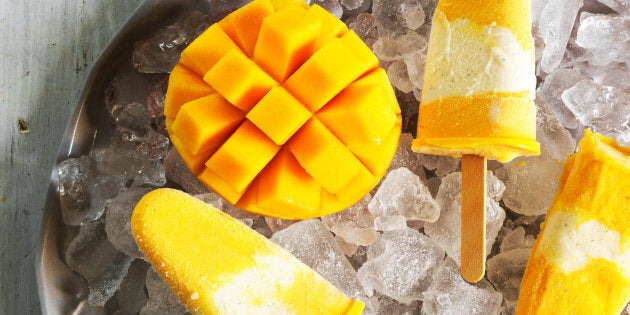 Yep, it's that glorious time of the year again. Instead of mandarins and pears (which get old really quickly), plump and golden mangoes are gracing supermarkets and farmers' markets.
Much like the stubborn, precarious and unforgiving avocado, choosing the best mango can be tricky. Either they're not ripe enough (and never become juicy, sweet and flavoursome), or they're overripe and taste like bad wine.
Good news -- there's a few easy tricks to pick the perfect mango, and to store it so that it stays that way.
According to Mangoes Australia, the best way to choose a perfect mango is to simply use your nose. A ripe and fresh mango should have a fragrant tropical aroma when you pick it up -- you know, the typical hypnotising mango smell. If it doesn't, put it back.
But if you can't rely on your schnoz, use your hands. A ripe mango will be firm and give slightly. Avoid mangoes that are hard, too soft or bruised, and definitely leave a mango that's shrivelled or wrinkled because it will taste like that awful wine.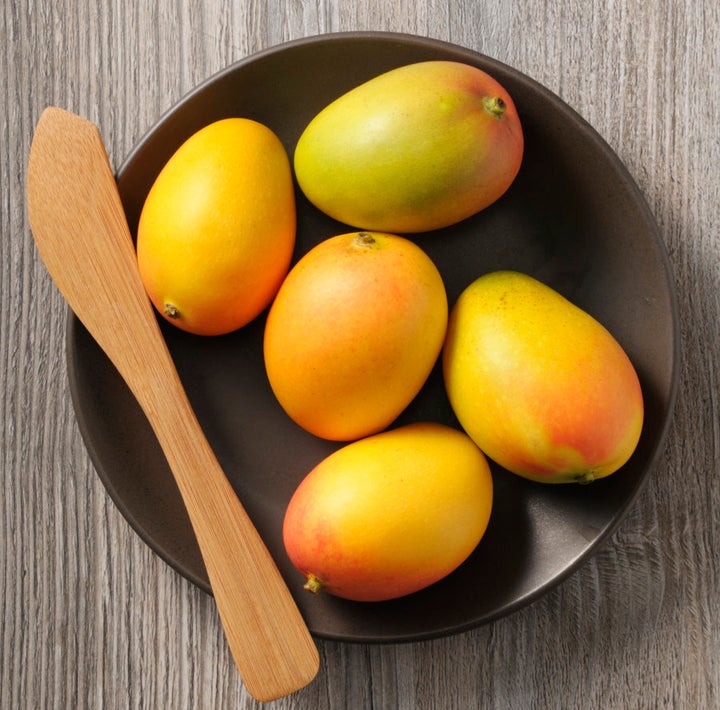 When it comes to storing your juicy mangoes, if they're ripe, place them in the fridge until you want to devour them (they should last for a few days). If the mangoes aren't ripe, store them at room temperature near other fruits (out of the sun) until they ripen. Storing unripe mangoes in the fridge won't do the trick.
You can also place the unripe mangoes in a paper bag to speed up the process, but avoid storing them in plastic as they need air, just like humans.
If you have an excess of ripe mangoes, simply puree or cut them up, place in zip lock bags, and pop in the freezer for future smoothies, desserts and sorbet.
Now, every Australian knows how to make your mango into a delicious porcupine, but we bet you don't know this clever trick to 'cheek' your mango.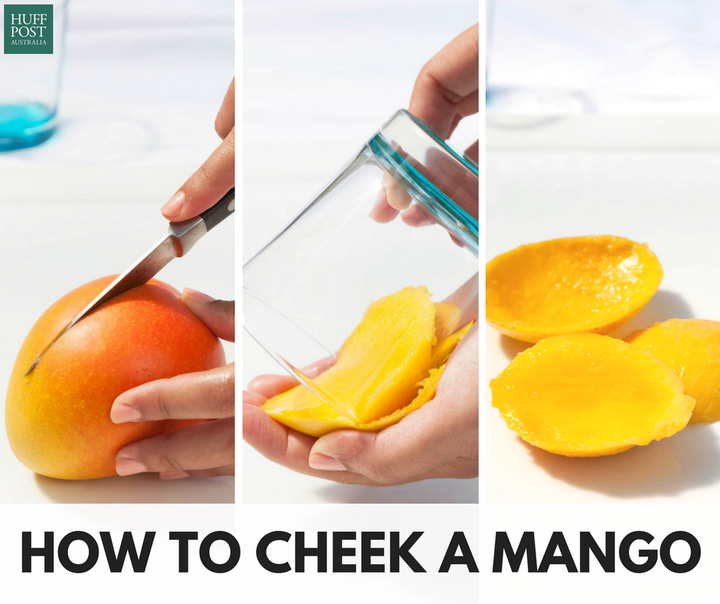 METHOD
1. Cut the cheeks from one mango.
2. Use a glass to scoop out the flesh by pushing the glass in a downwards motion past the mango skin.
3. The cheeks can be sliced into thin strips to use in desserts, salads or other recipes.
Need a refresher on how to make a mango porcupine? Here you go.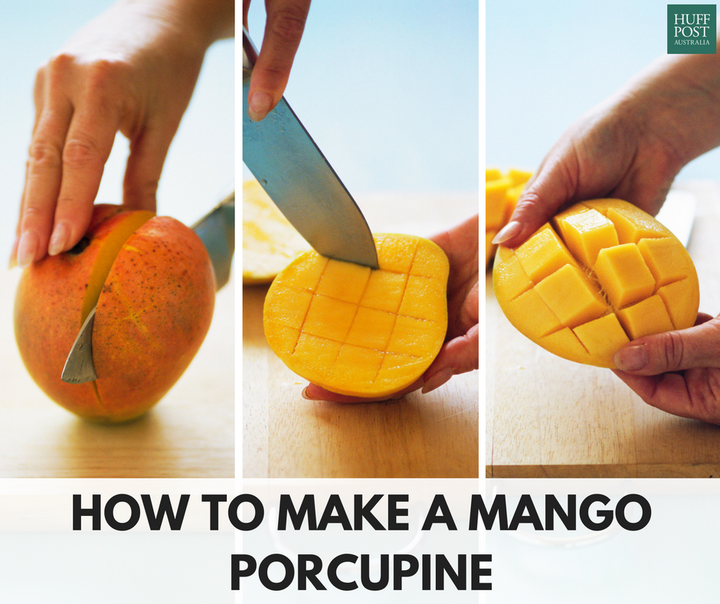 METHOD
1. Remove mango cheeks one at a time with a sharp knife by slicing as close to the stone as possible.
2. Score 3-4 lines vertically down each cheek and 3-4 lines horizontally to form a hashtag pattern. Take care not to cut through the skin.
3. Firmly hold both edges of the fruit and turn the cheek inside out.
4. The cubes can then be sliced off and used in drinks, salads, desserts and other recipes. Let your imagination run wild.
Here are four delicious mango recipes to try this summer.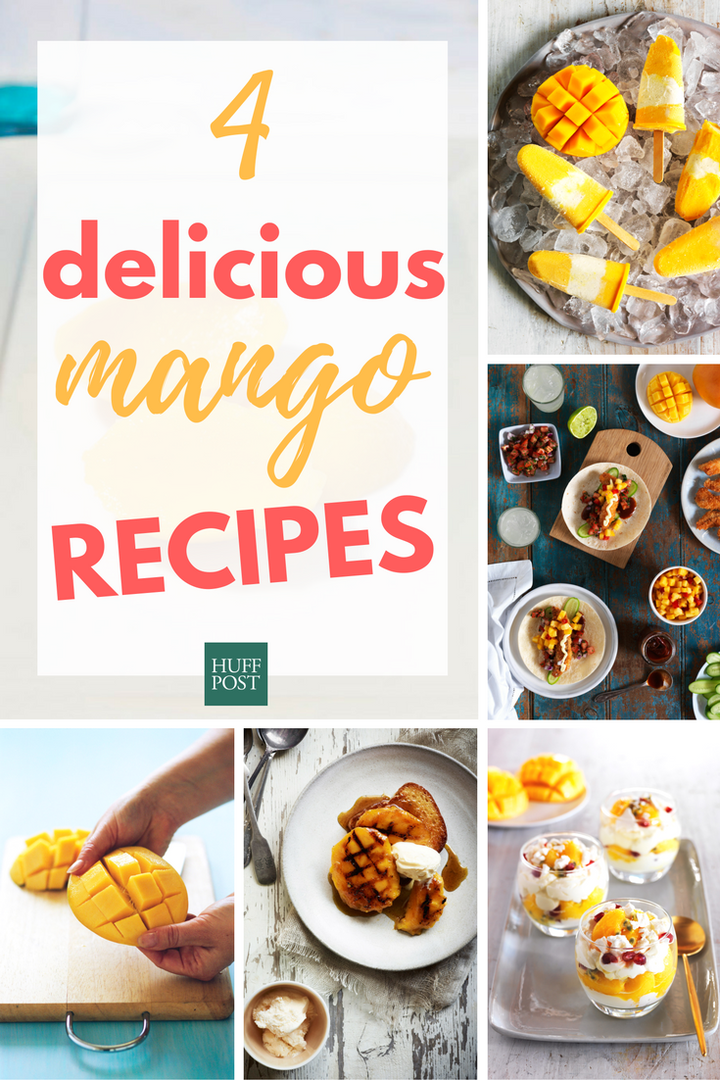 1. Grilled mango with caramelised brioche
INGREDIENTS
1 large ripe mango
2 tablespoons Vin Santo wine or other dessert wine
1 vanilla bean, split and seeds removed
2 tablespoons caster sugar
2 large, thick slices of brioche or panettone
2 tablespoons of butter
Vanilla ice cream, for serving
Maple syrup
Icing sugar
METHOD
1. Cut the cheeks from the mangoes (using the cheek method above) and cook them on a pre-heated grill until the grill marks are visible on one side only. This normally takes around 30 seconds.
2. Carefully transfer the mango to a baking dish that will snuggly fit the mango cheeks side by side. Pour the Vin Santo over the mango, add the vanilla bean and add a couple of tablespoons of water to the tray also. Place into a pre-heated oven on 180°C for about 3-5 minutes. Remove and allow to cool for a few minutes, there should be a nice syrup in the bottom of the baking tray.
3. Melt the butter in a large non-stick frying pan over a medium heat. Once the butter starts to sizzle, cook both pieces of the brioche in the hot butter until golden brown in colour. Remove the golden brioche from the pan and set aside.
4. Wipe out the pan with kitchen paper and place back on the heat with a tablespoon of caster sugar. As soon as the sugar starts to caramelise add the brioche back to the pan -- be careful, this will be very hot. Once the first side of the brioche is covered in the caramel and becoming crunchy, carefully flip and repeat for the other side. Once both sides are done, transfer the toffee coated brioche to a wire rack to cool for a couple of minutes before serving.
5. To assemble, arrange the brioche on the plates, put the warm mango on top and then any of the mango liquor over the top. Serve immediately with vanilla ice cream, a drizzle of maple syrup and a dusting of icing sugar.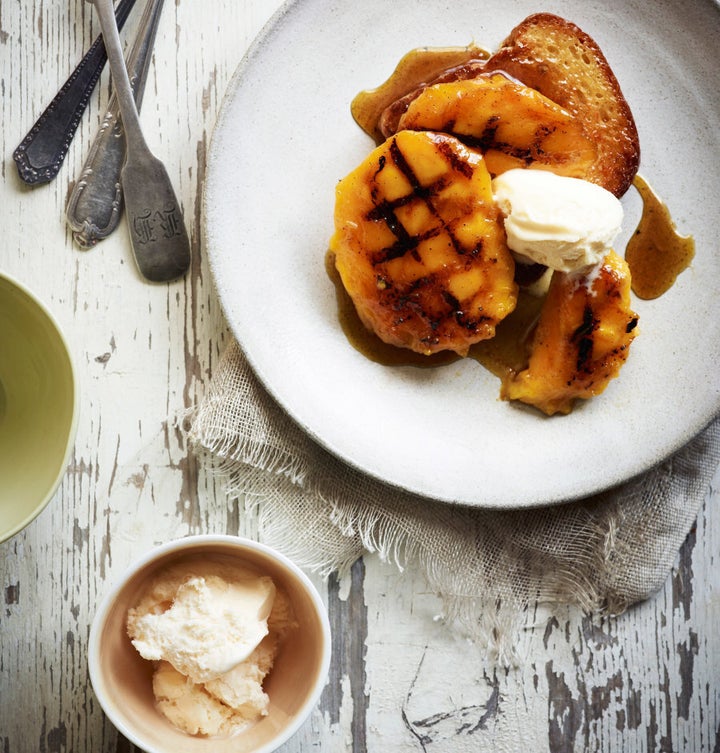 2. Rippled mango popsicles
INGREDIENTS
2 whole mangoes
400gm double cream
3 cups fresh milk
½ cup caster sugar
2 cups heavy cream
1 cup whole milk
½ cup sugar
1 vanilla bean pod, split in half lengthwise
¾ teaspoon vanilla extract
Pinch salt
Note: you can use store bought vanilla ice cream for this recipe if you prefer.
METHOD
1. Remove the mango flesh from the fruit and place into a blender with the remaining ingredients.
2. Puree until smooth (about a minute) and then chill in the freezer in a large plastic container with a lid.
3. After one hour, remove from the freezer and stir, and then return to the freezer for another four hours or until set.
1. Pour one cup of cream into a medium saucepan, and add the sugar and salt. Scrape the seeds from the vanilla bean pod into the saucepan, and add the pod to the pot. Warm over medium heat, stirring until the sugar is dissolved.
2. Remove from the heat. Add the remaining one cup of cream, milk and the vanilla extract. Chill the mixture thoroughly in the refrigerator.
3. Once mixture is chilled and ready to churn, remove the vanilla bean and then freeze the mixture in your ice cream maker according to the manufacturer's instructions.
1. To make the popsicles, use a teaspoon to place the first layer of mango ice cream on the bottom. Return to the freezer to set slightly (for one hour), then spoon in a layer of vanilla. Allow the vanilla layer to set before filling up the rest with more mango. Insert a paddle pop stick into the centre of the ice cream, then freeze overnight for best results.
2. Dip the popsicles in warm water to remove them from the molds and serve.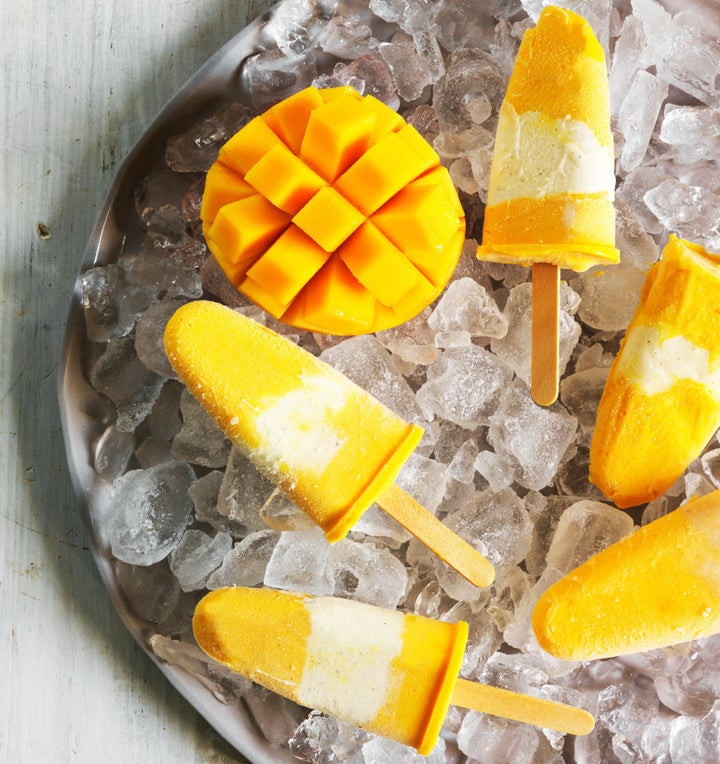 3. Mango Eton mess
INGREDIENTS
100g egg white (about 3 eggs' worth)
100g caster sugar
100g pure icing sugar, sieved
15g cornflour
2½ cups pouring cream
100g caster sugar
1 teaspoon vanilla essence
2 whole mangoes
1 pomegranate
2 passionfruit
Note: you can use store-bought meringue nests for this recipe if you prefer.
METHOD
1. For meringues, preheat oven to 120°C. Whisk egg whites and a pinch of salt in an electric mixer until firm peaks form (3-4 minutes).
2. With motor running, gradually add caster sugar and whisk until thick and glossy (2-3 minutes).
3. Sieve icing sugar and cornflour over, and fold to combine. Then spoon 8cm-diameter mounds onto oven trays lined with baking paper.
4. Bake until meringues lift easily from trays and are crisp but not coloured (45-50 minutes), then turn off oven and cool completely in oven.
5. Using an electric mixer and a clean bowl, whip the cream with the sugar and vanilla essence until it becomes stiff peaks (3-5 minutes). Chill until required.
6. Prepare mangoes by slicing off each cheek and cutting a lattice pattern in the flesh of each cheek, without cutting through the skin. Use a spoon to scoop out small bite size pieces.
7. Cut the pomegranate in half and remove the seeds. Cut the passionfruit in half. Break the meringue into bite size pieces.
8. Take four clean glasses and begin to layer all the ingredients starting with the meringue and cream, then layering the mango, pomegranate and passionfruit. Continue to build until the glass is filled. Garnish with mango, pomegranate and passionfruit. Serve chilled.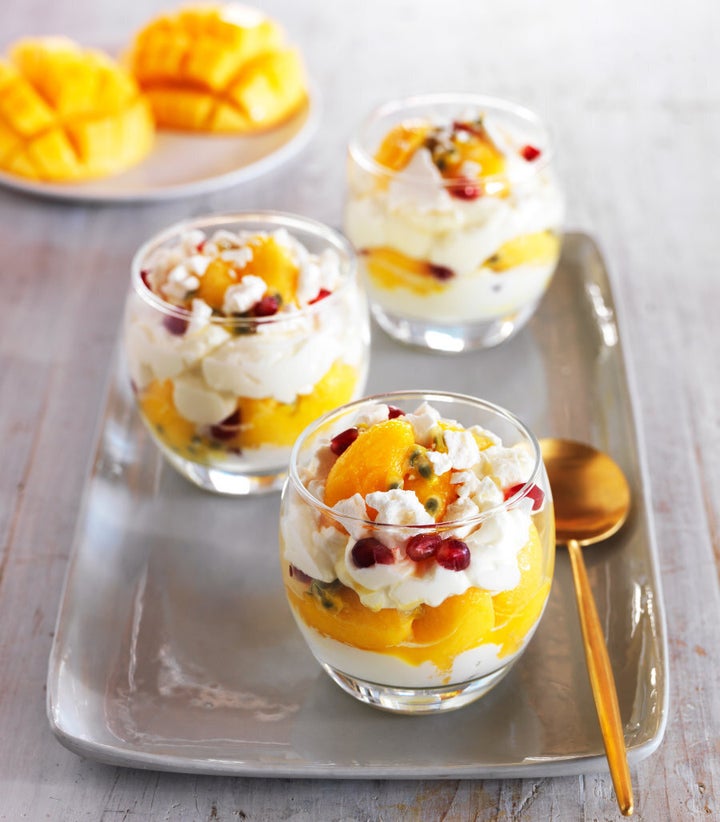 4. Soft fish tacos with mango salsa
INGREDIENTS
300g flathead fillets or any white-fleshed fish
100g Panko breadcrumbs
2 eggs
Salt and pepper
100ml oil, for frying
2 mangoes
1 small red capsicum
1 lime, cut in half
4 soft small tacos
1 Lebanese cucumber, washed and finely sliced
Mayonnaise
Store-bought salsa
METHOD
1. Remove the bones from the fish and cut into thick strips.
2. Beat the eggs in a small bowl. Pour the Panko crumbs onto a plate, and season with salt and pepper. Dip the fish into the egg and then into the breadcrumbs until it's covered completely.
3. Heat the oil in a fry pan and fry the fish for 3-4 minutes on each side. Remove the fish and place on kitchen paper while you prepare the tacos.
4. Prepare mangoes by slicing off each cheek and cutting a lattice pattern in the flesh of each cheek, without cutting through the skin. Use a spoon to scoop out small bite size pieces.
5. Remove the seeds from the capsicum and dice. Mix together the mango and capsicum, and squeeze the lime juice over the salsa.
6. Build your taco by layering some cucumber, salsa, fish and squeeze over the mayonnaise. Top with plenty of mango salsa and serve.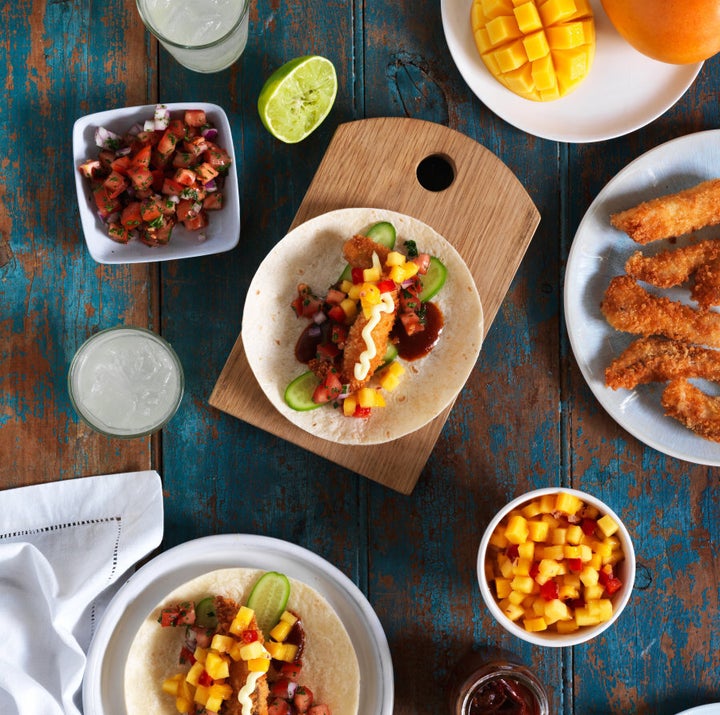 Click below to follow HuffPost Australia on Snapchat!