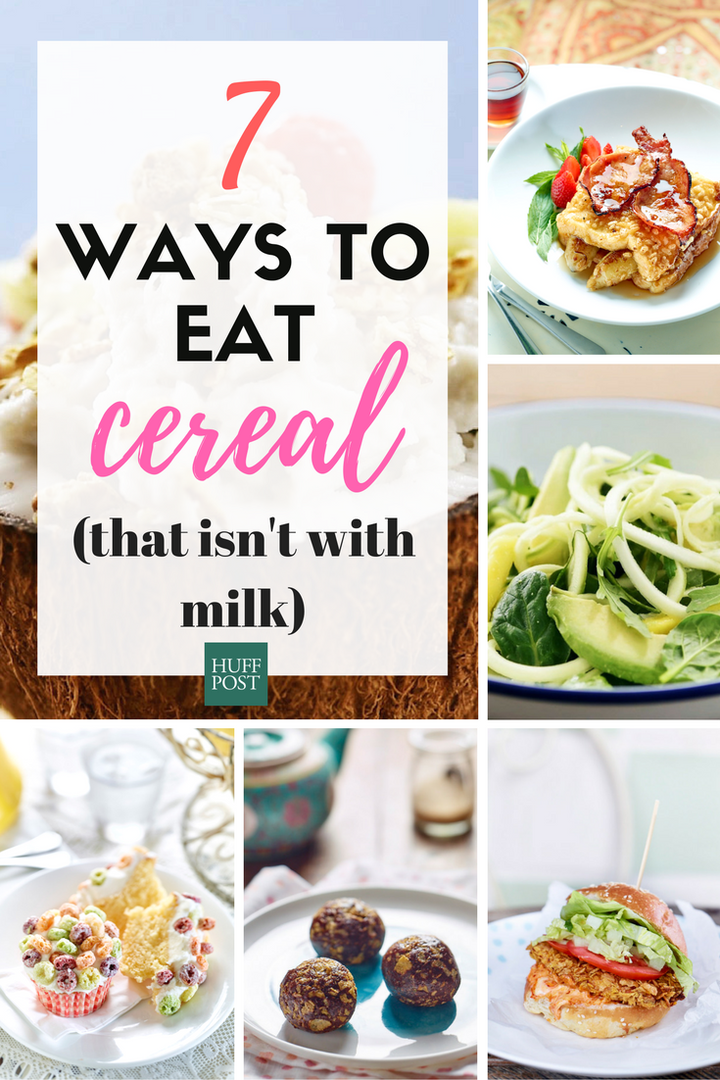 If you're the kind of person who eats cereal, granola or avo toast at least two times a day, you are definitely a breakfast person. (Seriously, brinner is hands down the best meal of the day.)
Let's face it, though, sometimes plain muesli or cereal with milk can get boring. Really boring.
So it's a good thing that breakfast cereals aren't limited to just milk -- you can use your favourite cereals or granola to make a variety of tasty meals, from burgers and cupcakes to apple carrot slice and protein balls.
Brekkie fans, these recipes are for you.
1. Apple and carrot slice
INGREDIENTS
1 cup Be Natural Organics Golden Whole Grain Cinnamon Bites
1 cup quick plain oats
1 cup wholemeal flour or plain flour
1 cup brown sugar
½ cup shredded coconut
½ cup sunflower seeds
½ cup pumpkin seeds
1 cup sultanas
½ teaspoon bicarb soda
1 teaspoon nutmeg
2 teaspoons cinnamon
3 eggs
1 cup melted coconut oil
½ cup plain yoghurt
1 cup of grated carrots (about 4 medium carrots)
1 cup grated apples (about 2 smalls apples)
METHOD
1. Mix the dry ingredients in one bowl and the wet ingredients in a second bowl.
2. Incorporate delicately the wet ingredients into the dry ingredients. Stir well.
3. Spread the mixture on a baking tray or loaf tin (covered with baking paper) and cook for 40 minutes at 170°C.
4. Let it cool for 10 minutes and slice it in squares.
Note: you can store the slices in a container for up to four days.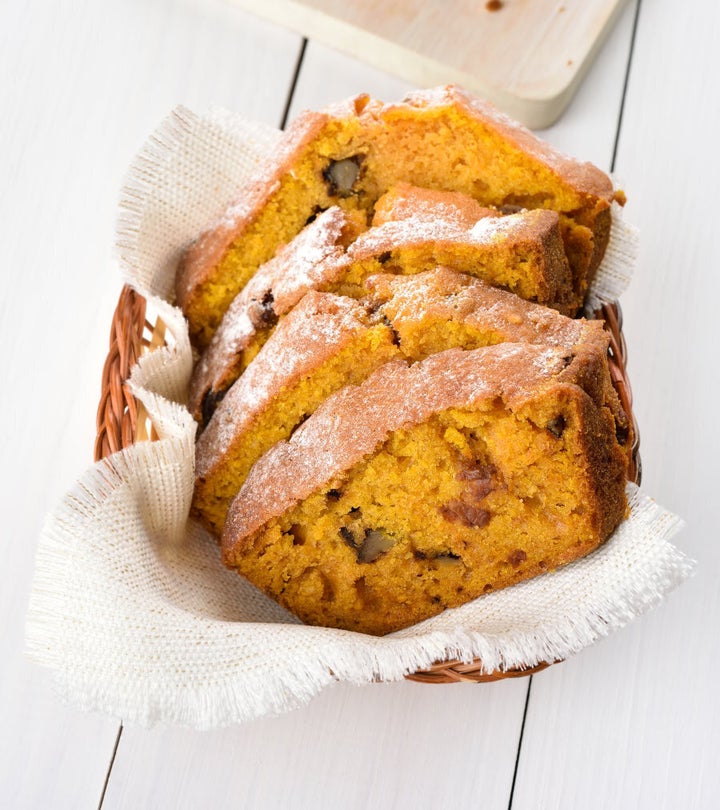 2. Coconut lemon sorbet
Recipe and image from Be Natural.
INGREDIENTS
1 cup coconut milk
1 cup coconut water
1 tablespoon lime juice
2 tablespoons chia seeds
½ cup honey or rice malt syrup
Be Natural Coco-nutty Granola, to serve
Mixed berries, to serve
METHOD
1. Combine the coconut milk and honey in a small saucepan.
2. Bring to a simmer until the honey has dissolved. Let it cool and add the coconut water, chia seeds and lime juice. Stir well and let it cool completely.
3. Pour the mixture into an ice cube tray. Freeze for a few hours.
4. Blend the iced coconut cubes in a food processor or blender to create a sorbet.
5. Serve the sorbet in a coconut shell and top with berries and Be Natural Coco-nutty Granola.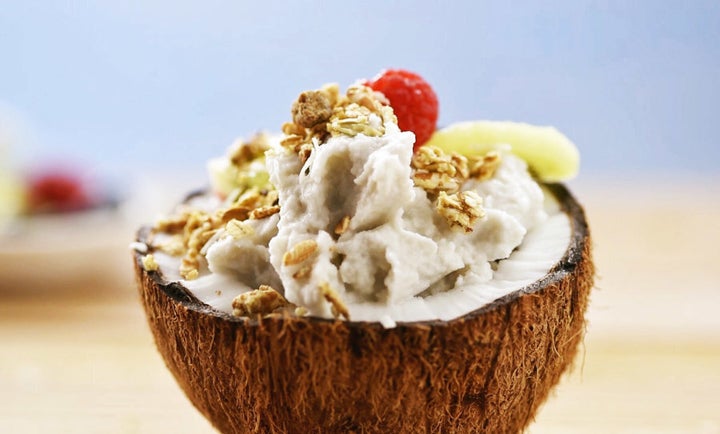 3. Coconutty granola and mango salad
Recipe and image from Be Natural.
INGREDIENTS
1 cup spinach and baby rocket leaves
½ cup cooked quinoa
½ mango, sliced
½ avocado, sliced
1 zucchini, cut into noodles (zoodles)
¼ cup coriander and fresh parsley, to decorate
1 cup Be Natural Coco-nutty Granola
1 tablespoon olive oil
2 tablespoons tahini
1 tablespoon yoghurt
2 tablespoons lemon juice
Salt and pepper
METHOD
1. Combine all salad ingredients.
2. Combine all dressing ingredients and set aside.
3. Pour dressing over the salad just before serving.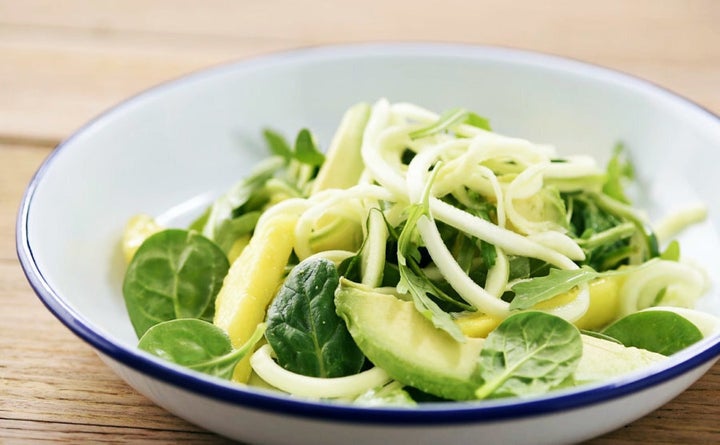 4. Froot Loops cupcakes
Recipe and image from Kellogg's X Kawa cereal café.
INGREDIENTS
375g butter
2 tablespoons grated orange and lemon rind
2¼ cups castor sugar
6 eggs
2¼ cups self-raising flour
¾ cup plain flour
¾ cup orange juice
90ml lemon juice
¼ teaspoon baking powder
Pinch of salt
½ cup Froot Loops, plus 1 cup to serve
1 cup full cream milk
4 cups icing sugar
METHOD
1. Preheat oven to 170°C. For the icing, soak ½ cup of Froot Loops in one cup of full cream milk for two hours.
2. In a separate bowl, beat the butter, orange and lemon rind and sugar until creamy. Add eggs, flour and juice, and beat well to mix.
3. Pour batter into cupcake cases and bake for 15 minutes.
4. Gently strain the milk from the soaked Froot Loops and discard the cereal.
5. Alternate one cup of icing sugar with a few tablespoons of the cereal milk and beat with an electric mixer. You can add more or less milk, depending on how thick you like your icing.
6. Once you have reached your desired consistency, crush an additional cup of Froot Loops and stir through the icing for a multi-coloured effect.
7. Spread the icing on the cooled cupcakes and decorate with a few extra Froot Loops.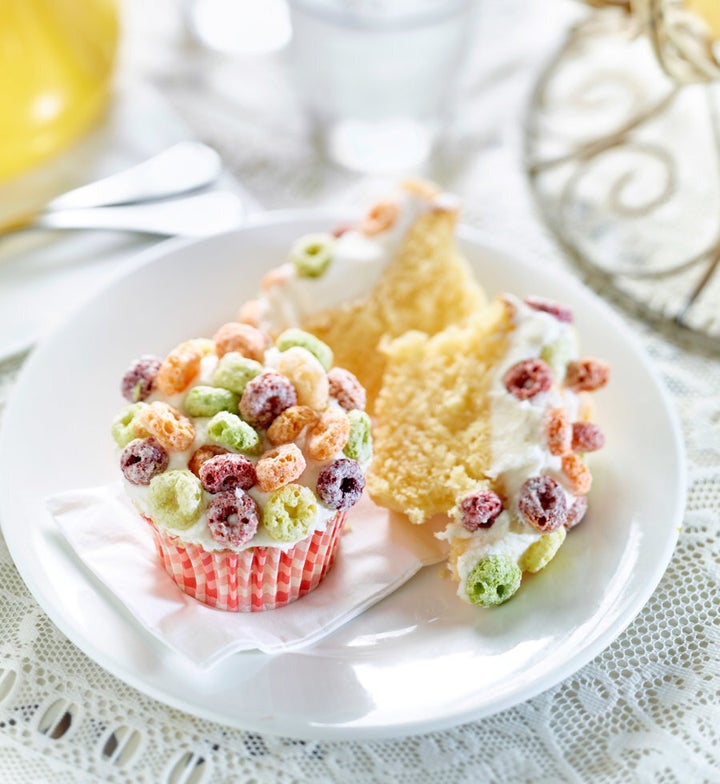 5. Protein power balls
Recipe and image from Kellogg's X Kawa cereal café.
INGREDIENTS
12 dates
¼ cup almonds
1 tablespoon rice malt syrup
1 tablespoon melted coconut oil
2 teaspoon raw cocoa powder
1 cup Corn Flakes
Pinch of sea salt
METHOD
1. Place all ingredients except for the Corn Flakes into a food processor and blend until combined and sticky.
2. Add the Corn Flakes and pulse three or four times until mixed in, but pieces are visible throughout the mixture.
3. Roll the mixture into ball shapes. Place in the fridge to set for one hour.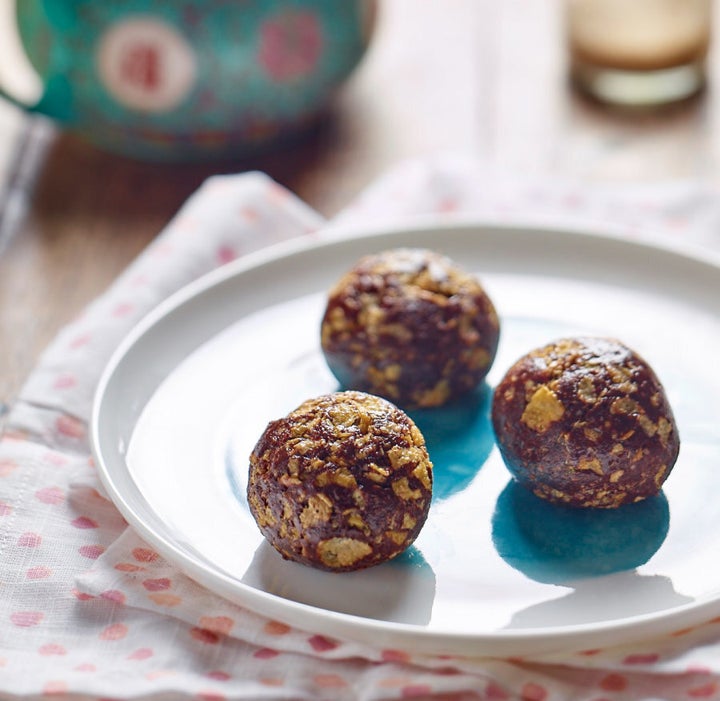 6. Corn Flake crusted chicken burger
Recipe and image from Kellogg's X Kawa cereal café.
INGREDIENTS
1 chicken breast
3 tablespoons salt
2 tablespoons sugar
2½ cups water
1½ tablespoons plain flour
1 egg
2 cups Corn Flakes
3 tablespoons whole egg mayonnaise
1 teaspoon harissa paste
1 teaspoon garlic powder
¼ teaspoon pepper
¼ teaspoon of paprika
Dash of milk
Pinch of salt
2 brioche buns
1 ripe tomato, sliced
1 handful iceberg lettuce, sliced
METHOD
1. Cut chicken breast through the middle into flat-looking burger sized portions.
2. Soak the chicken in water with the salt and sugar to tenderise for two hours.
3. Place the Corn Flakes in a bag and crush with a rolling pin. Turn out on to a plate for coating.
4. To make the batter: whisk the egg, garlic powder, pepper, paprika and a pinch of salt with flour and a dash of milk to create a thick, runny consistency.
5. Dry the chicken with paper towel, coat in the batter and cover well in the crushed Corn Flakes.
6. Bake on an oven tray lined with baking paper at 190°C for 20 minutes. The chicken is cooked when juices run clear.
7. To build the burger, mix the mayo and harissa together and coat each side of the bun. Place the chicken on top with fresh tomato slices and lettuce. Enjoy!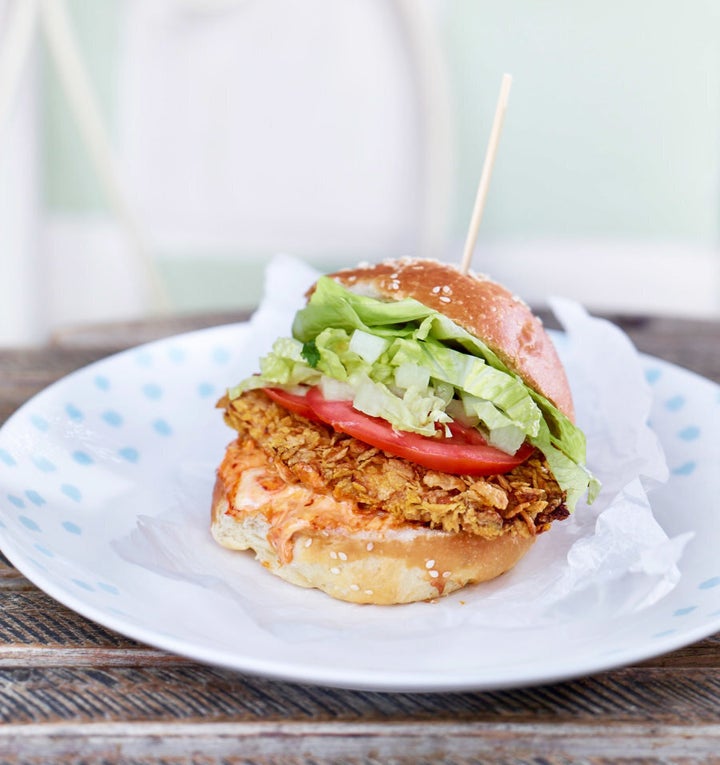 7. Rice Bubbles French toast
Recipe and image from Kellogg's X Kawa cereal café.
INGREDIENTS
3 eggs
3 tablespoons thickened cream
4 slices white toast bread or brioche
1 cup Rice Bubbles
1 tablespoon butter for frying
Fried banana, strawberries, maple syrup, ice cream and bacon, to serve
METHOD
1. Beat eggs with thickened cream in a bowl large enough to dunk your toast.
2. Coat your toast twice and set aside in the bowl to allow the egg to soak through the bread.
3. Place the Rice Bubbles on a separate plate and dip the soaked bread on both sides to coat.
4. Fry gently in melted butter.
5. Serve with slowly fried banana halves, strawberries and a drizzle of maple syrup. Or try ice cream or crispy bacon.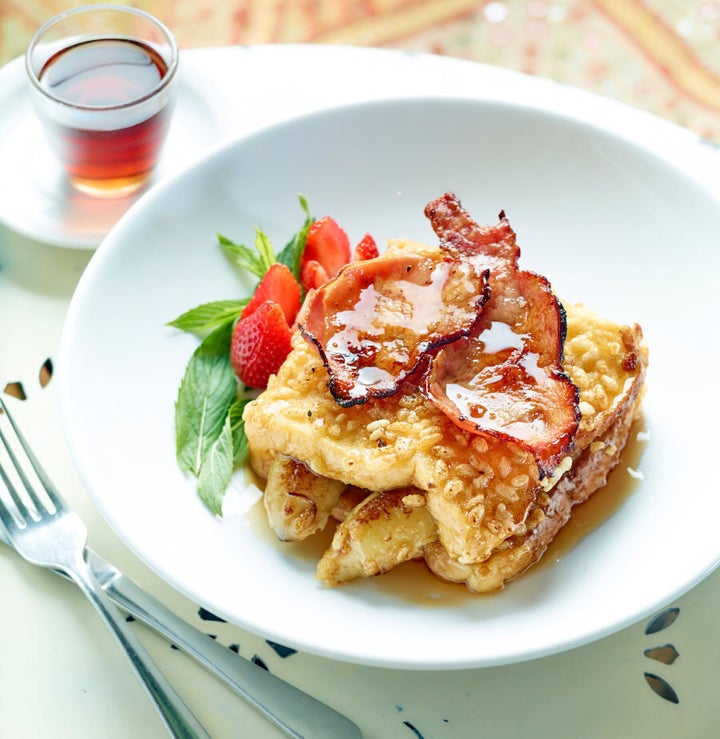 Click below to follow HuffPost Australia on Snapchat!