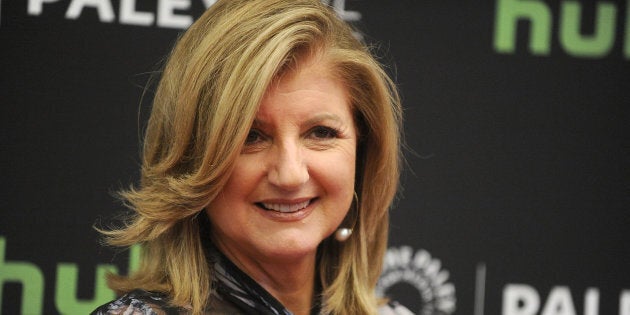 Huffington Post founder Arianna Huffington says a lack of action by the establishment on growing inequality is partly to blame for the election of Donald Trump as the next American president.
Huffington, during an address to the World Business Forum in Milan on Wednesday night, said political leaders the world over have been talking about inequality for years but had failed to take action.
"You may think it's really hard to find something positive to say about the Donald Trump election. And I can tell you no media outlet were as much, and as totally and exclusively from the beginning against Donald Trump than The Huffington Post," Huffington said.
"So for me to say that is really to indicate that clearly, what this election shows is that the establishment, not just in the U.S. but all around the world, need to wake up.
"Leaders from left and right and the centre have been talking for years about the dangers of growing inequality. They have been talking but not doing enough about it.
"And the amount of anger and rage and willingness to believe in something which has no base, except the promise that he's going to bring jobs and throw immigrants and everything will be perfect again. That shows how deep is the lack of hope in what establishments have produced."
The Huffington Post was very clear on its position on the Trump campaign from the beginning, initially relegating coverage of the property developer and reality TV host to the entertainment section. During the Republican primaries, when Trump said he would ban Muslims from entering the U.S, HuffPost began publishing a sternly-worded editor's note at the end of every post about his campaign.
Huffington, who has left The Huffington Post to focus on her new venture, Thrive Global, told the World Business Forum she had hope America's rich democratic traditions and institutions would help the U.S. get through the next four years.
She also expressed hope a Trump presidency may not be as divisive as his campaign.
"At this stage it is in our interests that he surprises us. It is in everybody's interests to hope that he will be a better president than he was a candidate," Huffington said.
"It is in everybody's interests to hope that he is going to surround himself with people who know things. It helps to know things when you govern. He is clearly too lazy to learn things. So maybe he can surround himself with people who can give him real information rather than what he reads on Twitter.
"I just hope that the combination of the strength of the American democracy, the character of the American people and the wake up call to the establishment will see us through the next four years."