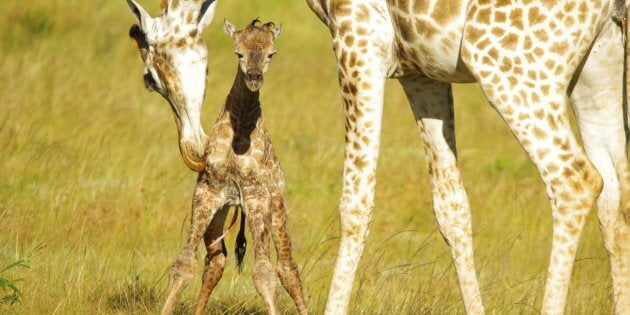 There are few scenarios in life that actually make you feel alive. The kind of alive where the surreal meets the present. And watching an elephant double the size of your 4WD walk towards you -- trunk swinging, ears flapping -- is one of them.
Zebra crossings take a whole new meaning; you somehow become more excited than frightened when you see a lion running close by; and, when a herd of a dozen elephants begin drinking from a watering hole you wait for David Attenborough, Ashton Kutcher and a camera crew to pop out from behind the scrubby grass and Punk you because surely this couldn't be happening.
And that is the joy of going on safari -- or game drives, which you learn they are commonly referred to when you arrive.
While seeing the wild animals is a glorious, exhilarating adventure -- and maybe this author is biased because she didn't quite catch a glimpse of the Big Five (leopard, you sneaky minx) -- but there's an abundance of excellent things about going on safari that have absolutely nothing to do with the animals.
There are the stunning sunsets, the vast and sweeping landscapes characterised by a silence that allows your 'cooee' to return to you time and time again. And then there's the local hospitality and wine.
So if you do treat yourself to a few game drives during this lifetime, here's your guide to enjoying every minute of the experience, when you put the binoculars and animals aside.
After a full day of chasing after a glimpse of wild animals, darkness casts itself upon the game park and, being kilometres away from the nearest town, the stars shine that much brighter.
We stayed at Rhino Ridge Safari Lodge in one of the oldest game parks in South Africa -- Hluhluwe-iMfolozi Park -- which lies just north of the city of Durban in the KwaZulu Natal province. Only 36 people can stay at the lodge each night so it's exceptionally quiet.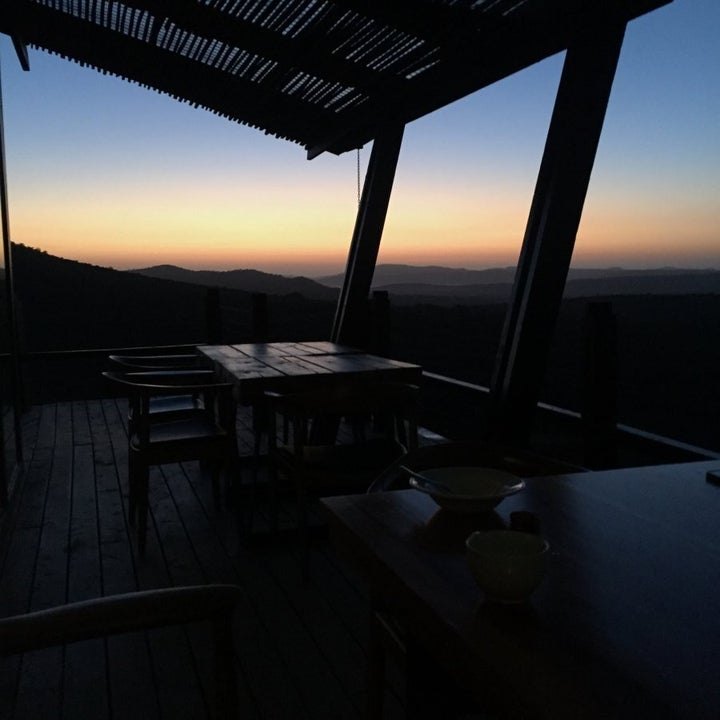 Each room has its own deck where you can sit, look at the stars and ponder the answers to life's biggest questions (or: how that elusive leopard got away).
No matter which game park you visit, the sky is big and the stars are bound to shine brighter there as you relax, isolated from the ambient city lights.
After a hard, dusty day on game drives, the evening hospitality is most welcome and many game parks pride themselves on their dining experience.
The tradition of barbecued meats and salads isn't unlike Australia, but with a South African twist. There's often 'pap' involved, which is almost like a couscous but it's made out of maize. It's very dense, so the pap is useful to South Africans who eat with their hands.
At Rhino Ridge, the dinners in the main area of the lodge were lovely (yes, knives and forks were included) but one of the nights we dined outdoors around a huge fire. The local workers alternated between dancing and cooking the barbecue, giving a whole new meaning to soul food.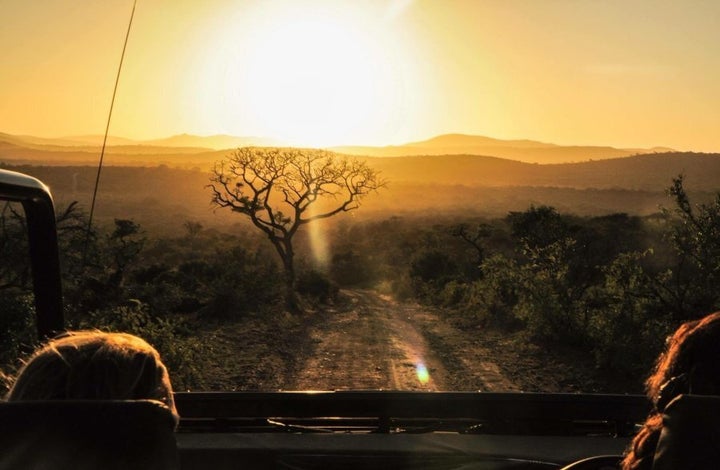 You can't leave South Africa without trying bunny chow (animals lovers, stick with me here).
South Africa has the largest Indian population outside of India, so South Africans eat a lot of curry. Bunny Chow is butter chicken curry served in a round bread roll which has had the centre of the roll removed, like cob.
The story goes that in decades past, South Africans who were too poor to purchase containers to carry their lunch to work began using this method to transport their curry.
With a celebrated wine growing region, South Africa is known for its varietal Pinotage. If your palate tends to a Pinot Noir or Sangiovese, you'll be at home with a glass of South Africa's finest red.
The oceanfront in Durban feels a little like California's Venice Beach.
There are the waves hitting the worn down piers, a skate park beside the ocean and a patch of grass between the foreshore path and the street where local kids are playing soccer -- rain, hail or shine.
Durban also provides a good staging point for a safari adventure.
Driving out from Durban towards the game park, the suburb of Ballito is home to the wealthy end of town. The waves are aggressive but the sandy beach walk is a peaceful one.
Further along the coastline, the tiny town of St Lucia is a good option for an overnight stay.
It boasts one of the most beautiful and seemingly endless beaches.
The benefit of visiting a game park on this side of the country is the beaches and the parks are situated so closely together, with just a few hours' drive from Durban to Hluhluwe-iMfolozi Park.
You can have your toes in the sand on one of South Africa's lengthy coastlines, and then a couple of hours later be tracking animals to a watering hole.
The Pre-Safari Entertainment
The Fairmont hotel delivers excellent pre-safari entertainment, an abundance of pools and a cocktail menu that would threaten any chances of an early wake-up.
But before even reaching the safari park, the hotel offers its own animal entertainment in the form of monkeys. They're everywhere. Climbing along hotel roofs, running across the cocktail bar. And to be clear, they're not exclusive to the Fairmont.
They will do anything for food, so it's important to keep your hotel room doors shut. All the time.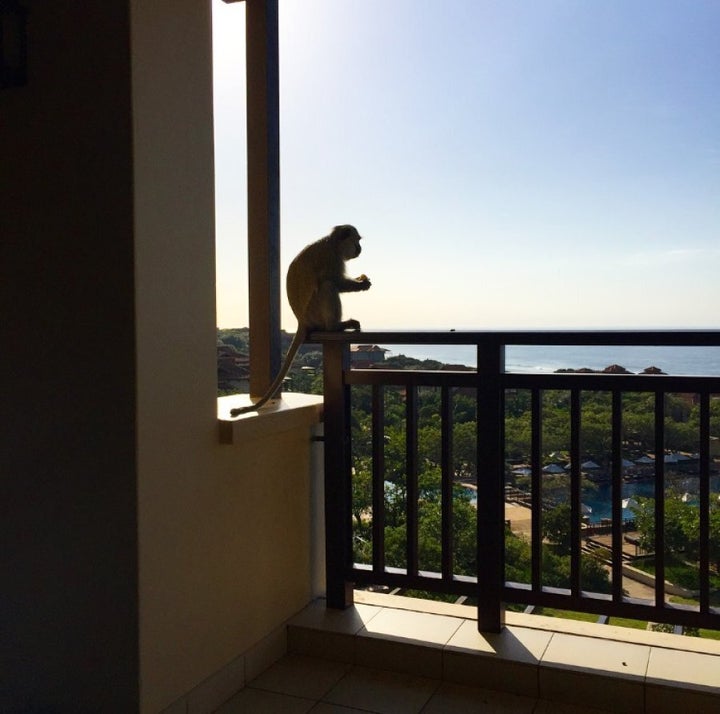 Leave the balcony door open for a moment, and before you can say 'cheeky monkey', one would be on the kitchen bench demolishing the cheese platter.
While they make for good Snapchat stories, these monkeys can be quite vicious if threatened and they can also steal your clothes, so if you do encounter one move your possessions (read: expensive leather jacket) out of reach and keep an eye on the intruder until they leave.
Or just call hotel security.
The locals are by far the most beautiful part of South Africa.
The country has endured so much conflict, injustice and inequality. So when you visit, you can still see the scars but the country is certainly rebuilding itself and the soul of the people remains rich.
The children in particular wear grins, big and bright. The adults dance like no ones watching when everyone's watching, and in many cases, eating.
In Soweto, a township out of Johannesburg, you can ride quadbikes and race laughing children in the streets.
If you happen into town on the last Saturday of the month (pay day for many locals), you can see a kind of joy experienced by the local adults.
While the feast was devoured and Coronas were sipped, the locals twerked to hip hop in the sunlight. It was like 2am on a weekend in Australia, but at 2pm on a Saturday. And it wasn't long before everyone joined the conga line.
It was unashamedly joyful and soulful -- something we can all do with a little bit more of.
Safaris aren't always as expensive as travellers can expect. With the game drives included in the accommodation, standard rooms at Rhino Ridge are about $AU350 per night.

In the KwaZulu Natal province, near Durban:

In the Western Cape province, near Captown: