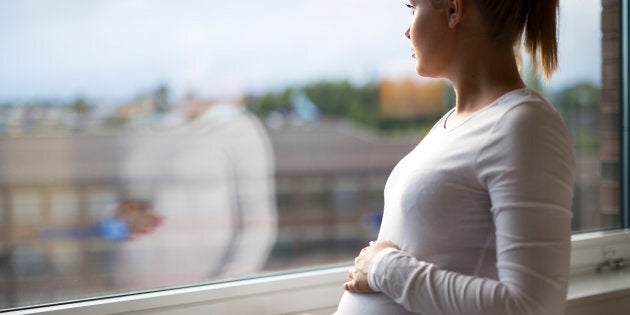 "Everyone always tells you about that feeling of having your baby lying on your chest for the first time. That first night, I remember lying there in hospital looking down at Olivia... and feeling nothing."
For Sara Gerritsma, having children was always on the table.
Now residing in Brisbane with her 14-month-old daughter and her husband, she is open about her perinatal depression.
But this wasn't always the case.
It's almost as though the expected experience of joy around parenthood means that people forget to have this conversation.
"Perinatal anxiety and depression is an illness that can occur any time from the beginning of the pregnancy right through to one year after the birth of the baby," Terri Smith, CEO of not-for-profit organisation Perinatal Anxiety and Depression Australia told The Huffington Post Australia.
"What we know is people more commonly understand that it might happen post-birth. But the community is lagging in understanding the entire spectrum."
This Perinatal Anxiety and Depression Awareness Week, PANDA hopes to address the confusions and perceptions surrounding a face of Australia's mental health conversation that is often left untouched.
New annual figures released by PANDA on Monday revealed gaps between societal acceptance of the illness and the individual perceptions of new parents that bar them from seeking help.
Whilst 92 percent of respondents believed that perinatal depression and anxiety does not impede a woman from being a good mother, 60 percent of callers to PANDA's National Helpline thought otherwise.
"On one hand, our research tells us that the community seems more understanding of perinatal anxiety and depression, and are more sympathetic towards mothers (and fathers) who experience it. That's a good shift," Smith said.
"On the other hand, the majority of our helpline callers were deeply affected by the feeling of shame about their condition and not meeting their expectations of themselves."
And these feelings can start early.
Antenatal anxiety and depression
When Gerritsma became pregnant, things began as usual.
"I had all the usual physical symptoms. Once I started to show, I became quite conscious of the attention around my bump," Gerritsma told HuffPost Australia.
"But I wasn't having that amazing connection or excitement towards it that everyone talks about."
Within the first six months, Gerritsma began showing signs of antenatal depression –- a branch of perinatal anxiety and depression that is experienced by one in ten expectant mothers.
You're having conversations with people who are saying things like 'you're glowing' or 'you must feel so amazing'... I would give them the response that they were expecting.
According to PANDA's findings, only five percent of respondents identified the illness as a major health problem for pregnant women.
"I had a couple of days where I was feeling really unwell. I was sitting on the sofa and had no motivation," Gerritsma said.
"At the same time, you're having conversations with people who are saying things like 'you're glowing' or 'you must feel so amazing'. And I would give them the response that they were expecting.
"I was putting on a mask. It was only my husband who knew what was going on."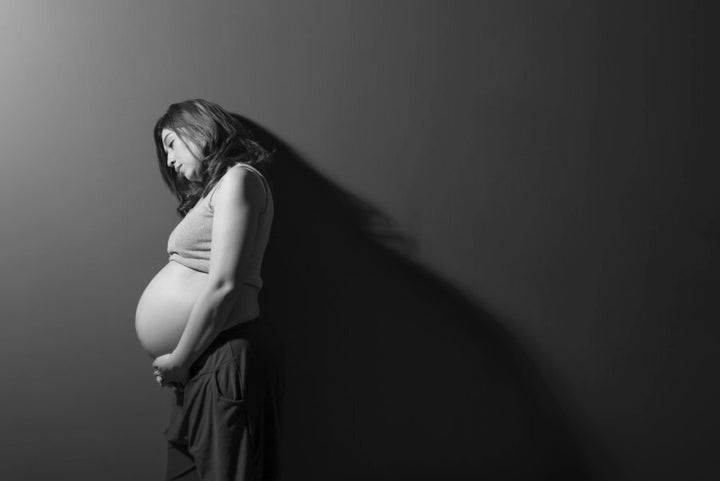 Gerritsma's pregnancy progressed well. Physically, she was showing good signs. Yet her depression continued to deepen -- and she came to a crashing halt when her daughter, Olivia, was induced.
"I was in this haze. I remember the midwife asking me how I was feeling. It was instant loss," Gerritsma said.
"I'm looking down at my baby on my chest and I'm feeling nothing, whilst my husband was besotted with her. He was so overwhelmed with joy and I didn't have that. I wasn't feeling how I should."
Postnatal anxiety and depression
In the weeks following Olivia's birth, things started to go downhill rapidly.
"With my family in the UK, I had my husband and my daughter and that was it. The majority of the time, I didn't feel like Olivia even recognised me," Gerritsma said.
If my daughter was crying, I found that I cried, too.
"Every time that happened -- or every time I couldn't calm her -- I thought, 'something is wrong with me...how many mums can't settle their own child?'"
And her story is all too common.
"We know from our calls that this illness can cause women to have feelings and behaviours that they never would have imagined," PANDA's Smith said.
"These may be thoughts of walking away, hurting the baby or even hurting themselves – and these are often feelings influenced by community's idea of how a mother should be."
What are the signs and symptoms?

Anxiety:

Panic attacks
Shortness of breath
Consistent and generalised worry about the health and wellbeing of the baby
Obsessive behaviours that arise as a result of fears

Depression:

Constant sadness and frequent crying
Lower self esteem
Loss of confidence
Fear of being alone with the baby
Intrusive thoughts about harming the baby
Increased alcohol or drug use
Sleep interruptions (unrelated to the baby's sleep patterns)

According to Smith, it is crucial to notice early signs.

"There are a wide range of symptoms and people will experience it in their own way. It is important to think about whether this is different to their regular behaviour," Smith said.
When Olivia was six months old, Gerritsma decided to go back to work. But her negative self-talk followed her.
"Whilst going back part time kept me busy, I felt like I was being judged by others. I was thinking, 'They must think I'm a bad mother for not staying with her'.
"At home, it started to take a toll on my marriage. One night my husband said, 'I don't know what to do. You need to speak with someone'."
Asking for help
Bearing the shame of this illness can prevent new parents like Gerritsma from seeking help early and can leave them suffering in silence for longer.
PANDA's findings revealed three in five callers waited more than four weeks to seek help, when it is recommended to seek help if symptoms persist for more than two weeks.
I realised my expectations of myself were far higher than what society was placing on me.
The delay was even longer for Gerritsma, who called PANDA six months following her daughter's birth.
"It took me a while because I was about to admit that I was not doing well with parenthood," Gerritsma said.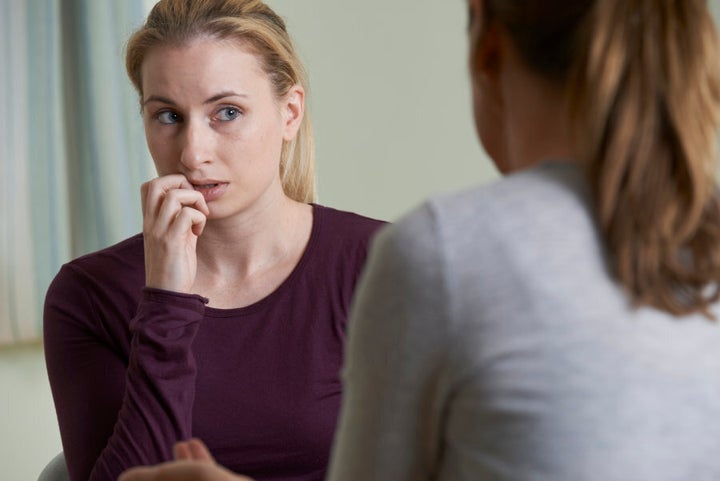 "The wave of relief was unreal. We broke down my concerns and judgements as a parent and it cleared all the fog from my head.
"I realised my expectations of myself were far higher than what society was placing on me."
Gerritsma began to share her story, in turn garnering invaluable support from others who shared in her experience.
"People started turning around and saying, this isn't easy. But that's okay.'"
Addressing the gap
This week, PANDA is calling on the community to engage with this conversation and with the new parents themselves.
"Even though we have these changing attitudes surrounding mental health, they somehow don't seem to have made it through to this crucial time where life is created," Smith said.
"On one hand, the community is saying it is okay -- that's their belief. The next step is for the community to help mums to understand that."
It needs to be more known than just a small flyer at the back of a room. Mums need to know that it is okay to talk about this.Sara Gerritsma
Smith and Gerritsma agree that the health system also plays a role in attending to both physical and mental health needs.
"There needs to be more awareness from the beginning of a pregnancy and this can come from midwives and perinatal classes," Gerritsma said.
"It needs to be more known than just a small flyer at the back of a room. Mums need to know that it is okay to talk about this.
"It cost me a lot. But I know my triggers now and I know how things can help. And if my husband and I need support, we know where to look."
If you or a loved one needs something to talk to, call the Perinatal Anxiety & Depression Australia free National Helpline on 1300 726 306 (10am-5pm AEST Mon-Fri). If you need help in a crisis, call Lifeline on 13 11 14. For further information about depression contact beyondBlue on 1300224636 or talk to your GP, local health professional or someone you trust.
Click below to follow HuffPost Australia on Snapchat!