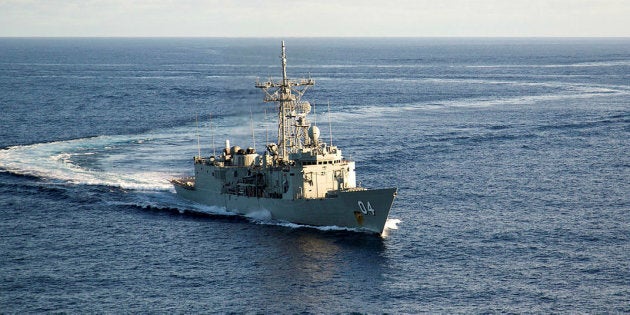 HMAS Darwin is steaming towards New Zealand's earthquake-smashed South Island as part of an effort to evacuate residents from the battered town Kaikoura.
More than 130 people have so far been airlifted from the small town, which remains cut off four days after the 7.5 magnitude quake which killed two people, forced thousands to flee their homes and resulted in widespread damage.
There are said to be around 1,000 more people who still need to be evacuated from Kaikoura and a state of emergency remains for the Canterbury region as authorities clean up from the quake.
Australian Defence Minister Marise Payne said on Tuesday that HMAS Darwin, an Australian navy frigate, had been rerouted to help with the emergency effort in Kaikura. The navy vessel was already in the region for Auckland's International Naval Review.
"Having HMAS Darwin already in New Zealand has enabled us to respond quickly to this request," Payne said.
"While the Naval Review is important, helping the people who have been impacted directly by the earthquake is the highest priority.
"Our thoughts are with those affected and we stand ready to provide additional support if it is requested."
The Aussie vessel will join New Zealand's HMNZS Canterbury and HMNZS Wellington, which have also been sent to Canterbury waters to assist.
According to NZ media, there remain many homes in the Kaikoura region without power and mobile coverage is still patchy. Supplies are said to be running low in the cut-off town.
Meanwhile, in Wellington several buildings damaged in the quake have been cordoned off because of fears they might collapse.
In positive news, the three cows which captured world headlines after being stranded on a tiny quake-made island were on Tuesday rescued by their owner.