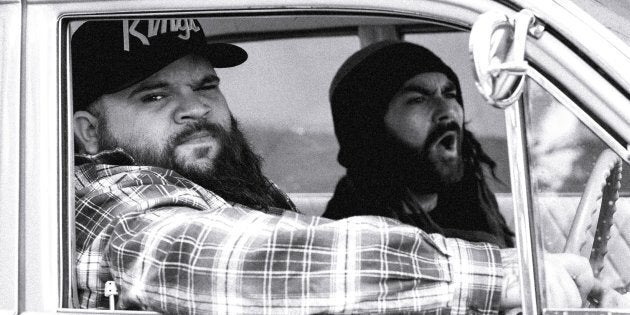 "I think rappers, punk rockers and comedians are set for a few years. We're back."
We catch Briggs on the day after Donald Trump is named president. Briggs -- imposing in stature and style and intellect -- has a bit to say about that, finding a sliver of a silver lining in what artistic output the new administration might inspire, but that might be better saved for another conversation. The Indigenous rapper, after toiling away for years in the music underground, has stamped himself on both the airwaves and the internet in recent times as a fierce voice for Aboriginal people. You can often find him at the centre of the seemingly endless recent tideofblackfaceandracistincidents in Australia; calling it out and explaining, again and again, why it's absolutely not a thing that should be happening in 2016. He's also a writer and actor on fantastic Indigenous sketch show Black Comedy. We get him on the phone with Trials, a Ngarrindjeri man and partner in new project A.B. Original (get it?).
Their new album Reclaim Australia, a provocative, incendiary work with a fittingly provocative title, is the reason for our chat. It's an album with crossed spears on the cover, brimming full of sentiment about Indigenous struggles in modern Australia, calls to change the date of Australia Day, and more. It's out in late November, just weeks after Trump wins the election, and they're touring with Laneway Festival next year, due to start just days after Trump is inaugurated. It comes at the end of a year where the mistreatment of Indigenous youths at the Don Dale detention centre in the Northern Territory, controversial cartoons about Indigenous parents and kids, and too many blackface incidents to remember have hit the headlines.
"It's a good time for the album to come out huh" he laughs.
"But I think anytime would be a good time to drop this album. Anytime, because the shit we're talking about is not new. These issues have been around forever and ever. That's our job now, to bring attention to these issues, highlight what's fucked up in this country, and try to take a step forward.
If you ain't having a conversation, well, then we starting it'January 26', A.B. Original
Starting conversations could be the official theme of Reclaim Australia. The album is named after a far right group that participated in a memorial for the Cronulla riots ("What are they reclaiming? It's a white male prime minister and you've had one since the start. What are you reclaiming?" Briggs laughed). The lead single, 'January 26', is about changing the date of Australia Day from what Indigenous people often call "invasion day" to a time more inclusive of the entire community. Briggs and Trials' lyrics compare commemorating the date, the arrival of British settlers and the beginning of the killing of thousands upon thousands Aboriginal people, to celebrating "on your nan's grave" and having people "piss on her face".
"I don't think you can find a more concise analogy. We don't want to piss on your nan's grave but that's what it means to us. It's a slap in the face," Briggs said.
"It's a hard thing for us to discuss. It's a difficult topic, when we're usually met with such resistance," Trials added.
"We want to make people think from our perspective. Imagine if we had a holiday to piss on your nan's grave. We want people to take that and think 'yeah wow that's pretty disrespectful'. Now think about that as a whole, all your ancestors are having their deaths celebrated, then we can have a conversation."
Briggs said the album is soon to be the feature album on Triple J, the radio station that Briggs himself questioned earlier this year and asked to shift the day of their annual Hottest 100 countdown from Australia Day. The irony that that very Hottest 100 countdown, to be played loud at BBQs and parties nationwide, will almost certainly include a song blasting that very day of celebration, is not lost on the rappers. In a coincidence, the Laneway Festival tour -- where A.B. Original will be both performing and 'hosting' -- will also begin in Brisbane on January 26.
"I do enjoy the irony. But I think the support they've shown us, shows the nature of the station. With the whole changing the date thing, that conversation hasn't been extinguished," Briggs said.
"They've said it's not going to change next year, but that's not to say the conversation is done. I think they've taken the message that we want to derive. It's not just us, we derive a message on behalf of the community, and they've taken it onboard and they will reassess."
Fuck celebrating days made of misery/

White Oz still got the black history'January 26'
The 'message on behalf of the community' is a theme the pair continually come back to. Despite its commercial success, and national stars like Hilltop Hoods, Bliss N Eso, Illy and Drapht, Australian rap and hip-hop are still largely maligned genres. What's more, despite the genres' roots in American black culture, the most recognisable Australian equivalents are white. Briggs and Trials proudly display their cultural roots -- Briggs literally has Yorta Yorta, the name of his tribe, tattooed on his forearms -- and have talked of Reclaim Australia being "the blackest album ever", serving as a conduit between the Indigenous community and wider popular Australia.
"The first thing this album was about, was to make a record for kids that were like us, young kids who never had rap music that was 100 percent for them. The first thing we wanted to do foremost was deliver an album for kids like us. What we wanted them to take away was, they're not silenced and they are being heard and we are there for them," Briggs said.
"For everyone who wasn't in our minds when we were writing it, we hope it's the start of a greater conversation if they've never had that conversation under their roof before," Trials said.
"We want people not familiar with the topics we're talking about to get familiar. People can do some research, get past the shit they were fed in school and start to think about why black culture, the first original culture, is not celebrated as much as it should be. We have rock stars, artists who are world-renowned but reasonably unheard of at home outside their community."
"These are platforms afforded to us that we're making sure we capitalise on. These are issues that have been swept under the rug for so long because they haven't had this kind of megaphone to speak through before. We're making it our duty to make sure these messages get through."
You watching telly for The Bachelor/

But wouldn't read a book about a fuckload of massacres?/

I remember all the blood and what carried us/

They remember twenty recipes for lamingtons'January 26'
We haven't even touched on the music yet. They call it "the blackest album ever" and it hits like a mack truck. The current radio single 'January 26' floats along on a fun, bouncy beat full of handclaps, as Dan Sultan croons along a catchy, sugar-sweet chorus that belies its super serious lyrics. '2 Black 2 Strong' hits like a mack truck; a lurching beat propelled by horns and shuffling drums underpin menacing lyrics about Indigenous deaths, imprisonment rates and racism. In musicality and lyrics, it's heavily influenced by American gangster rap -- N.W.A, Ice Cube, Ice T, even a few synth lines that tip the hat to Dr Dre's famous West Coast sound. It's the kind of music that would scare grannies, and A.B. Original revel in it.
"Nothing I've done has ever been this flammable," Briggs said. He laughs as he details some of the legit death threats he has received in recent years, for being vocal around Indigenous issues and going after those responsible for some unsavoury racist incidents.
"I bet I get some real special ones [threats] after this comes out."
It's powerful, scorching rap but they havent stuck solely to their own genre. Alongside Sultan, a proud Indigenous man, are fellow Aboriginal artists including Thelma Plum, Gurrumul and Archie Roach. Trials says each artist is "a hero of ours, old and new", and talks of the "community" that they tried to weave into the record.
"We specifically created this because it didn't exist, it literally did not exist. We needed it when we were growing up. We wanted to open the door, so when the next generation comes, they can go through it," Trials added.
"We wanted to kick the door off its hinges, so the door never closes ever again. That door should never have been closed."
It's the blackout, brothers in the area/

Smart black man with a plan, nothing scarier'2 Black 2 Strong'
I ask the pair what it's like to be a black man in Australia today. They're silent for about five seconds. I'm fearful that I've overstepped a mark, and am just about to offer a hurried apology when Briggs says one word in answer to my question.
Another beat, then a laugh.
"That's a really blunt answer. Imagine waking up and you're already more likely to go to jail and you haven't even got out of bed. You're more likely to die, you haven't got out of bed yet. You're more likely to get heart disease, diabetes, mental illness, you're more likely to have drug and alcohol dependencies, and you're not even out of bed yet," he continued.
"You have people parading around saying they want to close the gap – what does that mean? To be a second class citizen in the country your ancestors lived, for thousands of years, and you're a second class citizen and you're looked at as the problem..."
"There are movements happening. There are great activists and minds who are speaking out, doing strong things. I feel like this is one of our roles in music, it's about having a presence in all kinds of different industries. That's where the real change will come. It's about all of us pushing forward."