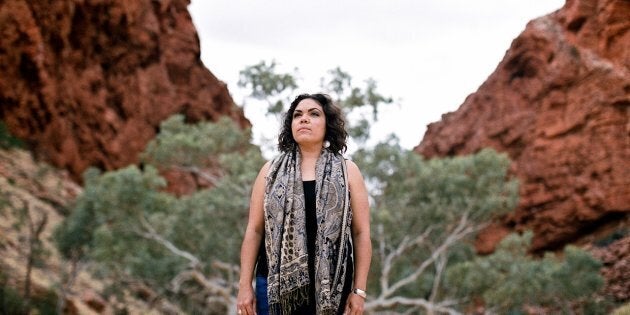 CANBERRA -- "I could spend days giving examples of acts of family violence that I have witnessed or come to learn within my own family in remote communities."
Addressing the National Press Club in Canberra, Jacinta Price, an Alice Springs Councillor, did not have days. She had a just few minutes.
But they were powerful words as she recounted alcohol-fuelled violence from a male family member at Christmas many years ago.
"It escalated to the point where my father ordered the man to leaving our family home," Price said.
As he left, he took a fistful of his 18-month-old son's hair and lifted him by his scalp until his arm was fully extended to the side of his body."
"He flung the toddler about in front of us all, including his 3-year-old daughter. He threatened to kill his son if his wife continued to disobey him."
"I remember the blank look in the boy's eyes. He didn't cry out. He dangled silently from his hair."
The councillor and musician wants a Royal Commission into "the countless homicides, acts of violence and sexual abuse" among Indigenous Australians.
Ignoring a "code of silence," Price revealed there were hundreds of homicide deaths that surround her family and there are thousands more in the Northern Territory and many more within urban Aboriginal communities.
She revealed she'd been placed under "immense pressure" to keep quiet, but felt she had to speak out on a "national shame" buried under the guise of male Aboriginal culture.
"What I have shared my put my immediate family at risk of retaliation of violence and the possibility that employment opportunities may be impacted," she told the National Press Club.
"Some close to me have also expressed their concerns but why am I standing here if not to hold us all to account for the lack of responsibility, action and justice for these Aboriginal women and children?"
Jacinta Price was one of three women, with University of Melbourne Professor Marcia Langton and Josephine Cashman from the Prime Minister's Indigenous Advisory Council, who Thursday decried the alarming rates of violence against Aboriginal women.
Aboriginal women are 34 times more likely than non-Indigenous women to end up in hospital because of family violence.
The women are critical of the Turnbull Government's national action plan to reduce violence against Indigenous women, describing it as "flaky" and too politically correct.
"(It's) all well and good," Langton said. "But don't hold your breath. We believe that much more is needed".
They are calling for a national taskforce of highly qualified Indigenous women and men to address Aboriginal family violence.
"No-one has a chance of closing the gap on any disadvantage in our communities without putting a stop to the violence against Indigenous women and children," Langton told the National Press Club.