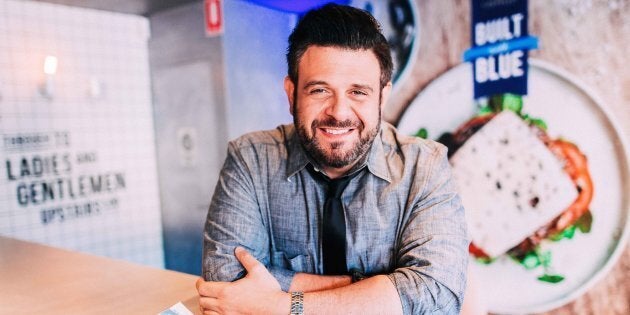 If you love food -- particularly enormous, greasy and mouthwatering burgers, pizzas, chips and pancakes -- you will no doubt have heard of Adam Richman. You know, the guy who eats ridiculous amounts of tasty food on Man Vs Food, Man Finds Food and Secret Eats With Adam Richman.
Well, the foodie legend himself visited sunny Australia recently, and he only had good things to say about his trip.
"I'm loving it. I don't want to go home and I'm already planning my next trip," Richman told The Huffington Post Australia.
"Australia is everything I thought and so much more. I've made true friends. To have people care about the experience you have with the country is awesome."
There's beautiful weather, cool geography, fresh food, nice people and good French fries.
On his trip, Richman visited the best spots around Sydney and Melbourne, and although all the food was incredible, there were a few solid standouts.
"Newtown is awesome, and the part of Paddington we went to is awesome," Richman said. "I'm so glad we went to The Rocks. It's kind of like a dream. All the healthy, local prawns and sashimi. We saw whales breaching, you just can't write it any better. King Street [in Newtown] also has amazing Vietnamese and Thai.
"I got to try chicken salt and have Harry's 'Tiger', a pie with mushy peas, mashed potatoes and gravy, and some of the best chips, maybe in my life, ever, of the history of my mouth.
"I went to HuTong Dumpling Bar in Melbourne last night and had Sichuan and dumplings. I have a meal at Attica coming up this week, so that's something I can brag about, something to mic drop.
"There's beautiful weather, cool geography, fresh food, nice people and good French fries. I don't know how any human being can come here for any less than two weeks, but I know that this human being is going to come back for longer than that."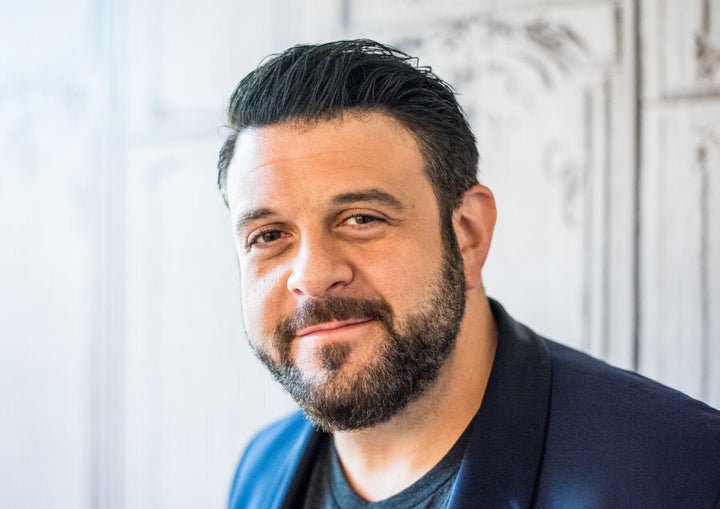 When we asked Richman how the food scene in Australia differs to that in the U.S., he said it all comes down to what Australia and Australians are known for: our friendly, easygoing nature.
"I have to tell you, I'm so excited. Coming from New York and having worked in the food industry, New York, Chicago, Los Angeles and San Francisco can have this 'been there, done that', blasé, 'impress me, wow me' kind of attitude. There's none of that here," Richman said.
"I love that there's a burger revolution and that people aren't jaded by it. You can see they're fun. You can't walk 50 or 70 yards without hitting another burger place. Each had their different decor, different burger toppings, different experiences. There's no 'oh my god, they use like 80/20 chuck and no fillet? I will not eat that'. I mean, c'mon."
If you've ever wondered what Richman's favourite meal is to make at home, you might be surprised.
"I seldom get the chance to cook because I'm home sometimes for one day. It's first world problems at the highest order," Richman said.
"I usually get to cook around the holidays. My favourite thing to make, if I have leisure, time and can get good ingredients, is sushi. I love making sushi. It's like sculpting but with food. There's a degree of diligence and patience, but also a degree of fun and art. I'm proficient and that's fine.
"I also make one of the best damn steaks and burgers you've ever had."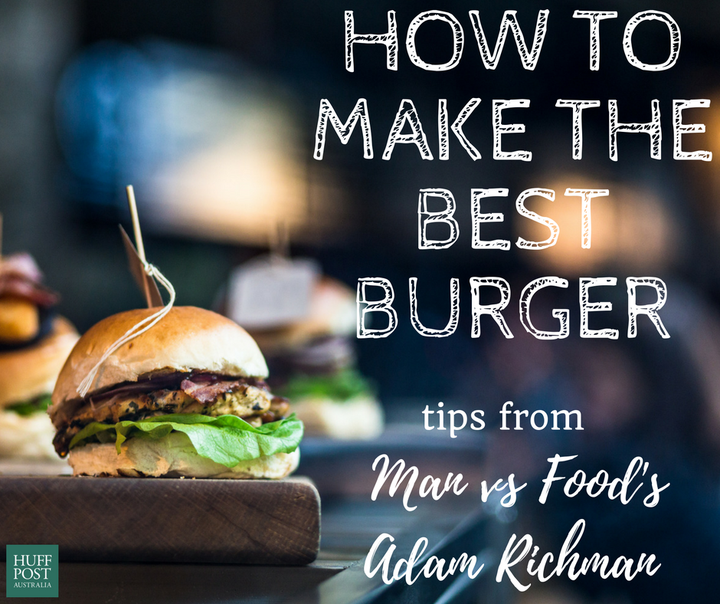 Want to know how to make THE best burger of all time? Here are Richman's secret tips.
1. Keep a cool hand
While most people think burgers are all about the meat (which is important), one of the most crucial steps to ensure your burger is tender and juicy is handling the patty properly.
"I'm not going to tell you what I put in my spice blend, that's a secret, but I'll tell you this. Generally, I get good beef and add my spices. If you're in Australia, you have really good beef, and salt and pepper will do the trick. The trick is how you handle it," Richman told HuffPost Australia.
"Here's what I say. Number one, the meat shouldn't be frozen or warm, but cold. A little trick I learned in college in Atlanta is if you can run your hands under cold water, or soak your hands in a bowl of ice water.
"It's almost like blanching station, and I will soak my hands until they're cold -- not numb or anything. It almost looks like I'm doing a cuticle treatment and it might be a little too far, but I know it works and it works for me."
If you have warm hands and handle the patty, as you knead the meat mixture and work the seasoning through, you're actually going to be warming up that fat.
"You want the fat to be as solid as possible before it hits the heat, because that's the juicy part in the meat. That's why you ideally want a mixture of 80/20 of meat and fat," Richman explained.
2. Don't overwork the meat
A good quality beef patty doesn't need a lot of work, and it definitely doesn't need to be tightly packed.
"You don't want to overwork the meat. All you need is kosher salt and pepper," Richman said.
"Don't pack the patties too tightly. There's air in muscle fibres and the more densely packed it is, you're going to create a hockey puck. You want to preserve the space for moisture, fat and for air to get trapped, because that's what is going to create that juiciness when you bite into it."
3. Give the patties an icy dip
Just like your hands, Richman recommends submerging your patties briefly in icy water to help them stay together.
"The other thing is I do is take the patty and I -- this is the honest truth -- submerge them in ice water for a couple of seconds so they hold together. You can use a binder of egg and breadcrumbs if you want, it's completely subjective, but by submerging you help tighten that patty even further," Richman said.
4. Don't overcook the burger (or squash them)
For a deliciously juicy, plump burger, Richman recommends grilling the patty to medium-rare.
"Make a little thumb sized dent or divot in the top of the burger, and then sear the patty on high heat, then reduce to medium heat, flip them, and use the residual heat," Richman said.
"The thing you absolutely don't want to do on the grill is press down on a burger. People do that because they think they're accelerating the cooking time, but you're squeezing every bit of juice and flavour out of the burger.
"Sear it, get the crust and see the brown slowly creep up, and flip it."
Richman's trick for checking when your burger patty is medium-rare is to gently connect your thumb and your middle finger, and with your other hand touch the pad of your thumb. The feeling of your thumb should be the same as the feel of the patty when you touch it.
Connecting thumb and pointer is rare, and connecting your thumb to pinky is well done or, as Richman said, "a crime against burgers".
5. Choose the right cheese
It's not a burger without cheese, and the type of cheese you choose depends on what flavours and melt factor you want.
"If you're going to melt cheese, try blue cheese. What I like about Castello is that the blue cheese slices melt well and you still retain all those flavours," Richman said. "It's a Danish blue cheese with a combination of other cheeses, and it will melt to somewhere between the meltiness of an Edon and a Muenster."
When it comes to where (and when) to place your cheese, Richman recommends letting the natural heat of the burger melt the cheese.
"People put the cheese under the broiler and place a cheese chip on top of burger ash, and it's just nasty. Ain't nobody got time for that. There's a reason why you don't see a parmigiano reggiano burger. To melt that you'd need Daenerys Targaryen flying around," Richman said.
6. Experiment with burger fillings
While the traditional burger fillings are a classic flavour combination, Richman encourages everyone to play around with other fillings to complement the patty.
"The traditional setup is white onion, beef, tomatoes, some kind of lettuce, and then the unholy trinity is mayo, mustard and ketchup," Richman said.
"I'm still not sure what we get out of that one leaf of lettuce, but if there's no green on it, it does feel kind of incomplete. But you can use better lettuce. You can use watercress.
"Beef lends itself to earthy flavours and then you have things like mushrooms and onions from the ground, so saute them up and throw them on. It makes perfect sense. But also other things like macerated blackberries and cherries are so good on beef or elk."
Click below to follow HuffPost Australia on Snapchat!