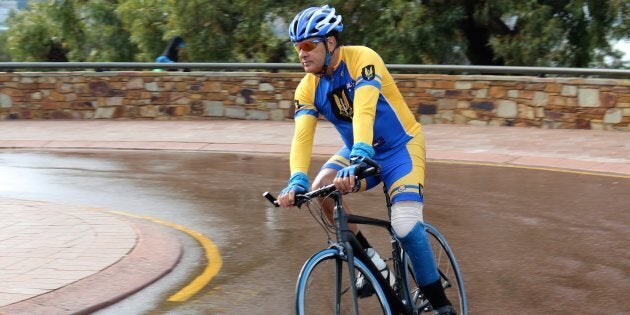 Laurie 'Truck' Sams has cycled more in six months than most people do in a lifetime.
The Vietnam War veteran arrived on his bike in Sydney on Sunday to complete an epic 10,000 kilometre ride from Hanoi to the Opera House. And it was all to raise awareness about suicide and post traumatic stress disorder among Aussie diggers.
In a fitting tribute to the incredible effort, the former SAS soldier was greeted under clear and sunny skies by veterans living in Sydney who performed a Maori Warrior's welcome. There was also a big group of friends, family, supporters, RSL representatives and well wishers on hand to mark the occasion.
Sams, who made the cross continental journey after his own battle with PTSD, said the ride could be just the beginning of an even bigger effort.
"I've been six months on the road and the support coming in from people at all levels makes me want to keep going – to loop the globe if possible," the 67-year-old says.
"PTSD crept up on me over 20 years and it cost me a marriage and very nearly my career. For many others -- police, ambulance, fire service personnel and nurses as well as soldiers -- it can be a slide into broken relationships, alcohol and drug abuse, and all too often suicide."
Amazingly, the 67-year-old kept the pedals turning despite operating with just one leg. In total, he was on the road for 188 days and covered about 86km daily.
His trip for The Long Ride Home Charity took him through southern Cambodia, the Thai-Malaysian peninsula and Singapore then across Australia through Perth, Adelaide, Melbourne, Canberra and Sydney.
"We were hit by bucketing rain and intense traffic in Asia in the monsoon season but the toughest test was the Nullarbor because of its sheer remoteness and the unusually bad weather there and in South Australia when the State's power grid was knocked out," Sams says of some of the challenges he met along the way.
The massive ride follows Sams' personal fight with mental illness. He has said that PTSD took hold of him after returning from Vietnam in 1971, but that it was not until years later that he was formally diagnosed with the potentially debilitating condition.
He has said PTSD meant he was dogged by feelings of anger, frustration and paranoia which steadily increased after returning from combat.
Sams' daughter Jessica said her dad's war demons had been difficult for the family to deal with at times, but that they were proud of how he'd turned things around.
"To be bringing such a sensitive topic to light is really admirable and we're so proud," Jessica told Macquarie Radio after her dad pedaled into central Sydney.
Sams, meanwhile, was just happy his journey had done some good.
"The response exceeded all our expectations," he says.