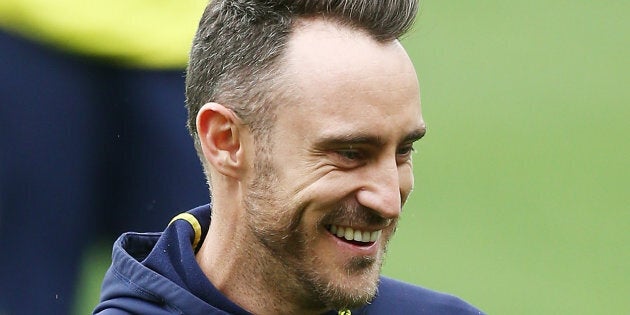 Well, the "lollygate" affair has left us all with something to chew on, with South African captain Faf du Plessis remaining adamant he did not cheat, despite receiving a fine for ball tampering from cricket's governing body, the ICC.
Du Plessis fronted the media for the first time in a week, a day ahead of the third Test against Australia in Adelaide which starts on Thursday. He opened with a joke, saying it was a "pretty cool experience" seeing his name in the press for a week.
But he soon adopted a straight face as he explained that he did not deliberately chew a mint in order to add a sticky coating to the saliva he uses to polish the ball -- which in theory would make the ball swing more and be more difficult for Australia's batsmen to face.
England used the tactic in 2005 when it won The Ashes for the first time in 16 years, but du Plessis said it was just a coincidence because players chew mints and other lollies all the time.
"I wasn't trying to actually hide it," he said. "I mean, I've put a massive mint in my mouth and my mouth is that wide open.
"It's so difficult because there's so many things out there. So some people would use sunblock to shine the ball. I know of people who carry a lip ice in their pocket and shine the cricket ball. There's just so many things, so I think it's just so difficult to say what is right and what isn't.
"Like I said before, to say that you have a sweet in your mouth it's wrong, but when you have a sweet in your mouth and the camera doesn't pick up on it, it's OK. So it's just a really massive grey area."
He's right. It is a grey area, and it's over to the ICC now to make the laws more clear.
Meanwhile, the press conference ended on a lighter note, as du Plessis said it was probably a good time to have a pink ball (day/night) Test. Pink balls do not respond as much to shine on one side as the traditional red balls.