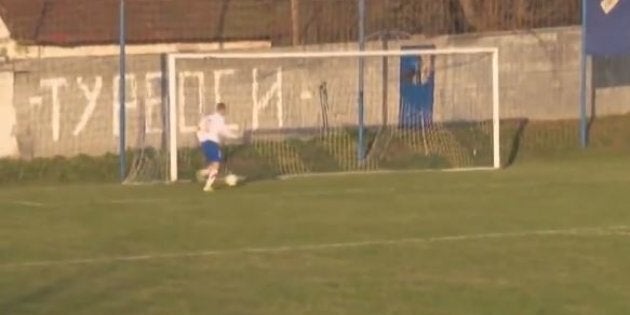 Some things are totally unforgivable. This mangled shot at goal is one of those things.
The hugely-botched shot happened in the Belgrade Zone League, which is basically Serbia's park football league. And it's an all-time shocker.
In vision from the lowly fourth-tier game, the unfortunate player dribbles the ball close to the hugely vacant goal only to, somewhat incredibly, shank his attempt over the crossbar.
The clip, uploaded to Youtube on Monday and already viewed almost 300,000 times, is said to be a contender for "worst open-goal miss ever". Given how many clips like this are floating around the internet that's an achievement in itself.
The hapless Serb could perhaps benefit from studying the Providence Friars' recent effort.
The U.S. college team stunned rivals this week with a miracle comeback from 4-1 down with just 20 minutes remaining to beat its NCAA rivals Maryland Terrapins 5-4.
The Serbian number 15 should pay special attention to the amazing curling shot that found the back of the Terrapins' net late in the game.