It was a big night for the ARIA Awards as the showpiece event celebrated 30 years of Australian music.
The 21-year-old singer from Perth, and powerful LGBTQ advocate, took out Song of the Year with his hit Youth.
"This means the whole world to all of us. I've been able to do some pretty crazy things in the last year and this feels like the coolest," Sivan said.
"This is for every gay Australian kid who wants to go and make music and every LGBTQ kid who wants to go and make music -- you can totally do it, and win an ARIA too."
The young singer's career was sparked on Youtube -- a platform he has used to not only share his music but to speak openly about coming into the music industry as a gay person. One of his Youtube videos on coming out in 2013 has now clocked up more than seven million views.
Sivan also took out Best Video for his acoustic version of Youth which has clocked up over 55 million views.
Marriage equality continued to be advocated throughout the night with Kylie Minogue and her fiance, Joshua Sasse, presenting an award in matching marriage equality t-shirts.
Sia, who took home Best Female Artist of the Year, nominated marriage equality campaigner Angie Greene to accept the award on her behalf.
Greene said the singer wanted the award to go to "every single non-hetero and gender-diverse person who can currently not marry the person that they love in this country".
Flume took over early on in the night, taking out Best Independent Release with his second studio album Skin, closely followed by Best Dance Release (Skin) and Best Pop Release for his hit track Never Be Like You.
"This song was really about the fans -- they really made it their own," Flume said, alongside Kai who features on the track.
"When we started this song in New York we definitely didn't expect it to translate so well, to communicate with so many people...Thanks everybody. Peace."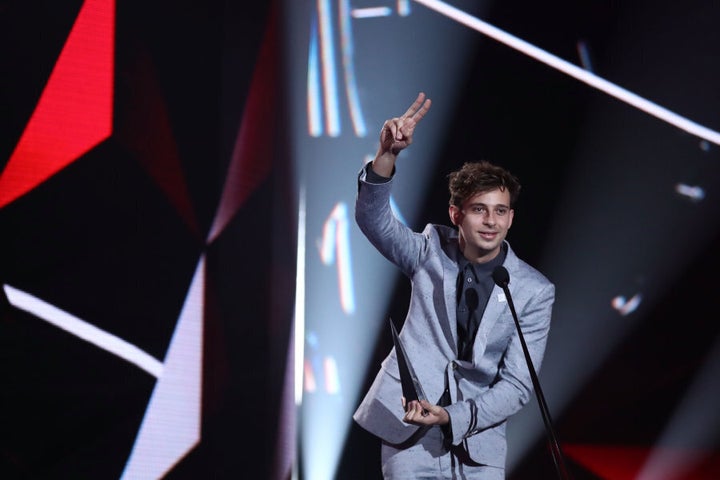 Thirty years after the formation of the band, its founding member Neil Finn was introduced to the stage by comic duo, Flight of the Conchords.
"It has been thirty years, so there are a lot of people to thank," Finn said as he paid tribute to family, friends, former members and late drummer, Paul Hester. "We wouldn't have been anywhere near as engaging or amusing...without Paul."
Missy Higgins and Bernard Fanning kicked off a musical tribute to Crowded House before the band took to the stage.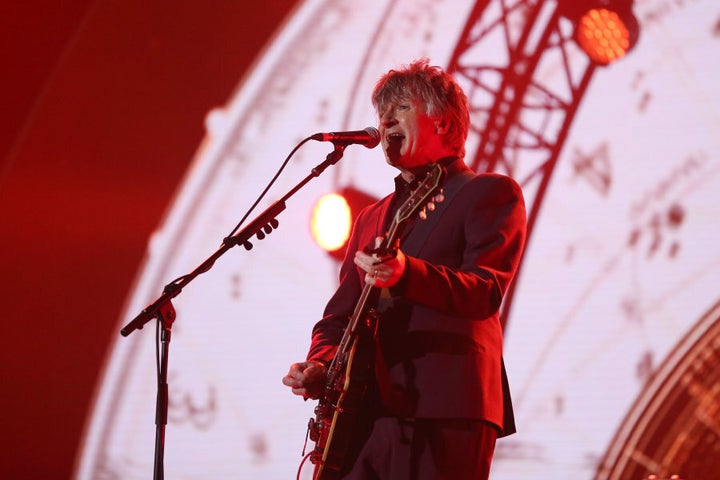 21-year-old Sydney singer-songwriter and 2012 Triple J Unearthed High finalist Montaigne (aka Jessica Cerrico) won Best Breakthrough Artist -- one of three nominations for her first ARIAs show.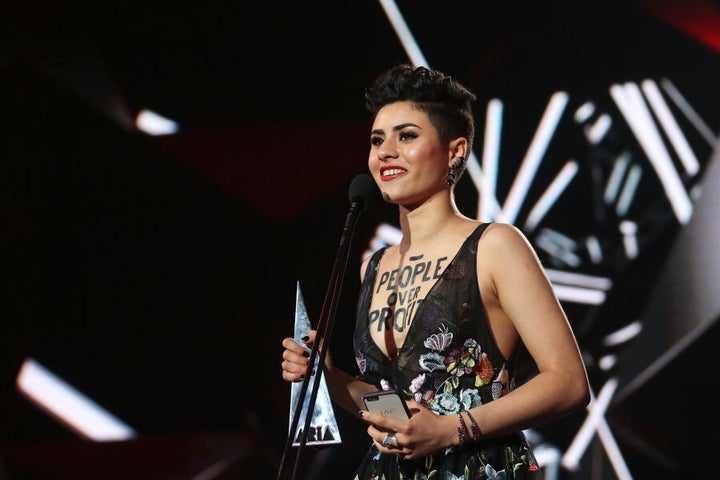 Other winners included Bernard Fanning, who took out Best Adult Contemporary Album for Civil Dusk, and Violent Soho, who scooped up Best Group and Best Rock Album with their album WACO.
The Brisbane quartet bowed down to Aussie legend and presenter Jimmy Barnes as they picked up their ARIA, beating Boy & Bear, Gang Of Youths and The Living End to the post.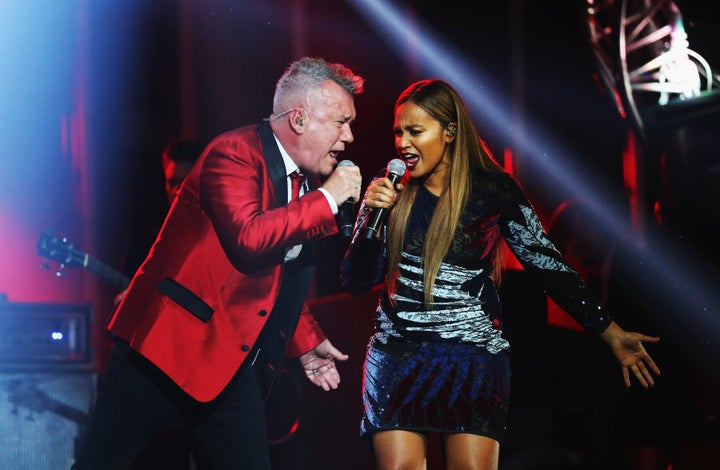 One Direction proved they're still one without Zayn, picking up Best International Artist ahead of some tough competition (Coldplay, Drake, Justin Bieber and Taylor Swift, to name a few).
Here is the full list of ARIA Award Winners

Telstra Album of the Year: Flume – Skin (Future Classic)

Best Male Artist: Flume – Skin (Future Classic)

Best Female Artist: Sia – This is Acting (Monkey Puzzle/Inertia)

Best Dance Release: Flume – Skin (Future Classic)

Best Video: Troye Sivan – YOUTH Acoustic (Sydney Session) (EMI)

Best Group: Violent Soho – WACO (I Oh You)

Best Pop Release: Flume – Never Be Like You (feat. Kai) (Future Classic)

Best Urban Album: Drapht – Seven Mirrors (The Ayems/Sony Music)

Best Independent Release: Flume – Skin (Future Classic)

Breakthrough Artist: Montaigne – Glorious Heights (Wonderlick Recording Company)

Best Rock Album: Violent Soho – WACO (I Oh You)

Best Adult Contemporary Album: Bernard Fanning – Civil Dusk (Dew Process/Universal Music)

Best Country Album: Sara Storer – Silos (ABC Music/Universal Music)

Best Adult Alternative Album: Sarah Blasko – Eternal Return (EMI)

Best Australian Live Act: Hilltop Hoods – The Restrung Tour (Golden Era Records/Universal Music Australia)

Best Hard Rock/Heavy Metal Album: King Gizzard & The Lizard Wizard – Nonagon Infinity (Flightless Records/Remote Control Records)

Best Blues & Roots Album: Russell Morris – Red Dirt Red Heart (Chugg Music/MGM)

Best Children's Album: The Wiggles – Wiggle Town! (ABC Music/Universal Music)

Apple Music Song of the Year: Troye Sivan – Youth (EMI)

Best International Artist: One Direction – Made in the A.M. & Four (SYCO/Sony Music Entertainment)
Click below to follow HuffPost Australia on Snapchat!