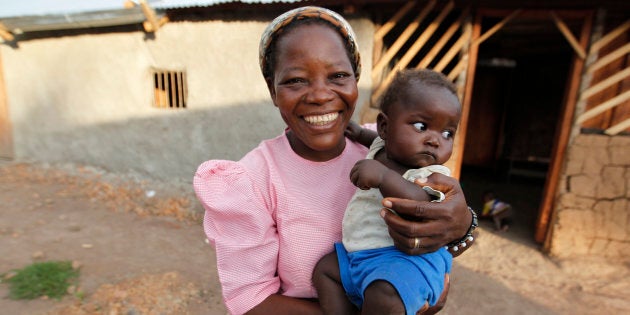 Did you know that a staggering 80 percent of refugees and displaced people are women and children? And that, sadly, many of those women have become a target of modern warfare, sex trafficking, rape and domestic violence?
November 25th is the International Day for the Elimination of Violence Against Women day, and Australia for UNHCR is urging us consider the impact of violence, discrimination and inequality women the world over experience every day, and that includes refugees.
"It is shocking that rape is now both a military strategy and a common occurrence in countries where the fabric of community has been torn apart by decades of war," Naomi Steer, the National Director for Australia for UNHCR told The Huffington Post Australia.
"In my work I often travel to the field to see first-hand UNHCR operations in action, and meet with refugee women and girls to see how we can support them further. The Democratic Republic of Congo (DRC) sadly is one such example which at the height of the conflict was described as 'the worst place to be a woman."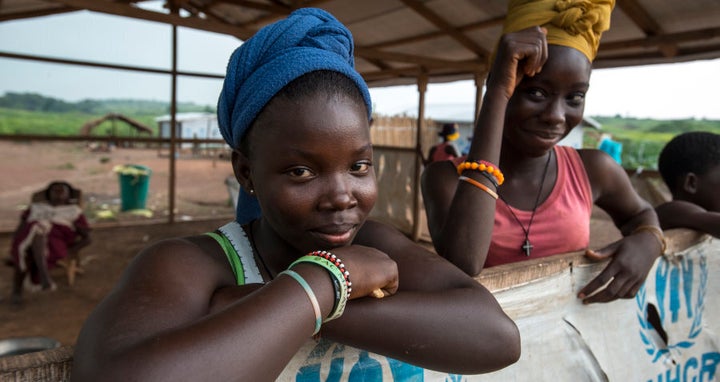 "On one such mission to the DRC I was overwhelmed at how many women had suffered during the decades long conflict -- nearly every woman I spoke to reported that they personally, or someone else in their family, had either suffered violence or assault. I also witnessed small buds of hope where women and girls were being supported to turn their lives around," Steer said.
Steer recalls another time when she met a group of young women who had been rescued from the sex slave trade.
"I remember visiting programs in a remote area in North Kivu province, where I could see the mountain top fires of surrounding militia burning at night. I was introduced to a group of young school girls and I was shocked to learn that these children had recently been rescued from a local brothel by UNHCR staff.
"Looking at their shy young faces it was hard to imagine how they had survived what must have been a traumatic and painful experience."
Once rescued the girls are supplied with medical treatment, counselling and most importantly helping them reintegrate back into the community. They are then enrolled with the local primary school.
"The girls looked proud in their fresh new uniforms and were eager to make up their lost years of learning. They all came from poor families who had fled from fighting in other parts of the country. Most only had one parent, some had none."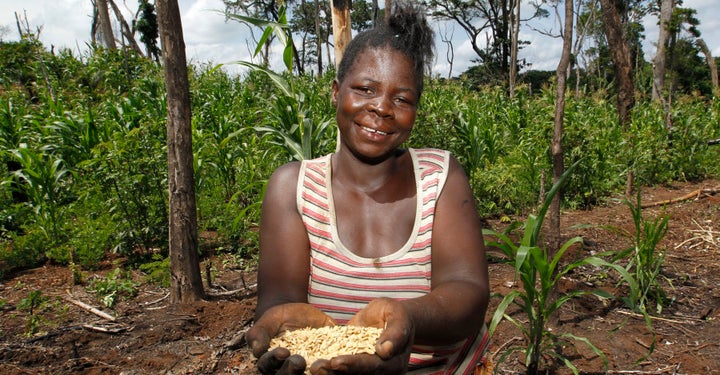 "The youngest girl who was only 12 years old told me her single mother, who was looking after six other children, was approached by a local person who said he had work for her daughter. With no other income the mother accepted and told her daughter she would be working in the fields, but instead was taken to a hotel where she stayed for four months," Steer said.
A key part of UNHCR's work is not only to treat victims of sexual and gender-based violence, but to prevent it in the first place through community education.
"I took part in one community discussion, which included a role-playing performance that required audience participation," Steer said.
"After the performance and discussion, the facilitator asked the audience what they had learned. Indicating how far violence and rape had been normalised by the years of conflict, one elderly man bravely stood up and said, 'Yes, I now know that rape is bad'. Such a simple message is creating a shift in community expectations not just for women and girls, but men and boys as well. At the same meeting, a woman stood up and said she now understood that she had the right to report a rape to the police -- something we take for granted here in Australia."
Yet another woman Steer met had her children taken from her.
"Her name was Pascaline, and she was a 45-year-old mother of 12 children who had suffered greatly at the hands of the infamous Lord's Resistance Army. She told me that during an attack on her village, two of her sons had been kidnapped by the LRA, and she spent years worried for them. The eldest returned from the bush as an 18-year-old only a few months before I met Pascaline, with his right forearm chopped off. The younger brother had not returned.
"Pascaline told me she thought she was at the end of her life, despairing for herself and her family and knowing in her heart her youngest son would never return. As a mother of a teenage son myself, I couldn't imagine what that would be like. It was only through the intervention of a remarkable Catholic nun, Sister Angélique Namaika, that her life was turned around," Steer said.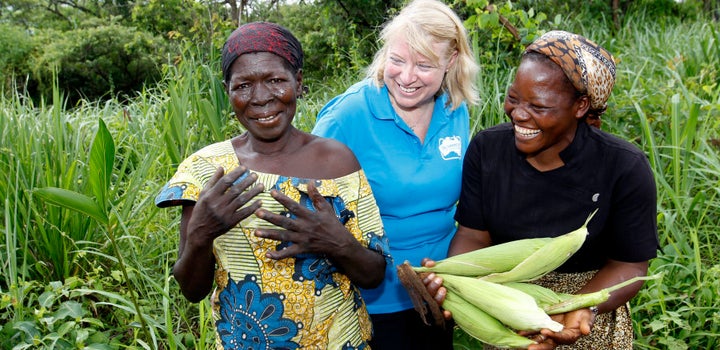 Pascaline and women like her are given their own plots of land women grow cassava, corn and other crops .They can now put food on their own table but also sell the excess at the local markets.
"Today, I am hoping to remind Australians that we are also part of a much wider community of men and women who we can share with and support," Steer said.
Click below to follow HuffPost Australia on Snapchat!