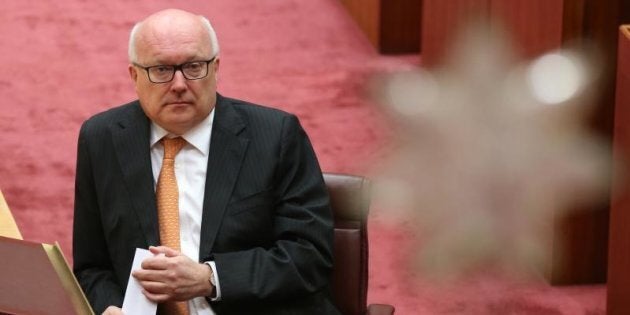 CANBERRA – Attorney-General George Brandis has attempted to distance himself from the controversial decisions surrounding the long running, $1.8 billion liquidation of late Alan Bond's failed Bell Group and has instead dumped it on former Treasurer and now U.S Ambassador Joe Hockey.
Labor and the Greens want a Senate inquiry accusing the Attorney-General of some sort of political deal or "fix" with the Barnett Government which put the West Australian Government ahead of other creditors, including the Tax Office.
The essential accusation was that the Attorney-General stuck a deal, which was later found to be unconstitutional, at the expense of federal taxpayers.
Brandis has not addressed the "run dead" allegations, but in remarks the Opposition Senator Leader Penny Wong described as throwing Joe Hockey "under a bus," he told parliament any discussions between WA and the Commonwealth involved then Treasurer Joe Hockey, not him.
When pushed to explain what he instructed Gleeson to argue in Cwth submission to HC, Brandis argues confidentiality. #senateQT

— Josh Taylor (@joshgnosis) November 28, 2016
He said Hockey and the West Australian Treasurer Mike Nahan exchanged letters in March 2015, but "Mr Hockey's letter provides no basis for the claim that an agreement or understanding had been arrived at between the Commonwealth and WA Governments".
It was all apparently news to Brandis, who claimed he and the then Assistant Treasurer Kelly O'Dwyer first learnt of discussions between Hockey and the West Australian Treasurer Mike Nahan in early March.
"Whatever may have been discussed between Mr Hockey and Dr Nahan, neither I nor Ms O'Dwyer was aware of it at the time," he told parliament.
"We first became aware of the position asserted by WA ministers after speaking to them on 4 March 2016."
The Attorney-General said Gleeson advised him to intervene and he accepted the advice.
Labor's Penny Wong is not accepting the account saying there are many questions unanswered and blaming the former Treasurer is "convenient".
"The one thing you can say about that statement is it throws Joe Hockey under a bus," she said.
"How convenient that you go after the bloke who can't defend himself."
The Greens Nick McKim insists Brandis should resign or be sacked by the Prime Minister.
"Let's be very clear about what that allegation is," he said.
"That allegation is that the Attorney-General instructed the then Solicitor-General Mr Gleeson to effectively run dead on the strongest argument he had at his disposal in the High Court ... that statement that we have just heard from the Attorney-General did not rebut that allegation."
The controversy dominated question time with Prime Minister defending his Attorney-General and insisting all issues were "dealt with" in the statement to the Senate.
Turnbull instead turned the tables on Labor Leader Bill Shorten.
"We are seeing now the absolute embodiment of post-truth politics, falsehoods from the Leader of the Opposition," he told Parliament.
"Again and again he will make things up. He will invent ideas, he will conjure up conspiracies".
"He has no regard for the facts and a would-be leader who has no regards for the facts has no respect for the people."
Brandis: We know the opposition lives in the era of post-truth politics

Wong: That's rich coming from you #SenateQT

— Michael Koziol (@michaelkoziol) November 28, 2016
Brandis has instead taken aim at those pursuing him, saying they should "feel very foolish" and Labor's Shadow Attorney-General Mark Dreyfus should get over his "obsession" with him.
"The things they have said had no basis whatsoever in fact," he told reporters in Canberra.
"It is of absolutely no concern to Mr Dreyfus that he will lie through his teeth, that Mr Dreyfus is prepared to lie and lie again, to make things up, to fantasise, to make the most reckless and offensive allegations with no facts to support him whatsoever."