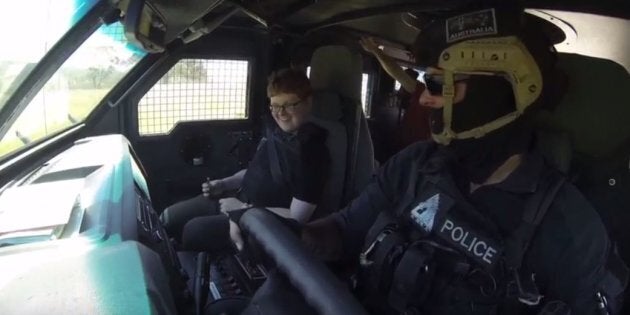 It's not often a story involving explosives is heart-warming, but here you have it: Declan, a 12-year-old with leukaemia, has fulfilled his dream to "blow stuff up".
The Make-A-Wish Foundation teamed up with the Australian Capital Territory Policing to help cross this explosive item off Declan's wish list.
"What inspired Declan's wish is for him to do something different," said Belinda, Declan's mum. "Something to take his mind off his illness."
He participated in scenario training involving a hostage scene, a speedboat and detonating explosives.
"They gave us a charge and you had to pull a pin and hit the top of it," Declan said.
Check-out the video from ACTPolicing.
Sergeant Peter Murphy said he was happy they could give Declan and his family a great experience.
"Declan got picked up by our close personal protection team and got brought to the specialist bomb group in Mildura in Canberra," Sergeant Murphy said.
"To be involved in something like this is a special opportunity to get involved with someone going through a tough time, that's not only young Declan, but his family."
It turns out Declan has an eclectic taste for adventure. Earlier in the week Make-A-Wish organised a visit to Canberra as a VIP. Declan arrived at Parliament House in an AFP Motorcade and met Prime Minister Malcolm Turnbull.
The Make-A-Wish Foundation is a charity organisation that grants special experiences to children with life-threatening illnesses.