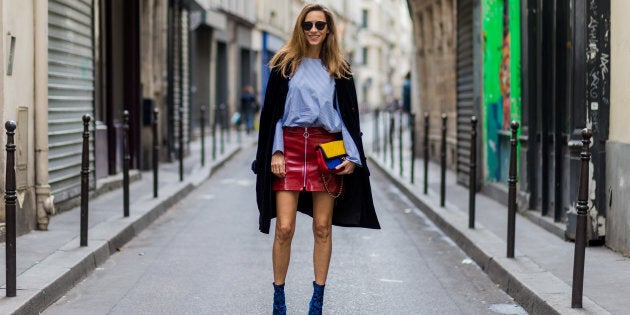 In case you haven't heard, we are set to receive the hottest summer on record. While that's great news for weekends away and the summer break, it can make getting ready for work a little confusing.
When the mercury rises it doesn't mean so should your hemlines -- for the office, anyway. Instead of stripping off, switch to lightweight, natural fabrics, and have fun with prints and colour.
"While styles change with the trends, these rules still underpin the way you should dress, regardless of the season, what's in fashion, and even how formal or casual your workplace is."
Workplaces differ, and of course you should take that into account (no need for a three piece suit if you work in a media agency), but keep in mind it's still a professional environment.
"More and more we're seeing offices adopt a more casual approach to workwear, which is great, but that doesn't mean that traditional rules are thrown out the window. Even if you work in a cool, creative environment, a level of decorum should be maintained sartorially," Todorovic said.
Todorovic suggests following accounts on social media for inspiration.
"Brisbane based teacher Alex has an account called @whattheteacherwears and she always posts great work-appropriate outfits."
"If you're a lawyer, or work within a traditionally corporate environment you'll be aware of what's appropriate and what isn't. The way to have fun with summer's trends for the corporate office is with colour and texture."
"Instead of basic black, play with lighter hues that are in this season like blush and pale pink. Khaki and navy are also perfect for work and a nice break from black."
"White is also perfect for work in summer, but beware what you wear underneath -- the white lacy bra might be best kept for weekends. Opt for smooth nude undergarments instead as nude doesn't show under white," Todorovic said.
Is your workplace a little more chilled? Lucky you! Still, save the playsuits for Saturday and Sunday.
"A common mistake people who work in casual environments make is wearing their evening or weekend wardrobe to the office. Sure, some pieces will translate, but they need to be tweaked to make them appropriate."
"As corporate dressers would know, strapless for the office is never okay, and beware of shoe-string straps, too. If you have a cami, singlet or slip dress you want to wear, consider layering it under a chic blazer. Other than that, go for thicker straps, if not cap sleeves or long sleeves. Fabrics like silk and cotton are great in summer as they are lightweight and breathe," Todorovic said.
The same rule applied to hemlines.
"Minis and short shorts should be reserved for the weekends. No matter the item or trend, always take it back to thinking about how much skin you're showing -- that's a good, classic rule if you're not sure. Too much skin is not a good look and if you'd generally wear it to a bar, nightclub or the beach, it's probably not ideal for the office."
"That's not to say you can't have fun with mixing and match your wardrobe. It all comes down to how you style the whole look and what you pair things with. Take a pair of denim shorts for example. Ripped, cut-off One Teaspoon shorts are probably not the best look with a singlet and sandals -- but a longer, looser pair teamed with a blazer and classic pumps or ballet flats could work," Todorovic said.
Lastly, Todorovic suggests that if you're not sure, look to your manager or boss for cues. You don't need to clone them, but getting a general guide or vibe from more senior staff often helps.
"I always try to think about this when I get dressed -- If I was called in to an impromptu meeting with my publisher (because I work in magazines), or if I had to go to an event to represent the brand I work for, would I look professional and confident? Or would I have to dash to the shops to buy something appropriate for the meeting? Always dress like you're meeting with the boss," Todorovic said.
Click below to follow HuffPost Australia on Snapchat!