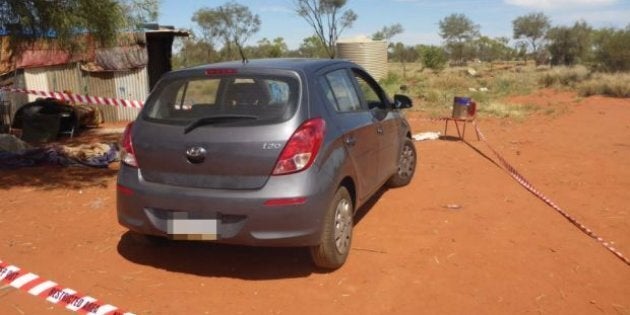 A Melbourne man has been charged with murder after a French tourist was fatally stabbed in front of his wife in an apparently unprovoked attack at a Northern Territory rest stop.
The alleged murderer was arrested on Thursday after Philippe Jegouzo, 33, was stabbed in the neck at a rest stop south of Aileron, about 130 kms from Alice Springs, amid reports the victim''s wife made a frantic bid to fight off the attacker with a picnic table.
After the attack Jegouzo's wife, named in the media as Aurelie Chorier, flagged down a passing car containing a nurse, who treated him at the scene, while the nurse's husband drove 30km to the nearest phone at Airelon Roadhouse to call for help, theABC reports.
Jegouzo died at the scene and Chorier had to be treated for shock
It's been reported that the accused murderer he was naked when he was found in scrubland following a police helicopter and dog squad search.
Detective Superintendent Travis Wurst said police spotted the accused's car about 100km from the scene, but he fled into the bush on foot.
The French tourists, who are understood to have only been in Australia for a short time, were alone at the rest stop in the minutes before the attack, Wurst told the NT Newsthis week.
"We believe at this time the only persons at the roadside stop were the male person, who is now deceased, and his wife," he said.
"The only other person that was believed to have been present was the person who is considered to be the attacker. We understand there were no other people present."
"Our immediate thoughts go to the family of the victim to whom we send our most sincere condolences," the consulate said.