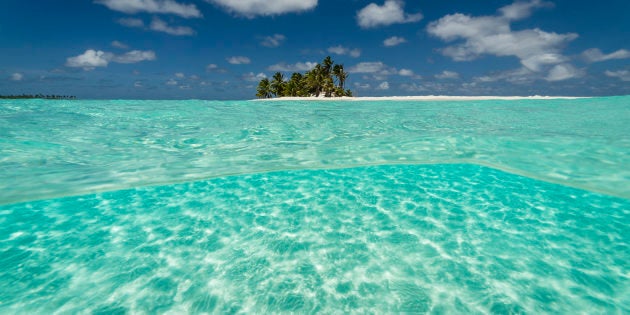 The timing couldn't get any better. Australia's best beaches have just been revealed -- right as summer heats up.
The list, released on Saturday, names a little known stretch of sand on the far-flung Cocos Keeling Islands as the nation's top beach.
Beach expert Brad Farmer said while his number one beach 'Cossies' was among the most remote in Australia, it was also the most beautiful. It edged out far north Queensland's Nudey beach and Moonee Beach in NSW on the 2017 list.
"Freshly minted 'Cossies beach' has been named in honour of Australia's 26th Governor-General, Sir Peter Cosgrove," Farmer said.
"This 300m stretch of powder white sand meets hypnotic emerald and turquoise hues 365 days and is a four and a half hour flight from Perth. Naturalist Sir Charles Darwin was profoundly moved by its beauty during his exploratory days on this 'heavenly' beach in 1836.
"Incomparable to any other Australian mainland or island beach, Cossies landslides into victory as our nations number one beach."
The Cocos Keeling Islands are one of Australia's most little known external territories. Located 2750km northwest of Perth, the islands comprise two atolls and 27 coral islands.
They were discovered in 1609 but only properly settled by Scottish trader John Clunies-Ross in the 19th century. Clunies-Ross brought in migrant workers from Malaysia and China to harvest copra on the islands and ended up a self-styled ruler.
Amazingly, the islands were the family's private kingdom until the Commonwealth gained full control in 1955.
The atolls' intriguing history is a world away while on its beaches, Farmer says, describing Cossies as containing "every shade of turquoise imaginable".
"The view on approaching the Jetty of Direction Island where Cossies Beach is situated, leaves visitors awestruck with goose bumps, seeking to reset the visual reality button on what appears to be a vision of Treasure Island," he says.
"The shallow, clear, and still water of the lagoon, resting in its greater part on white sand, is, when illumined by a vertical sun, of the most vivid green."
1. Cossies Beach, Cocos (Keeling) Islands INDIAN OCEAN
2. Nudey Beach, Fitzroy Island, FAR NORTH QUEENSLAND
3. Moonee Beach, Coffs Coast NEW SOUTH WALES
4. Turquoise Bay, Coral Coast, WESTERN AUSTRALIA
5. Burleigh Heads, Gold Coast, QUEENSLAND
6. Maslin Beach, Adelaide, SOUTH AUSTRALIA
7. Dolly Beach, Christmas Island, INDIAN OCEAN
8. Shelly Beach, Nambucca Coast, NEW SOUTH WALES
9. Boat Harbour Beach, North West Coast, TASMANIA
10. Apollo Bay, Great Ocean Road, VICTORIA