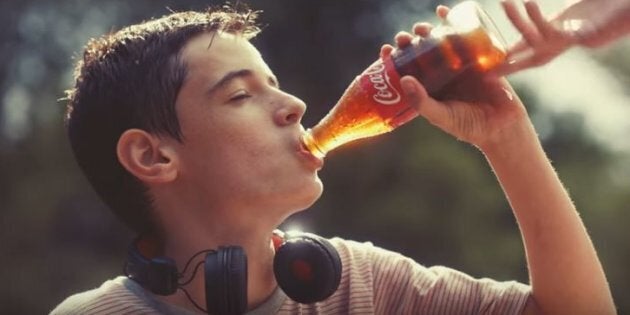 For most children, there's no one cooler than your older sibling. Which is why Coca-Cola's Big Brother ad resonates so powerfully with kids.
It tells the story of a boy whose big brother can be a bit of a teaser, but when bullies try to take the younger brother's Coke, the big brother steps in to save the day.
Yet Coke says it doesn't advertise directly to children.
The ad has 'won' the 2016 Parents' Voice Fame and Shame Awards, along with a host of junk food-related ads and campaigns that appeal to children.
Campaign manager Alice Pryor told The Huffington Post Australia the ad was part of a new breed of less overt ads that never-the-less are marketed to children.
"Over the years, advertisers have gotten more clever," Pryor said.
"Young children can't really tell the difference between ads and the show they're watching, so the big brother ad uses the narrative and the music to make a mini story -- it's a clever way to market to kids.
"It also shows the dangers of self regulation in advertising because the brothers are teenagers, not children, but who's to say this ad about a 13-year-old doesn't appeal to a seven year old?"
Sugary drinks took out most of the awards this year, with a Powerade commercial featuring Olympian basketballer Andrew Bogut also named and shamed as well as a digital campaign for a Milo-brand fitness tracker for children connecting fitness with the drink that's almost half sugar.
Cancer Council NSW supports the Fame and Shame awards because of the link between junk food advertisements, childhood obesity and cancer in later life. Nutrition program manager Wendy Watson told HuffPost Australia children were vulnerable to marketing.
"Children don't understand the intent of advertising and we have evidence showing they ask for the foods that are advertised to them.
"We know parents are doing a really good job fighting against this pester power, but they're up against well funded sophisticated marketing campaigns by the food and beverage industries."
"We want children to be starting on healthy lifestyles that will carry on into later life," she said.