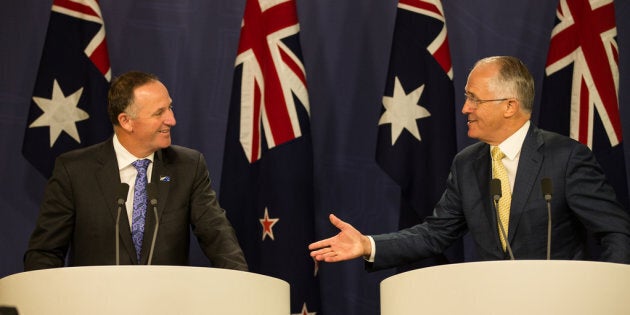 Declaring he is not a "career politician" and leaving on his own terms, John Key has surprised the Asia Pacific in announcing he is resigning as Prime Minister of New Zealand after eight years in the job.
Australian Prime Minister Malcolm Turnbull has led the regional tributes, calling Key a "class act," a "very good friend" and revealing he messaged him, "Say it ain't so, bro" on hearing the news.
Key's not the only world leader to stand down Monday, but the only one to go out on top. Italian Prime Minister Matteo Renzi has resigned after suffering a heavy defeat in a referendum to cut Italy's bureaucracy and, according to him, make the country more competitive.
"Good luck to us all," Renzi told reporters as he quit after two and a half years in office.
John Key surprised all at his weekly press conference Monday, saying "a good leader knows when it it is time to go" and he is going to "die happy".
"There was no way I could have served out a fourth term," he told reporters.
Key, who has seen three Australian Prime Ministers (Kevin Rudd, Julia Gillard and Tony Abbott) removed from power, said "leaders sometimes stay too long".
"I just felt this was an opportunity for me, on top, to do what very few Prime Ministers and leaders get the chance to do, and that is to transition to a new leader."
John Key has been an extraordinary & inspiring world leader, role model and great friend. His resignation is a great loss for NZ & the world

— Malcolm Turnbull (@TurnbullMalcolm) December 5, 2016
Turnbull said Key was one of world's most outstanding national leaders and will be a "great loss".
"New Zealand has never boxed above its weight as much as it does or as it has done with John Key as its Prime Minister," he told reporters in Melbourne.
"He is truly outstanding".
Remember when John Key had a sleep over at Malcolm Turnbull's place in Point Piper? He'll have more time for hangs now.

— Shalailah Medhora (@shalailah) December 5, 2016
Turnbull said he was not completely surprised by Key's move, but admired it. "He has retired when people are begging him to stay," he said "He is a class act, none classier."
The resignation, which will be effective from December 12, was for Key, the "hardest decision" he has ever made.
Fine innings from John Key. Not

Many pollies retire unbeaten on a double ton.

— Tony Abbott (@TonyAbbottMHR) December 5, 2016
"Ten years at the top, it is a long time. That's a lot of lonely nights for Bronagh," he said. "I really feel I owe it to the family to come home a little bit."
He said he regrets not being able to change the New Zealand flag.
The Deputy Prime Minister Bill English is expected to take over until the ruling National Party holds a caucus to choose Key's successor.
Key told the waiting media he had no specific post-politics plans, but hinted at overseas speaking tours and positions on boards.
"It'll just be a slightly quieter life and a chance for us to spend time together travelling," he said.