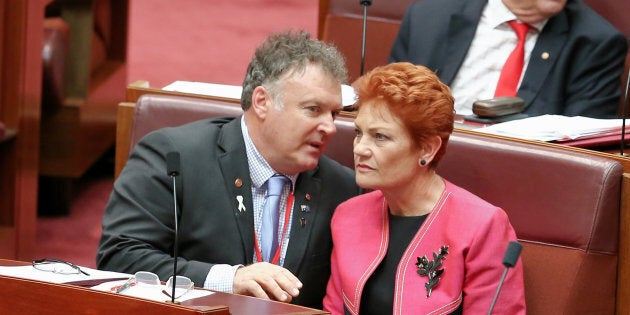 Breaking up stinks -- especially for Rod Culleton.
The One Nation Senator let it hit the proverbial fan on Monday, ending the parliamentary year by announcing he is reconsidering his political allegiances and acknowledging the rift between himself and party leader Pauline Hanson over her failure to back his push for a banking royal commission.
"Pauline has got to have a pooey or get off the potty and either start supporting rural and regional Australia through this Royal Commission or things will start to fester," Culleton said on Monday, confirming "there is a rift in the party".
"She may be angry about the backpacker tax but I'm furious that she didn't step up and do a deal on the Royal Commission.
"That's the truth, the whole truth and nothing but the truth."
Culleton also questioned why his party supported the ABCC bill without striking a deal with the government to win a Royal Commission into banking.
"Pauline did not do that -- that is where the rift started," he said.
Comment has been sought from Hanson.
Culleton is also reported to have said his relationship with the other two One Nation Senators was also "strained," that his relationship with the party was "not workable" as they were voting with the Coalition "and that really concerns me".
He will face the High Court later this week in a bid to retain his Senate seat.
Senator Hanson last week spoke through an ABC camera to demand Senator Culleton meet with her. The West Australian referred to the demand as "patronising", but the pair later publicly denied any tension.