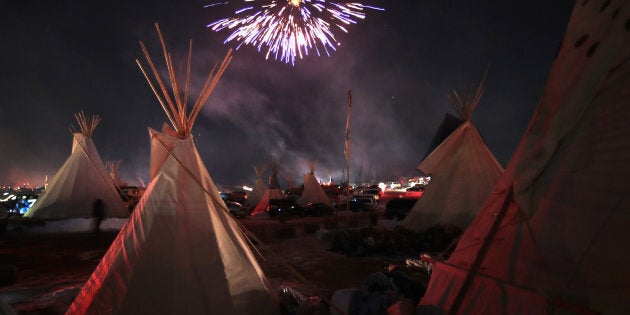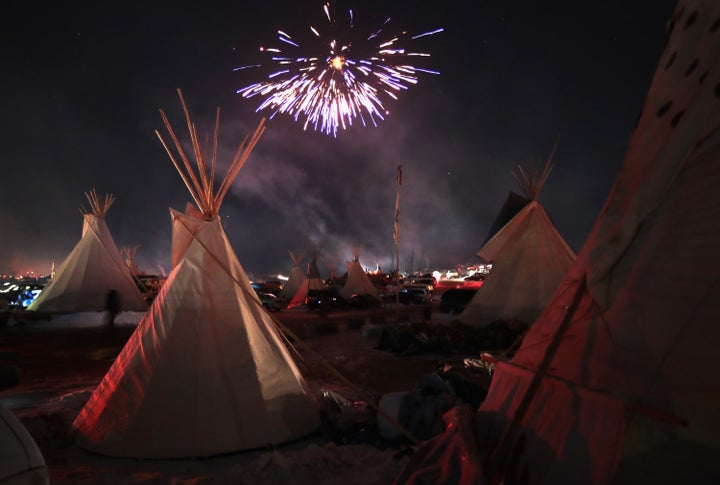 The U.S. Army Corps of Engineers announced that it had denied the final easement required for the $3.8 billion project to cross under Lake Oahe in North Dakota. The Army said it will now explore alternative routes pending an environmental impact study.
The 1,172-mile pipeline starts at the Bakken Formation in northwest North Dakota near the Canadian border and runs southeast to southern Illinois.
The Standing Rock Sioux, which had been joined in a months-long protest by environmental, human rights and social justice activists, opposed the oil pipeline due to concerns over water contamination, environmental destruction and damage to ancestral sites.
"My hands go up to all the water protectors who have stood up to protect tribal treaty rights and to protect Mother Earth," Brian Cladoosby, president of the National Congress of American Indians, said in a statement Sunday. "Thank you for Standing For Standing Rock."
See more images from the victory below. Photos by Josh Morgan for The Huffington Post.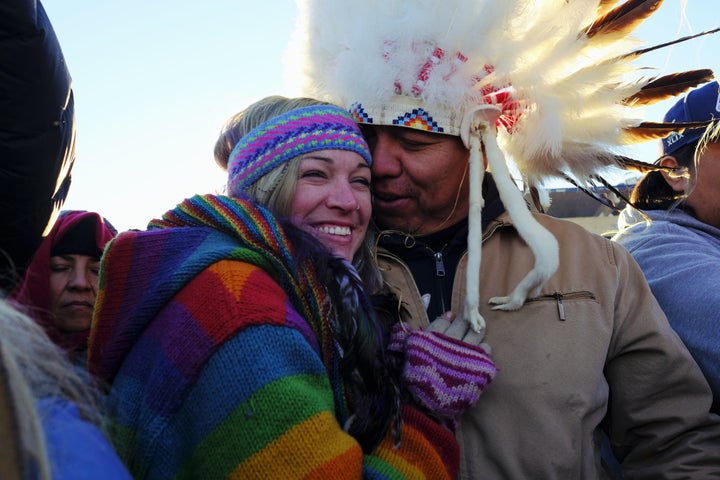 Lance King, 33, an Oglala Lakota from Lyle, South Dakota, celebrates with Kayti Bunny after the announcement that the Army Corps of Engineers denied the easement to drill under Lake Oahe for the Dakota Access Pipeline. –JOSH MORGAN FOR THE HUFFINGTON POST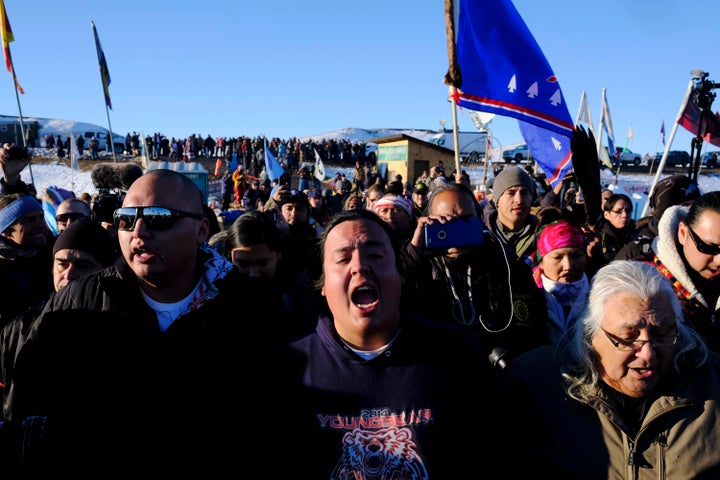 Dakota Access Pipeline protesters celebrate as they march back to the Oceti Sakowin campground after they found out the Army Corps of Engineers denied the easement to drill under Lake Oahe on Sunday, Dec. 4, 2016. –JOSH MORGAN FOR THE HUFFINGTON POST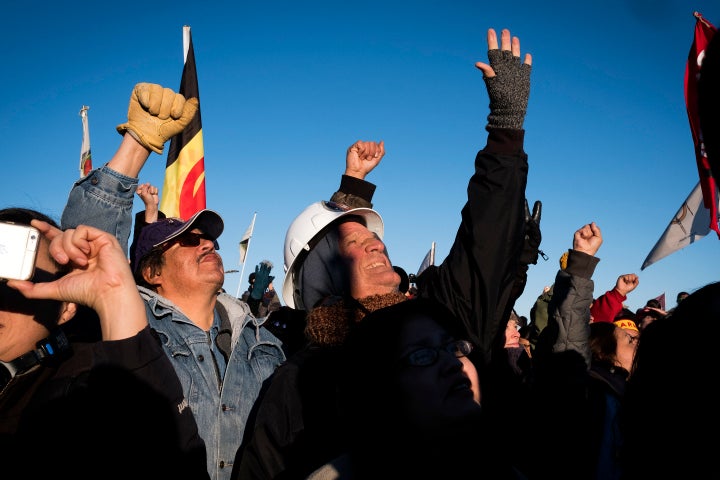 Dakota Access Pipeline protesters celebrate after learning that the Army Corps of Engineers denied the drilling permit to drill under Lake Oahe near Cannon Ball, North Dakota. –JOSH MORGAN FOR THE HUFFINGTON POST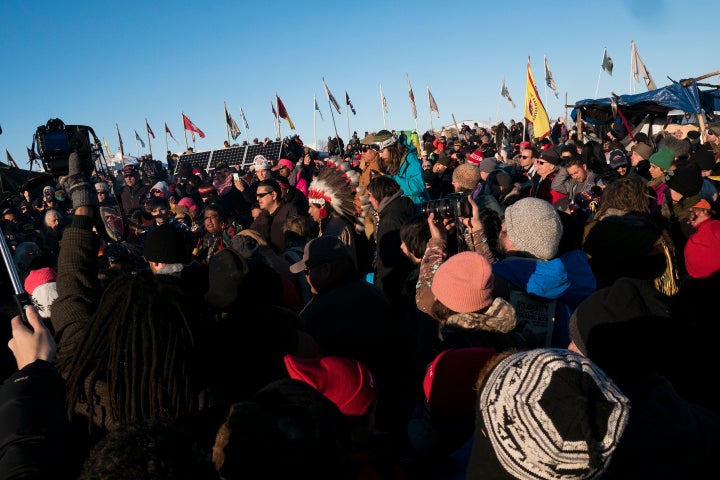 Thousands gather in the main area of the Oceti Sakowin campground to celebrate after the Army Corps of Engineers announced they will not be granting a drilling permit. –JOSH MORGAN FOR THE HUFFINGTON POST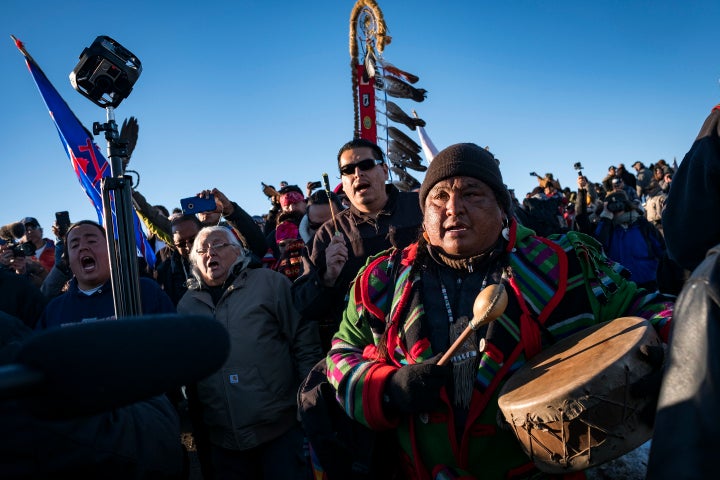 Dakota Access Pipeline protesters participate in a victory march to the Oceti Sakowin campground. –JOSH MORGAN FOR THE HUFFINGTON POST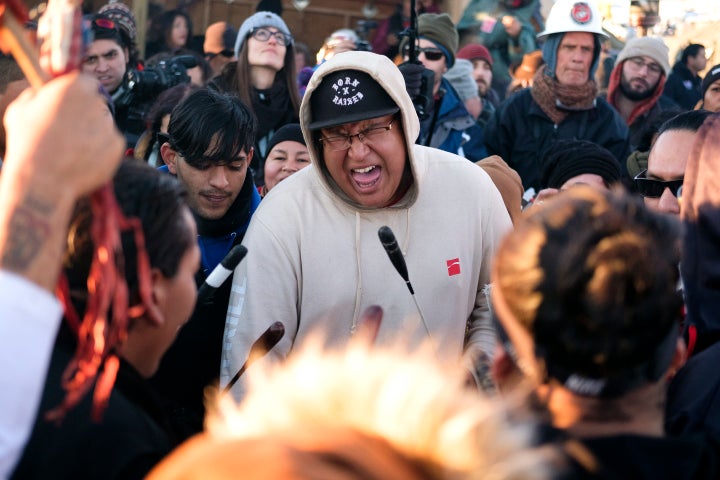 Drummers at the Oceti Sakowin campground perform a victory song. –JOSH MORGAN FOR THE HUFFINGTON POST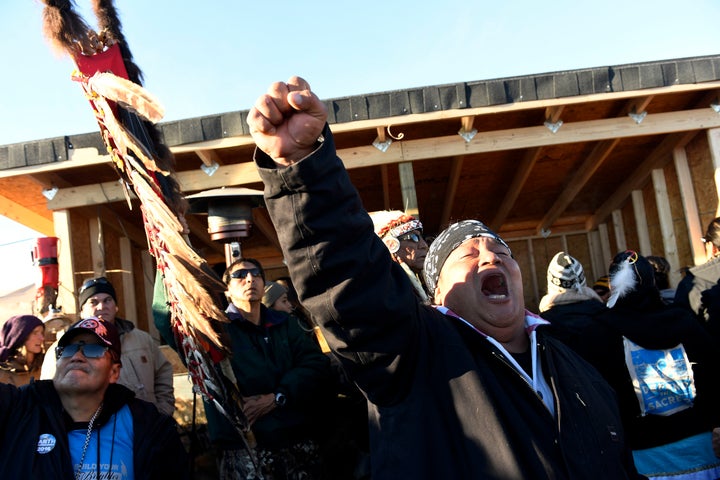 Troy Fairbanks, right, of the Standing Rock Sioux tribe cheers after hearing Chief Arvol Looking Horse announce to members of over 300 nations that the pipeline's construction has been halted. –HELEN H. RICHARDSON/THE DENVER POST/GETTY IMAGES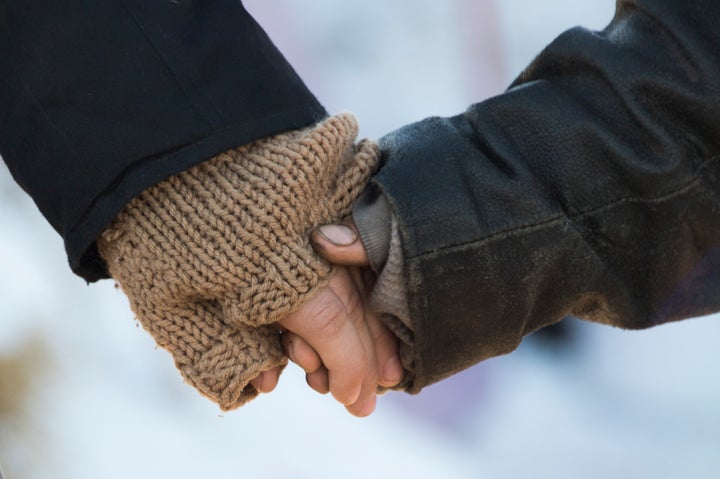 Activists hold hands during a prayer circle as they try to surround the entire camp at Oceti Sakowin Camp on the edge of the Standing Rock Sioux Reservation. –JIM WATSON/AFP/GETTY IMAGES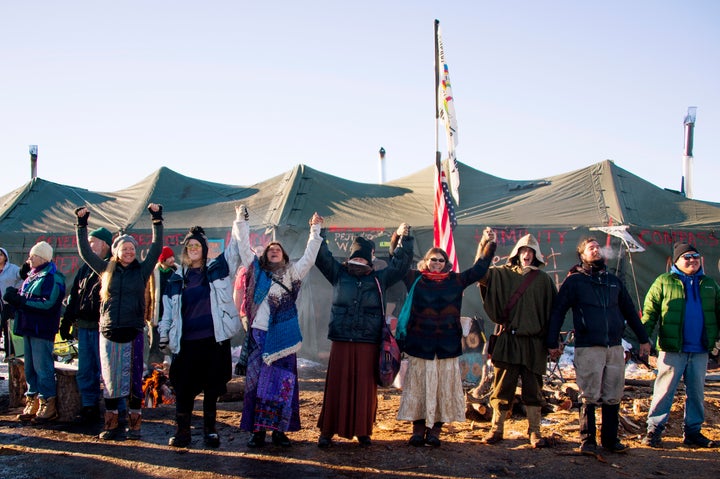 Activists celebrate at Oceti Sakowin Camp on the edge of the Standing Rock Sioux Reservation. –JIM WATSON/AFP/GETTY IMAGES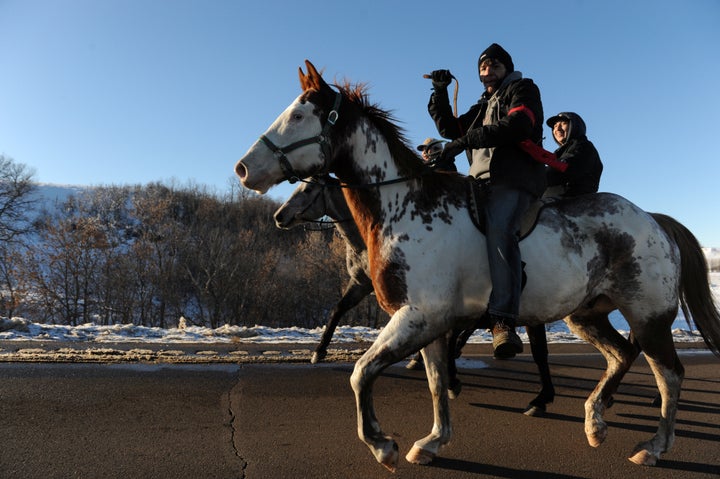 People celebrate in Oceti Sakowin camp as "water protectors" continue to demonstrate against plans to pass the Dakota Access pipeline near the Standing Rock Indian Reservation. –STEPHANIE KEITH / REUTERS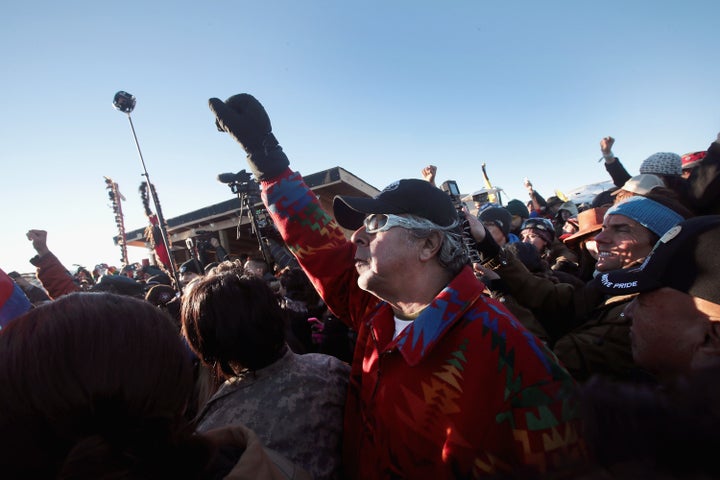 Native American and other activists celebrate after learning an easement had been denied. –SCOTT OLSON/GETTY IMAGES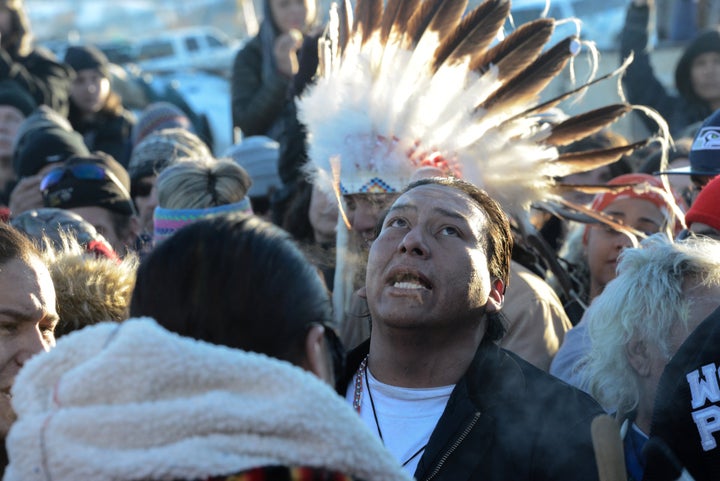 People celebrate in Oceti Sakowin camp. –STEPHANIE KEITH / REUTERS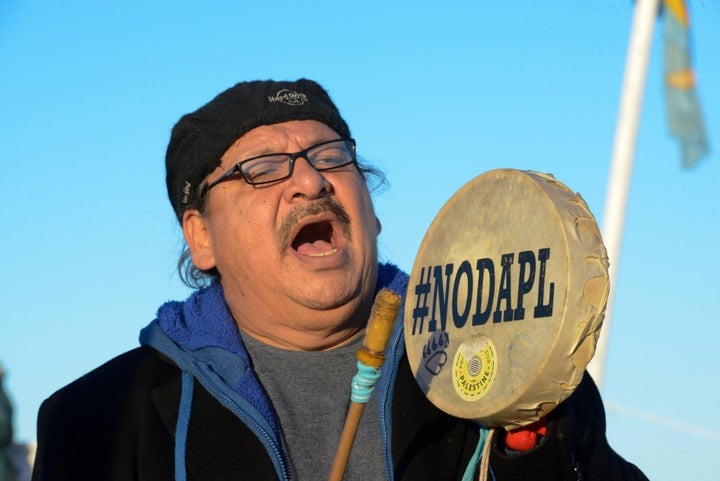 A person celebrates in Oceti Sakowin camp. –STEPHANIE KEITH / REUTERS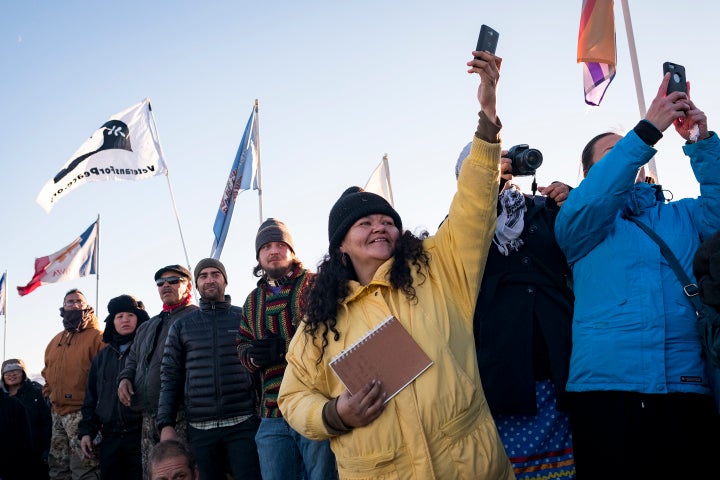 Dakota Access Pipeline protesters celebrate as they watch a group of veterans march into the Oceti Sakaowin camp. –JOSH MORGAN FOR THE HUFFINGTON POST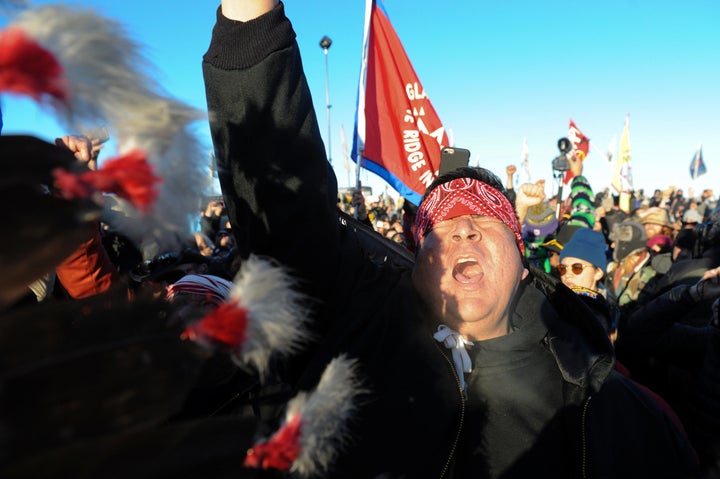 People celebrate in Oceti Sakowin camp. –STEPHANIE KEITH / REUTERS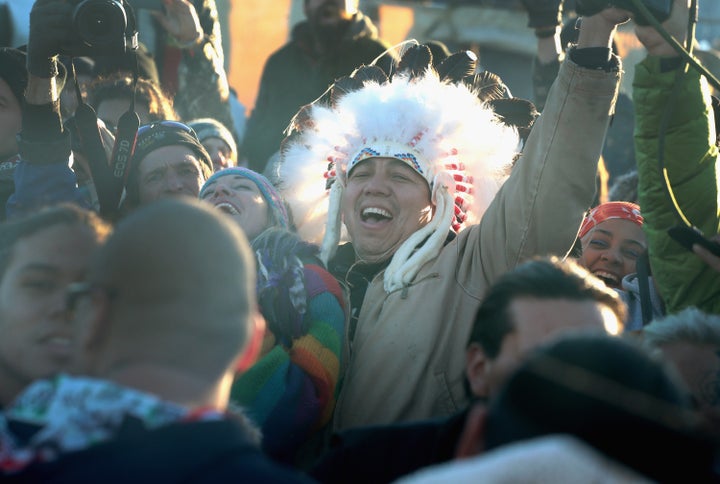 Native American and other activists celebrate. –SCOTT OLSON/GETTY IMAGES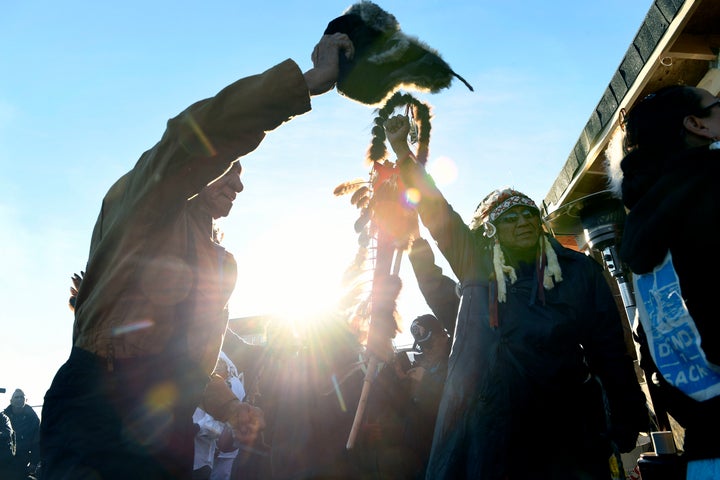 Native americans lift up their hands to celebrate their victory. –HELEN H. RICHARDSON/THE DENVER POST/GETTY IMAGES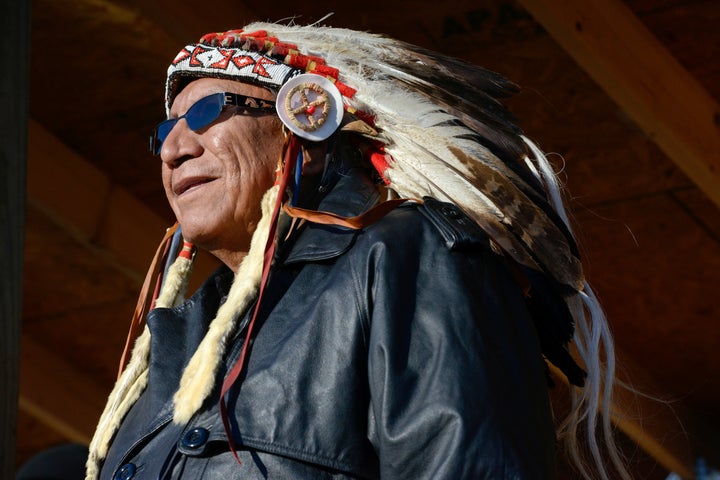 Arvol Looking Horse, spiritual leader of the Sioux nation, participates in a ceremony in Oceti Sakowin camp. –STEPHANIE KEITH / REUTERS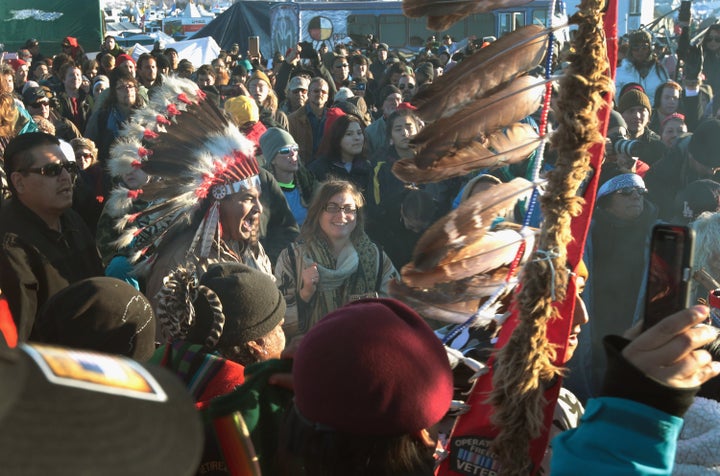 Native American and other activists celebrate. –SCOTT OLSON VIA GETTY IMAGES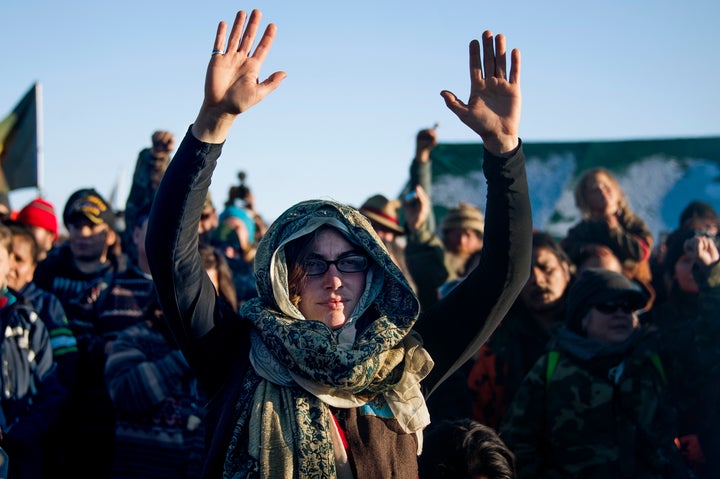 Activists celebrate at Oceti Sakowin Camp. –JIM WATSON/AFP/GETTY IMAGES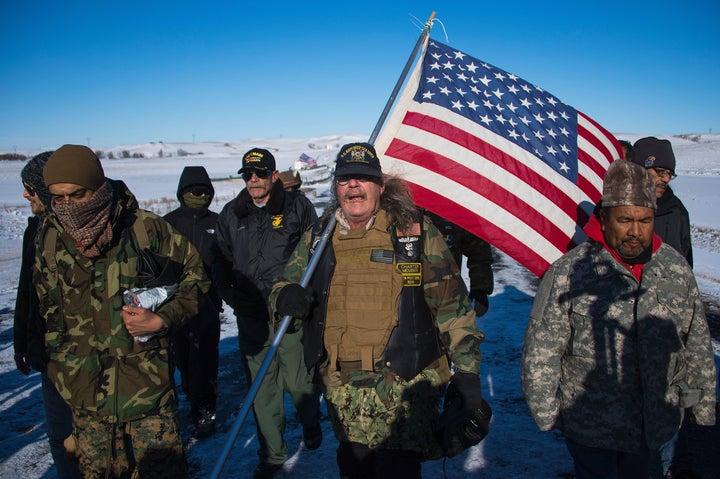 U.S. Navy deep sea diving veteran Rob McHaney (C) holds an American flag as he leads a group of veteran activists back from a police barricade on a bridge near Oceti Sakowin Camp on the edge of the Standing Rock Sioux Reservation. –JIM WATSON/AFP/GETTY IMAGES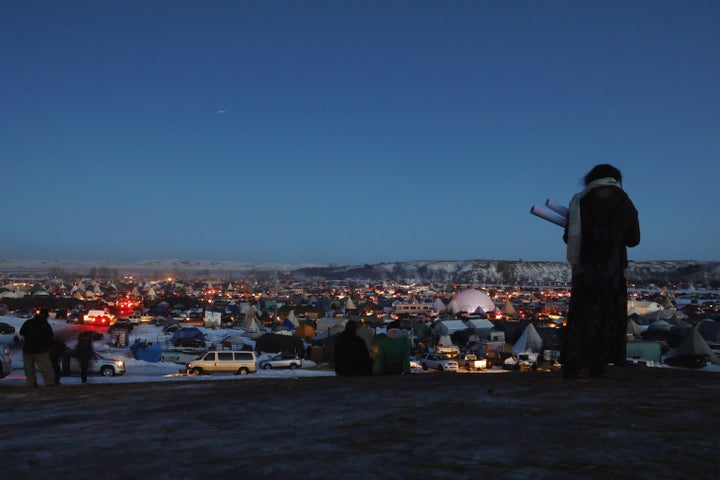 A woman looks out over the Oceti Sakowin camp as activists celebrate. –LUCAS JACKSON / REUTERS