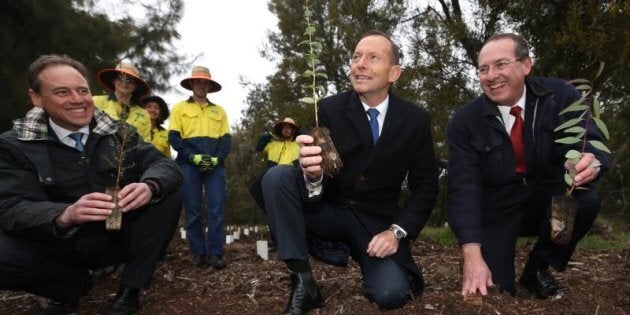 CANBERRA -- Don't get between Tony Abbott and his legacy.
The now backbencher has expressed his "dismay" at reports -- initially in the Australian Financial Review -- that the' Green Army' is about to be dumped in the December 19 budget update, the Mid-Year Economic and Fiscal Outlook (MYEFO).
The decision by the budget razor gang, the Expenditure Review Committee, comes just days after the Government side-stepped Labor and crossbench senators to strike a deal with the Greens to find $100 million to fund the environmental volunteer group Landcare over four years for support for a 15 percent backpacker tax.
It was a key 2013 election promise and had been heavily promoted by the then Environment Minister Greg Hunt.
Across various media engagements Monday, the current Prime Minister Malcolm Turnbull and Environment Minister Josh Frydenberg have not ruled out the move, which is expected to save $350 million over four years.
Frydenberg did describe the Green Army as "very successful" as participants had planting 2 million trees and dug up 90,000 hectares of weeds.
Abbott said the Green Army was good for the environment and employment.
"Not only has it been good for grass roots conservation but it got unemployed people working too," Abbott posted.
"It's a bad principle to axe your own policy for the Greens policy because it means that their priorities are more important than ours.
"That would hardly be a smart move for a centre-right government."
The program to "enlist" young (17-24 years) jobseekers to restore the environment has been troubled since it was created by the then Abbott Government in mid-2014 and is a rival for funds and jobs to the volunteer conservation group Landcare.
Green Army participants did manual labour such as weeding and clearing creeks in return for half the minimum wage, but the Green Army suffered injuries, drop-outs and sackings and was criticised for diverting funds from other environmental projects.
The office of Greens Leader Richard Di Natale has told the Huffington Post Australia that the Green Army did not come up in negotiations last week, but the Greens are happy to see it go.
"We opposed it from the beginning," a spokesman said. "It is not an environmental program. It is an employment program, and a bad one at that.'
The Opposition is also not wanting to keep the Green Army marching.
Govt cut $350m from Green Army today. That puts the deal with the Greens for $100m for Landcare into context.#auspol

— Tony Burke (@Tony_Burke) December 4, 2016
Labor's environment spokesman Tony Burke said: "The Green Army was never the most effective environmental program.
"This puts the Greens deal for $100 million into Landcare into context."
It does beg the question, where is the other $250 million?