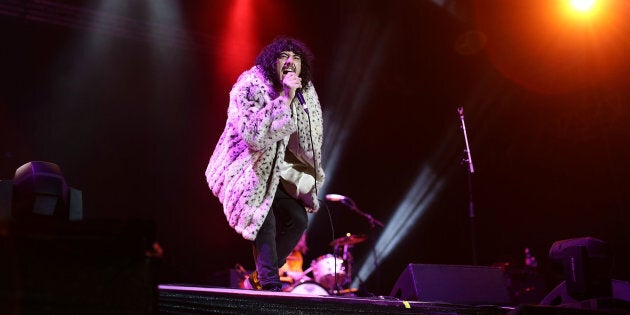 Sticky Fingers frontman, Dylan Frost, has opened up about his alcohol addiction and mental health issues after the Sydney band announced they're going on an "indefinite hiatus".
The band announced in a Facebook post that they would be taking a break, citing that they'd "been dealing with some internal issues in the band".
"They've heightened to the point where it's not fair to anyone involved for us not to do something. We have looked for help to try to get through this and will continue to do so," the post said.
Frost, the frontman of the band, wrote a separate post addressing his own personal behaviour saying that it had been unacceptable and he wished he'd faced these issues earlier.
"I have been dealing with alcohol addiction and mental health issues. Last year I was diagnosed with bipolar schizophrenia and have struggled to deal with that.
"This is not an excuse, but it hopefully means I can get better," Frost wrote from the band's Facebook account.
"To try and work through this I am seeking help and will be attending rehabilitation and therapy in the coming weeks," he said.
"There was an incident between Thelma Plum and Dylan from Sticky Fingers on Friday night which left Thelma feeling very shaken," the statement read.
She also reportedly addressed the hiatus in the statement, distancing herself from the split saying it had nothing to do with her relaying and everything to do with Frost's actions.
"This was always going to happen and it's a shame that Thelma has been drawn into what seems to have something that has been a long time coming.
"Thelma wishes Dylan the best with his recovery and getting the help he needs," the statement said.
Some fans are extremely disappointed about the band's hiatus. Their post has been shared over 9,000 times on Facebook with many fans hoping they work themselves out, so more music can be made.
If you need help in a crisis, call Lifeline on 13 11 14. For further information about depression contact beyondblue on 1300224636 or talk to your GP, local health professional or someone you trust.