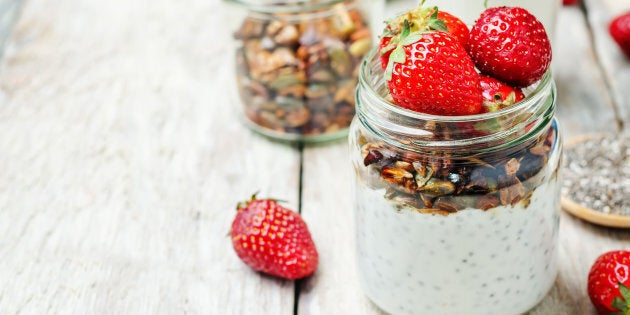 Now that it's finally summer (HOORAY), our culinary options have veered towards fresher, lighter and cooler foods and drinks.
Porridge (and cursing the cold weather) is a mere memory, and all we can think about are mangoes, icy poles and smoothies.
Overnight oats have become an immensely popular breakfast trend for spring and summer, and it's not surprising -- this Bircher-style breakfast is colourful, fresh, healthy and incredibly easy to make.
The best thing about this breakfast is the endless flavour and presentation opportunities. You can have them plain, flavoured like your favourite desserts, or layered in a jar with yoghurt, granola or fruit.
All you need is the overnight oats base to start.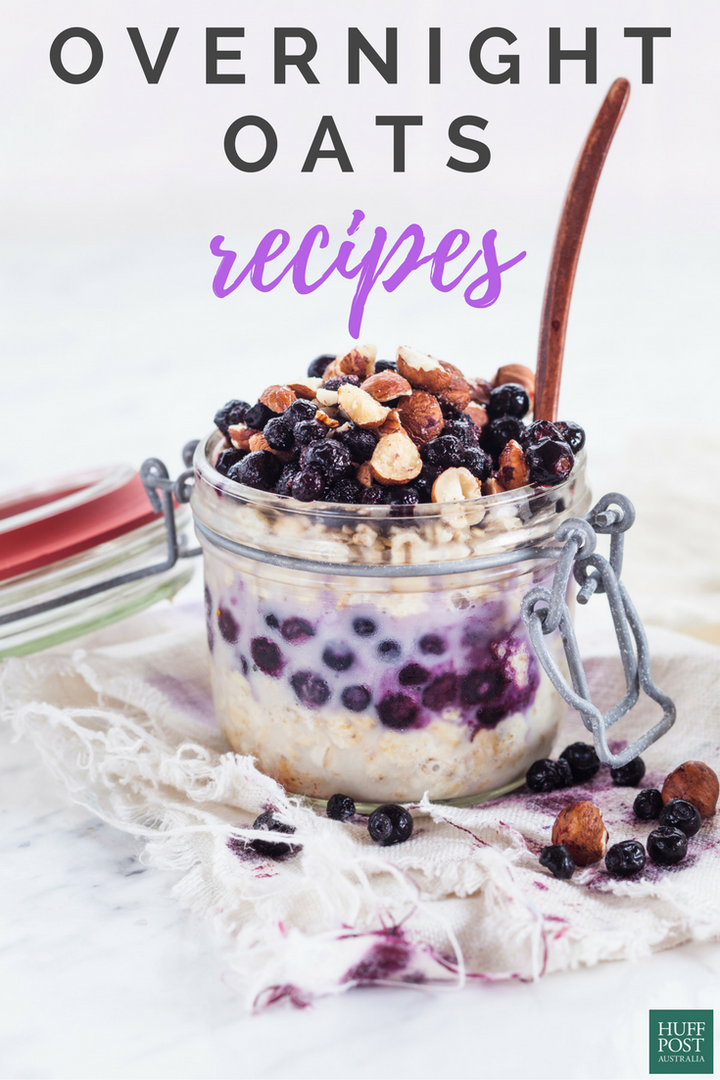 Here's a basic overnight oats recipe to get you started, followed by 10 different flavours -- from Snickers and banana bread, to peanut butter and strawberry cheesecake.
INGREDIENTS
½ cup rolled oats
1 tablespoon chia seeds
1 tablespoon coconut or Greek yoghurt
1 teaspoon sweetener (e.g. maple syrup or honey)
⅔ cup milk
METHOD
1. Place oats and chia seeds in a jar, and mix together.
2. Add yoghurt, milk and sweetener, pop on the jar lid and shake to combine. Place jar in the fridge overnight.
3. In the morning, add any of the flavour variations below.
1. Vanilla overnight oats
To the basic overnight oats recipe, simply add one teaspoon of vanilla extract and stir. Top with seasonal fruit, nuts and seeds.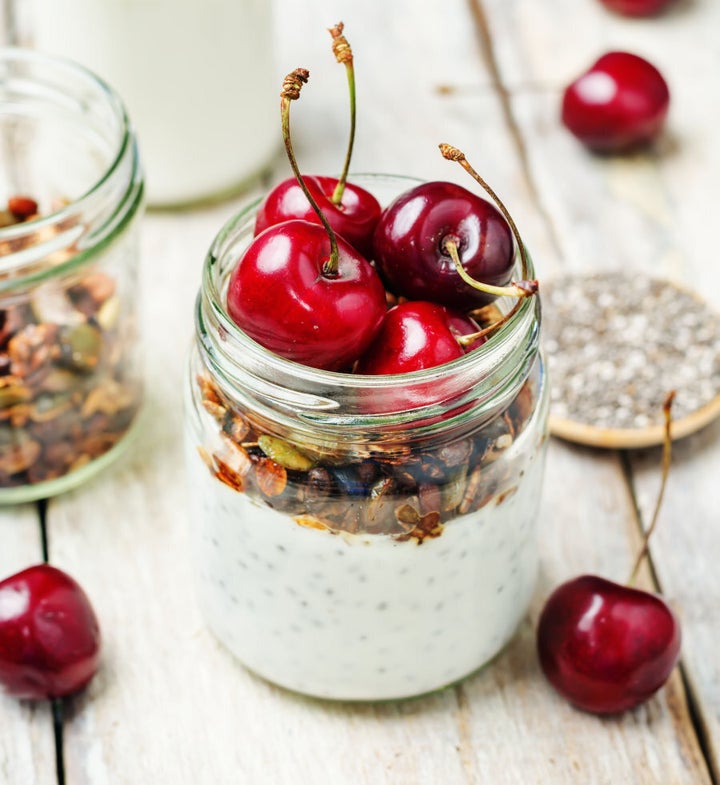 2. Peanut butter overnight oats
Adding peanut butter to anything works. Perfectly. Because peanut butter is the best. To add the creamy, nutty flavour to your overnight oats, simply stir in a heaped tablespoon of peanut butter into your base, and top with extra in the morning.
Better yet, make the overnight oats itself in a nearly-empty peanut butter jar so you can scrape all the peanut butter goodness into your mouth.
3. Berry overnight oats
For a lighter, fresher breakfast, try berry overnight oats. Simply muddle some fresh or frozen berries of choice and stir them into the oat base. In the morning, top with extra berries.
4. Snickers overnight oats
If you love the combo of peanuts and chocolate, Snickers overnight oats are calling your name. To make this indulgent breakfast, first mix one tablespoon of peanut butter and half a teaspoon of cacao powder into the base.
In the morning, make chocolate syrup, drizzle it on the top and finish with some crushed peanuts and extra peanut butter.
5. Mango overnight oats
Delicious ripe mangoes are now in season, and what a better time than now to add them to your overnight oats. To make a mango puree, blend the flesh of one whole mango with a teaspoon of water.
In the morning, pour the mango puree on top of your overnight oats and sprinkle on a few coconut shreds.
6. Chocolate and strawberry overnight oats
If you're a chocolate and strawberry fan, this overnight oats variation is for you. To make the chocolate oats, stir one heaped teaspoon of cacao powder and maple syrup into the base.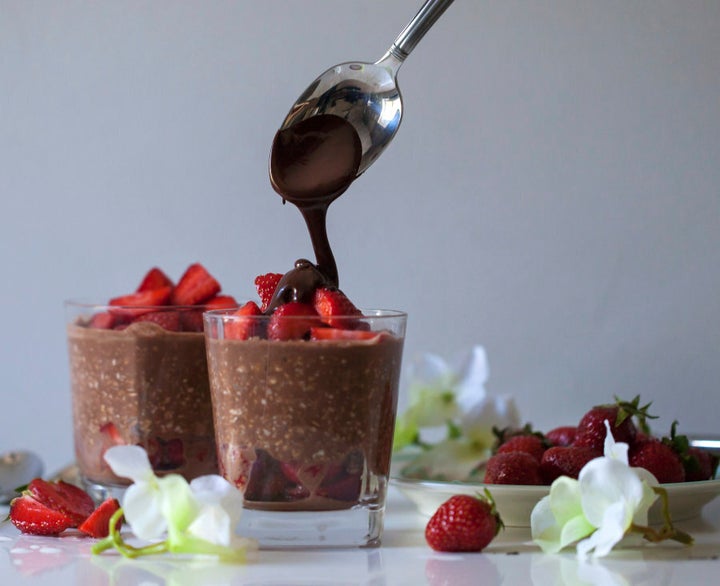 7. Carrot cake overnight oats
For a spicier, more nutritious overnight oats recipe, try carrot cake flavour. Stir in half a finely grated carrot, as well as ¼ teaspoon of cinnamon and nutmeg.
When you're ready to eat, top your carrot cake overnight oats with sultanas, pumpkin seeds, extra cinnamon and a dollop of yoghurt.
8. Banana bread overnight oats
Love banana bread? Infuse your oats with banana bread ingredients and be in breakfast heaven. Simply mash half a banana and add to the overnight oats base, along with ¼ teaspoon of cinnamon.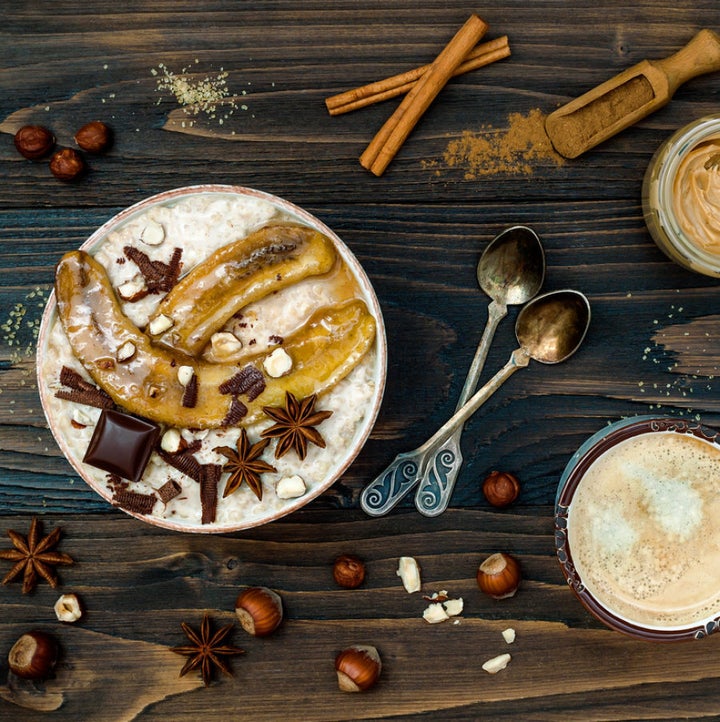 9. Apple crumble overnight oats
Mmm apple pie. To make this dessert-like breakfast, grate half an apple into your overnight oats base. Then layer the apple oats with apple sauce, quick crumble (mix together one tablespoon each of flour, oats and oil, using your fingers) and fresh apple.
10. Strawberry cheesecake overnight oats
Cheesecake connoisseurs, it's time to make strawberry cheesecake overnight oats. When making the base, stir in one muddled strawberry and half a teaspoon of lemon zest.
In the morning, blitz a handful of fresh strawberries to create a puree, and pour on top of the oats. Finish with extra sliced strawberries.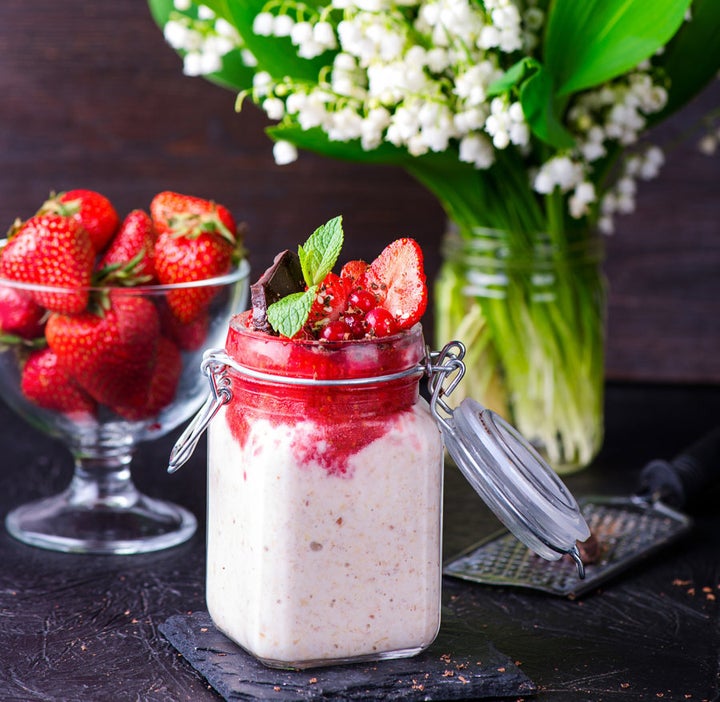 Click below to follow HuffPost Australia on Snapchat!