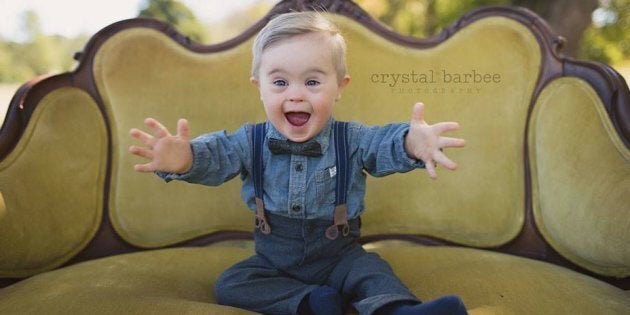 A toddler with Down's syndrome has been featured in a Christmas advert, after he was initially rejected by a modelling agency because of his appearance.
Asher Nash, who is sixteen-months-old, had photographs taken by photographer Crystal Barbee, and his mother Meagan Nash decided to submit the professional snaps to a local scout.
But the agent refused to submit the photographs for the open casting call because the "criteria didn't specify they were looking for a baby with special needs."
Undeterred by the news, Nash, 27, refused to accept the answer and instead spread her message with the hashtag #changingthefaceofbeauty via social media, encouraging high street brands to be more inclusive.
Her campaign eventually caught the attention of children's clothing brand Oshkosh and the brand instead decided to feature Asher in their Christmas catalogue for 2016.
The mother-of-two, who also has an eight-year-old daughter Addison, believes that advertising needs to include a wider spectrum of models, telling ITV: "Using people with special needs shows the world that these people have value and worth just like any typical person does."
The parents, from Georgia, USA, found out that Asher had Down's syndrome at twelve weeks into the pregnancy but continued: "We know that God chose this path for us, because he believes in us as parents."
"Asher is an individual, just like everyone else. He may have Down's syndrome, but he doesn't have every single characteristic of Down's syndrome. He has his own physical features, likes and dislikes, strengths and weaknesses, and traits that make him unique. Down's syndrome is only a piece of who he is."