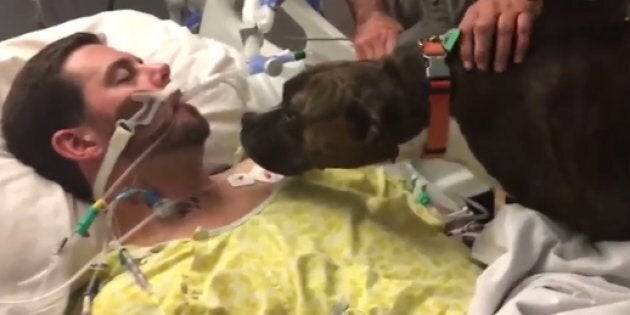 A Northern California man who went into a coma never got to say goodbye to his loved ones, but his dog was able to say goodbye to him.
Last month, 33-year-old Ryan Jessen checked into a Marysville hospital for what he thought was a migraine. It turned out to be a brain hemorrhage so severe that Jessen went into a coma and never regained consciousness, according to The Dodo.
Jessen's sister, Michelle, posted on Facebook that doctors believed the hemorrhage may have been brought on by high blood pressure.
Friends and family gathered at Rideout Memorial Hospital on Nov. 30 to say their last goodbyes, including Mollie, his beloved dog.
Jessen's sister, Michelle, posted a video of the reunion on Facebook, along with an explanation:
"The hospital did the sweetest thing for us and allowed us to bring my brother's dog in to 'say goodbye' so she'd know why her human never came home. If you knew my brother, he really loved his sweet dog. (So many people have asked - He thought he had a migraine, but it was a ventricular brain hemorrhage. They think it was brought on by high blood pressure ... . THANK YOU to everybody for the outpouring of support, but I won't be responding anymore. We are sincerely touched and humbled by others' stories, their sharing in our sadness and the kindness of so many people. Don't worry about the dog! We're keeping her!!! She's part of the family.)"
In the video, a man can be heard saying, "Buddy? Hey, Ryan?" followed by a woman who says, "Hey, Daddy Ryan."
The dog sniffs at Jessen and then turns away.
"Hey, Ryan," the man says again. "Say goodbye. Bye bye."
Jessen's organs were removed for donations. On Dec. 1, one day after his death, his heart was given to a 17-year-old boy.