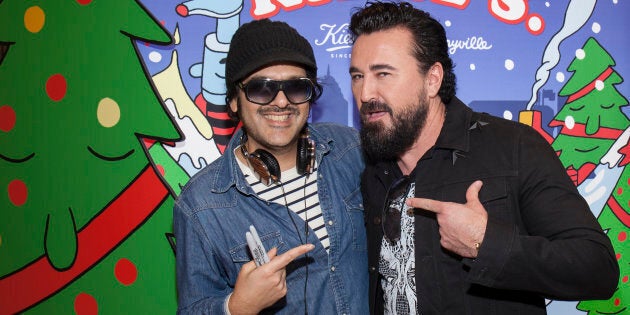 Bondi Boy Jeremy Ville, better known as Jeremyville, is truly one of Australia's most successful exports in the art scene.
Raised by the ocean down at Sydney's most iconic beach, the illustrator is now based in NYC -- where the co-founder of Studio Jeremyville collaborates with some of the world's biggest brands.
"I graduated from Architecture at Sydney University, and while there I edited the student newspaper 'Honi Soit'. It's there that I began drawing cartoons to fill in the gaps in the articles I had written for the paper," Ville told The Huffington Post Australia.
"I then took my 'Honi Soit' issues to the Sydney Morning Herald, and they offered me a freelance job drawing editorial illustrations, while I was still finishing my degree. I was around 19."
That start meant his career was already in motion while still at university.
"When I graduated I simply increased my work and attention in the various fields of art, from commercial to fine art and street art, and film. I saw no delineation between all the forms of expression, as long as it was coming from a place of truth and discovery, and as long as I was being me."
"I opened my first studio when I was around 20, and have always just had that as my way to make a living. I've never had an office job, and my greatest teacher is all the mistakes I made in my career early on. My failures are now my most cherished tools," Ville said.
Speaking to the creative process, Ville knew he was on the right path when no other career options appealed to him.
"I think when I realised I was not interested in doing anything else I'm my life, was when I had no choice but to make my career take off. So it's the other way around -- once I imagined my future, and once it was in my head, that was the biggest moment for me, rather any validation from a particular gig or such."
"Once you realise your true calling, the rest is the fun part, just making it happen. The hardest part is asking yourself who you truly are, and following that path. I can't say that I ever doubted my decision. You have to follow your instinct, even though it's usually not the easiest path to take. You do it because you have to, and to be true to yourself. I'd be living a lie if I did anything else," Ville said.
Taking inspiration from modern art, Ville developed his own style through learning and exploring what he wanted to put out into the world.
"I'd say it was around age 17 when I first learnt about modern art. Duchamp, Dali, David Lynch, Picasso, David Byrne, Haring, Bowie and Warhol taught me everything, starting out, and they were, and still are, my heroes of what art can be, and how far you can take it.
"The thing is to make your own mark. Discover your own voice and language, and write volumes with that language. That's the biggest moment in life, when you know you have your own language that you can speak to the world with, and they understand what you're saying. How magical. What alchemy -- simple marks on an empty page that speaks volumes and reveals your own universe to others," Ville said.
To date he's worked with some of the world's biggest brands, labels and retailers. For those who are yet to learn of him, this is often how they first come across his art.
"I've really loved our projects with great brands like colette in Paris, Disney, Adidas, Mercedes-Benz, Uniqlo, Converse, The Standard Hotel, Cappellini, Le Sportsac, Nickelodeon, Hong Kong Contemporary Art Foundation (HOCA), The Cooper Hewitt Museum, the Andy Warhol Museum.
"Any project that grows us as a studio, and allows us to expand our knowledge and realise new ideas, is a standout project, and a milestone on our journey. I'm so grateful for intelligent and creatively driven brands," Ville said.
In Australia at the moment for his most current collaboration, a creative fusion between his studio and skincare brand Kiehl's, Ville was drawn to the project because his team was allowed to dream big.
"We had an amazing first meeting with the Kiehl's team. It was a great brainstorming session of how we wanted to take the project, what mediums could we explore, (giant sculptures, inflatables, ceramics, books, animation! ) and how great could we actually make it. How big could we dream? How lasting and real could we make the connection with the customer? How memorable would we be?
"So from that first creative meeting with the Kiehl's team in NYC, all the ideas for this project grew, and I absolutely love that collaborative effort, as it sets the foundation of a team that's aiming to make something great. Aim high, be bold, but above all, try to make a connection with people, and touch souls," Ville said.
"That's the alchemy when artists come together with a great, creative brand with resources -- magic happens, and great projects get born. It's a beautiful thing to be a part of. It's what my dream project looks like."
The forward thinking team behind Kiehl's was the reason the project went ahead. Not all brands are lucky enough to work with the Jeremyville team.
"Studio Jeremyville gets so many offers of projects, we seriously turn down about 80 percent of them, as it has to be the right fit, and grow us and challenge us creatively in some way. We're not a normal design studio, we're more art based and concept based. It's all about the collaboration and going deep on a project and making something memorable and great.
"Trying to change the world through art and messages. So when we were invited to be involved in this Kiehl's project, it was an instant 'yes'. It's a brand on a similar journey, and is trying to make a difference in this world. Kiehl's has a similar stance to our studio, so it was a perfect fit, in terms of our shared mission," Ville said.
The result is a quirky, limited-edition label collection for the holiday season, sold globally.
As for who inspires him, Ville is a huge fan of Andy Warhol.
"One key artist I admire is Warhol, because I think his greatest artwork was creating the persona and brand of Andy Warhol. His art became him, and he was is art.
"My aim starting out was to blur as much as possible -- the boundaries between my art, and who I am. I want to become my art, and Jeremyville is the only place where I truly feel at home. New York City comes a very close 2nd. That's why the approach of Warhol resonated with me very early on, as I felt he was the ultimate outsider, but turned it on its head and created a world around that outsiderness, which then became a whole universe. He embraced his weirdness, owned his strangeness, and made it famous all around the world," Ville said.
"That's the thinking behind the creation of Jeremyville. It's an endless landscape within my imagination. I walk the streets, observe and draw the characters that I pass by, draw the buildings, paste up on the walls, walk into a theatre and watch some animation. Go into a store and buy some products I've designed. then I head to the art gallery and view my latest exhibition. It's not just a world I've created, it's truly a manifestation of who I am. It is me, seen as a city, a place. Come and visit sometime. Everyone's welcome."
Ville's favourite subject to draw or paint is anything that starts a conversation.
"I love anything that opens up a connection with my audience, or reveals something about me to myself, that I didn't know before. For me, my art is a journey of self discovery, and revealing my truth to myself. Each piece I create tells me something about who I am. My art is a dialog with myself, primarily."
Click below to follow HuffPost Australia on Snapchat!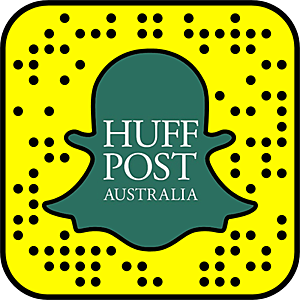 ALSO ON HUFFPOST AUSTRALIA