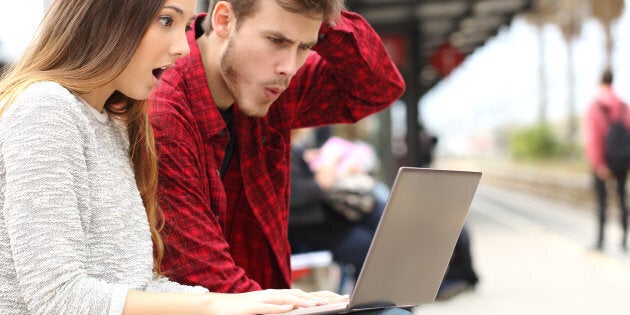 Praise the internet lords for Google.
Before it, how did we know how to do anything? How to cook anything? How to live life?
Today, Google revealed the most searched words and topic in 2016. Not surprising the U.S. election was a biggie, as was the Rio Olympics and the rigmarole that was the Census.
Here's the top 10 overall searches:
US election
Olympics
Census
Euro 2016
Australian Open 2016
Pokemon Go
Donald Trump
iPhone 7
David Bowie
Prince
In terms of the people we wanted to know more about, Trump trumps the list, followed by Hillary.
Donald Trump
Hillary Clinton
Conor McGregor
Steven Avery
Melania Trump
Meghan Markle
OJ Simpson
Chris Gayle
Tom Hiddleston
Brad Pitt
Closer to home, we Googled a mix of sporting and political Australians:
Mitchell Pearce
Molly Meldrum
Tara Brown
Pauline Hanson
Mel McLaughlin
Rebecca Wilson
Peter Brock
Sonia Kruger
Malcolm Turnbull
Michelle Jenneke
In terms of what we wanted to learn, the phrase 'how to...' was searched most often with 'tie a tie' at the end, followed by 'screenshot on a Mac' (damn those different shortcuts), and 'make pancakes (which, by the way, is explained expertly in this story). Here are the 'how to...' most searched:
How to tie a tie
How to screenshot on mac
How to make pancakes
How to play Pokemon Go
How to draw
How to write a cover letter
How to get rid of pimples
How to download from YouTube
How to lose weight fast
How to write a resume
In fact, it seems we take to the Google machine a fair bit when in the kitchen. Pancakes aside, we also wanted to know how to perfectly cook carbonara -- which is an excellent question -- as well as banana bread and scones.
Pancake
Carbonara
Banana bread
Scones
Hummus
Cheesecake
Quiche
Chocolate mousse
Crepe
Brownie
Still on food, it seems we're a nation obsessed with counting calories. In terms of watching what we eat, this is what we looked up:
Kilojoules to calories
How many calories per day
How many calories in a banana
Calories in chicken breast
Calories in blueberries
Calories in grapes
Calories in apple
Calories in strawberries
Calories in carrot
Calories in avocado
Along with the 'how' comes the 'what' and 'why'. 'Why is...' and 'what is..' are another two of the most common search terms and this is where things get interesting. People want to know the big stuff -- why the sky is blue, and what is love (deep).
The top 'Why' search terms:
Why is there a leap day
Why is the sky blue
Why is my internet so slow
Why is my poop green
Why is my computer so slow
Why is Australia in Eurovision
Why is the ocean salty
Why is biodiversity important
Why is my period late
Why is my eye twitching
The top 'What' search terms:
What is my IP address
What is a plebiscite
What is Pokemon Go
What is the weather today
What is the time
What is all purpose flour
What is love
What is Brexit
What is gluten
What is the meaning of life
Alarmingly, it seems there's a bunch of folk out there who aren't quite sure where the state of NSW is. We also wanted to know where Brussels was, and where we'd left our phones.
Where is NSW
Where is Brussels
Where is my phone
Where is Bora Bora
Where is Rio
Where is Home and Away filmed
Where is Malta
Where is the Great Barrier Reef
Where is Perth
Where is Mount Everest
So there you have it. Thanks to the ultimate hive mind, Google, for enlightening us.
Click below to follow HuffPost Australia on Snapchat!